Lead generation is the key to growth for any B2B business. A strong lead generation process will help increase your sales.
Below are the top ten B2B lead generation strategies to drive sales for your business.
1. Content Marketing (Inbound Marketing)
Content marketing focuses on the creation and distribution of useful, and relevant content to reach the target audience. It is a strategic marketing approach that helps to retain visitors and eventually turn them into customers.
Draw attention and drive leads
Increase customer base
Make and boost online sales
Grow brand awareness
Content marketing is effective and an ideal source of B2B leads. You can attract and engage customers by inbound marketing and produce valuable content and experiences tailored to them.
Content may include the following types:
Text – Blogs, publications, newsfeeds
Video – YouTube, Facebook, Vimeo, Instagram
Images – Facebook, LinkedIn, Pinterest
Audio – Social media, podcasts, Audiobooks
A strong content marketing strategy helps with SEO that gives valuable and relevant content based on your target audience.
Examples: 
Techcrunch – Technology info, resources, and news on the latest trends in startups, funding, and products/services.
Hubspot blog– CRM, Online Marketing, Advertising, eBooks and SEO Guide
 Neil Patel blog– Content Marketing, Podcasts, SEO, and Digital Marketing
2. Social Media Marketing
Social media marketing is the use of social media platforms such as LinkedIn, Twitter, Facebook, Instagram, or Pinterest to promote a product or service and engage your audience to develop your brand, maximize sales, and increase website traffic. 
LinkedIn is the world's largest professional network on the internet with 660 million users across the globe. 
It is the most effective place for B2B marketers to build relationships and engage with decision-makers, influencers, and leaders. 

For B2B lead generation, it is important to have a LinkedIn business profile and a company page. 

You can also use LinkedIn showcase pages for your business which enables you to promote specific products or services to specific customer segments. 
Examples include: 
Here is an amazing example of LinkedIn lead generation by John Jordan, SAP Controlling Lead Consultant, and Bestselling SAP Author.
Twitter is a social networking platform that allows its users to send and read brief messages of up to 280-characters known as tweets. Hashtags are a great way to increase engagement on Twitter. B2B marketers use Twitter to better connect, converse, and engage their audiences.
Facebook is largely a visual social network. In fact, posts with images get 2.3 times more engagement than posts without images. Facebook for Business states that business decision-makers spend 74% more time on Facebook as compared to other people. Facebook Live is a gift that B2B brands are exploiting for greater trust, engagement, and reach.
Instagram can be a strong visual marketing channel for your brand and an opportunity to build followers that helps grow your B2B business. 
More than 25 million companies across the world are taking advantage of Instagram for Business. Instagram Stories is a secret weapon for top B2B companies.
 In fact, Instagram Stories alone has 250 million daily users. Entrepreneurs and companies like Shopify, Gary Vaynerchuk, General Electric, and Buffer use Instagram to drive traffic, build brand awareness, and generate leads.
Visuals speak volumes on Pinterest. In fact, in a Pinterest study, 85% of Pinners place more importance on visuals than text. When using Pinterest for business, you should always include a link to your website with each pin – this could be a blog post, an online store, or a company website. Pinterest presents an interesting opportunity for B2B companies to drive traffic to their websites and convert those visitors into leads.
3. Paid Search Marketing 
Paid search marketing is advertising your products or services on a variety of advertising networks including Google, Bing, Yahoo, Taboola, AdRoll, Perfect Audience, Facebook, Instagram, YouTube, etc.  
Types of paid search marketing include:
CPM – Cost Per Thousand Impressions or cost per mille is bidding on a thousand impression units. It is one of the most common ways of buying digital media in which you are charged for each time your ad loads on a webpage or in an app.
CPV – Cost Per View is only for video advertising on Google Ads but can also be used on the YouTube Ads platform. You pay for video views or interactions in cost-per-view or CPV bidding.
CPC – Cost Per Click is a metric that measures the cost per click. You are charged when a click is made on an ad and the cost will depend on aspects like how much competition is there for the keyword and fluctuations in search volume.
CPA – Cost Per Acquisition is also referred to as cost per action and it measures how much your business pays to get a conversion. You pay when users take certain actions, such as registering for an account or making their first purchase. This is also used by some affiliate marketing networks including CJ, ShareASale, and Rakuten Linkshare.
Example: Here is the example of Nike Paid search marketing: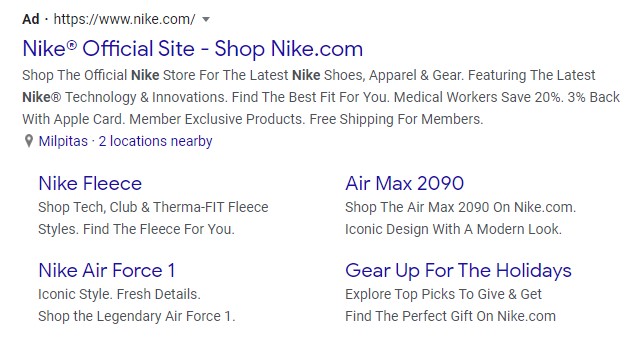 4. Retargeting
Retargeting campaigns remind your website visitors of your products and services after they leave your website without buying.
96% of users that visit your website are not going to be a lead.

Less than 2% of web traffic for most websites converts on the first visit.

Retargeting can help to target the 98% of users who don't convert straight away.
Here is the best example of a retargeting ad from Baker Commercial Solar:
One of the most effective tools for increasing the ROI of your paid advertising spend is remarketing. In addition to bringing previous visitors back to your website, it can also be used to generate new B2B leads, keep them throughout the sales process, grow your email marketing success and get your current customers to make more purchases.
5. Lead Magnets
 A lead magnet is a marketing term for a free item or service that is given away for the purpose of gathering contact details. 
Some of the examples of Lead Magnets are:
eBooks

White papers

Educational content

A Free Trial 

Software

Webinars
Direct your efforts towards attracting visitors to your website, wherein you can get their contact information which will be later used to transform them into clients. Your company will have trouble growing its business if it lacks an effective strategy to support and maintain this flow.
6. Marketing Automation/CRM
Marketing automation uses platforms that help marketers generate leads, nurture them, and evaluate lead behavior and campaign performance.
Examples of  marketing automation software include:
Pardot

Salesforce

Marketo

HubSpot

MailChimp
Using automation for lead-generating can be effective for B2B companies, and it is one way for companies to develop a productive and lifelong connection with your existing customer base.
7. Telemarketing/Outbound Marketing
Telemarketing involves direct marketing of products or services to potential customers by calling them via cold calls.
Some telemarketing efforts need to be done for Outbound Lead Generation:
Identify your target audience and create a message for your products and services that is tailored for your audience.

You can generate lead reports and have your team make follow-up calls to get an idea about the number of leads depending on the list size, the number of passes, and the products. Usually, these campaigns are built out and priced according to the number of passes into the number of contacts in the list.

You can set conference calls with every lead that is generated and these campaigns are set around a guaranteed lead percentage into a set amount of companies.
8. Influencers (Industry Publications)
People or publications in your niche or industry having influence over your target audience are known as influencers. Influencer marketing is a type of marketing that involves endorsements and product placement from influencers having specialized knowledge or social influence in their field.
Examples: 
The Robb Report, a luxury-lifestyle magazine featuring products, including automobiles, aviation, boating, real estate, and watches is the best example of an industry publication influencer. 
An 'influencer' is someone having the power to influence purchase decisions of others due to the expertise, knowledge, position, or relationship with your target audience or having a following in a specific niche, which they actively interact with. The size of the following is based on the size of the niche.
9. Email Marketing
Email marketing is a tested and proven marketing strategy. It should be personalized and targeted precisely with the right pitch to your contact list.
Important Reasons for Email Marketing:
At least 99% of the users check their email daily which makes email one of the top communication channels

Email converts better. People spend 138% more when products are marketed via email than those who do not get email offers. Email marketing has an ROI (returns on investment) of 4400%.
Many B2B marketers consider a strong email marketing strategy to be the backbone of B2B lead generation as it is the only lead generation channel that allows you to control how you interact with leads.
Examples:
Here is a great example of email marketing by Uber: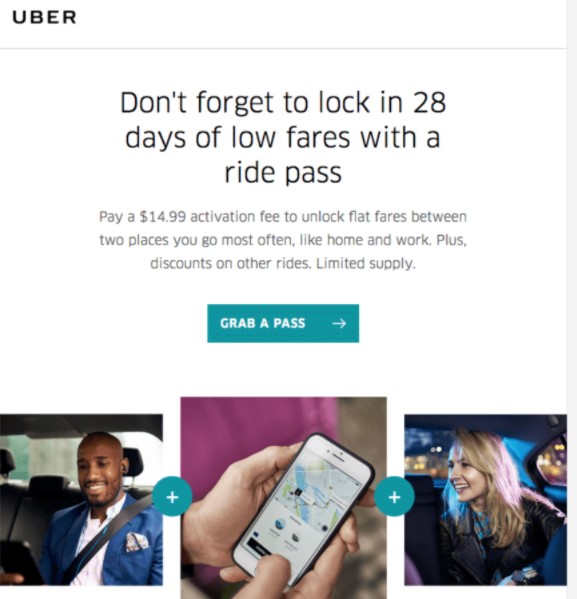 10. Video Marketing
Make your YouTube channel drive traffic to your site with the help of video content. 

Optimize your YouTube video content for a blended video marketing strategy to drive qualified leads for your company. 

Pay attention to basics including content types, tagging, labeling, optimizing YouTube content, and also to the landing experience on your site and what that should appear.
Video Marketing involves the use of videos to promote your product or service.
A strong marketing campaign can include:
Customer testimonials
Videos from live events
How-to videos
Explainer videos
Corporate training videos
Viral or entertainment videos
Example: Rand Fishkin, the founder and former CEO of MOZ, started a weekly educational video series shared on the company's site called Whiteboard Friday. Experts at Moz flex their thought leadership muscles and educates us on all things SEO.
Zahoor Bhat has over 10+ years of experience as an online editor and media manager. He has worked with major online news and content sites as a media manager. He is well versed with major content management systems and web platforms such as WordPress and social media networks including Facebook, Twitter, Youtube, Google Business, Yelp, Instagram & Linkedin. He is an expert in content creation, proofreading and finally making it live. Being a social media expert, he is able to make relations with social media influencers and make sure to generate leads and grow business via different social media platforms.