What Is Marketing Automation?
Marketing automation allows companies to streamline their lead generation, automate lead nurturing, assess marketing tasks, and workflows to improve efficiency and boost sales faster.
Marketing automation is growing rapidly and is one of the most important trends in digital marketing. According to recent studies, marketing automation on average drives up to a 14.5% increase in sales productivity and a 12.2% reduction in marketing overhead. 80% of marketing automation users saw an increase in the number of leads using marketing automation software, and 77% had an increase in conversions. 91% of marketing automation users agree it is "very important" to the overall success of their online marketing activities.
Some Essential Elements of Marketing Automation Include:
A central marketing database. A space having your marketing data, such as in-depth communications and activities of prospect and customer which helps segment and target the proper message to each customer
An engagement marketing engine. A way to configure a sequence of actions for the automation of marketing techniques and desired goals or outcomes such as registration on a form or an e-commerce purchase to a segmented audience
An analytics engine. A means to analyze, calculate, and optimize marketing ROI and effect on revenue
Marketing Automation Is Not:
A fancy name for email marketing: It includes marketing campaigns through all channels, be it direct mail and phone campaigns or online, social and mobile programs.
A way to send spam: The usage of the technology determines what results in it can deliver. It can be used for bad marketing, such as spam but also for remarkable marketing that actually clicks with customers depending on their preferences.
A solution that only benefits marketing: Marketing automation is advantageous for the marketing department. But, if used efficiently, it can also improve marketing and sales alignment, which eventually grows revenue.
A solution that brings value without effort: You can't just buy marketing automation technology, and wait for the best results. Instead, a complete approach is needed that incorporates the correct methods, people, substance, information, and more.
Who Uses Marketing Automation?
Marketing automation has been used by large companies, but it isn't limited just for them rather, Small and Mid-Sized Businesses (SMBs) form the major developing section in the space at the moment. It is used by companies from all industries, initially by B2B industries and eventually by B2C industries as well.
What Are The Common Features And Functions?
Its common features include:
Email Marketing
Landing Pages
Campaign Management
Prediction/Scoring
Lead Management
CRM Integration
Social Marketing
Marketing Analytics

Top 10 Marketing Automation Software Platforms
1. Salesforce Marketing Cloud(SFMC):
Salesforce Marketing Cloud is formerly known as ExactTarget is one of the leading enterprise marketing automation platforms. Salesforce is one of the world's most popular CRMs and has now built a massive digital marketing ecosystem with its acquisitions and is used by some of the world's most innovative brands.
Salesforce Marketing Cloud allows companies to personalize customer experiences across all channels with its suite of tools, including:
Journey Builder
Email Studio
Data Studio
Social Studio
Advertising Studio
Mobile Studio
Interaction Studio
Salesforce DMP
The Salesforce Marketing Cloud has a wide range of feature that enables companies to do everything from email marketing to global omnichannel campaigns.
2. HubSpot:
The best inbound marketing campaign offerings and innovative features including landing pages and forms, dynamic content, SEO, social media automation, automated email responses, and thorough personalization of emails along with fundamental automation features make HubSpot a leading growth platform that is ideal for startups as well as small and medium-sized business (SMB) marketing teams.
3. Marketo:
Marketo is a tool that provides a potent automation platform with a focus on account-based marketing. Its basic features are simple and its advanced features like account insights and account profiling, digital ads, mobile marketing, revenue attribution, marketing analytics dashboard, and predictive content make it best for the medium and enterprise businesses functioning with bigger and difficult datasets.
4. Pardot:
Pardot is a cloud automation solution that is generally used by enterprise clients having technical assets and time to understand the platform. This lead generation and development system is best in targeting communications across numerous channels. It enables companies to monitor and calculate the efficiency of their communications, understand user behavior, and personalize content through campaigns depending on any amount of particular standards.
5. Infusionsoft:
Infusionsoft, now called Keap, is an innovative marketing automation tool best suited for small businesses and freelancers. Its advanced features include capturing and tagging new leads, allocating responsibilities, and sending emails that bring new leads. Infusionsoft offers a free trial period of 14 days and an easy integration with Gmail, Outlook, Shopify, Microsoft, WordPress, and many more platforms. It is an all-in-one CRM, sales, and marketing automation platform known for its outstanding service.
6. Ontraport:
You can handle all your marketing assets in one place with the help of Ontraport. This CRM and marketing automation tool is one of the best automation solutions for entrepreneurs, solopreneurs, and small businesses. It has every fundamental feature of a marketing automation platform, and also complex features including landing pages, forms, process automation, funnels, and journey-mapping, which makes it the first option for entrepreneurs seeking to improve their customer experience.
7. Mailchimp:
Mailchimp is an email marketing giant providing marketing automation for small and medium-sized marketing teams. It offers excellent user-experience and clever call-to-action, which makes it a preferred platform for content marketers who want to advance their content efforts through marketing automation. Mailchimp's marketing automation suite provides innovative features including generating HTML email templates, landing pages, Google remarketing ads, and Facebook as well as Instagram ads, A/B and multivariate testing, and standard and comparative reports.
8. ActiveCampaigns:
ActiveCampaigns leads in the small business marketing automation area and can be effortlessly integrated with several platforms. The tool boasts of all the fundamental features of a perfect marketing automation platform, with few innovative functionalities including contacts and leads scoring, site and event tracking, dynamic content, SMS marketing, predictive sending, and a mobile application.
9. Constant Contact:
Constant Contact is one of the world's biggest email marketing software providers. It is popular for its flexibility, appealing templates, and a comprehensive feature set. Constant Contact is more than easy email marketing as it takes in surveys, deals, social media, and event marketing tools. This robust email marketing software provider provides you a space to flourish.
10. Maropost:
Maropost leads in marketing automation and personalization software. It offers integrated customer engagement solutions for brands and retailers in the B2C area. This tool provides innovative functionalities including multi-channel customer engagement, machine learning, and AI-powered recommendation machines, and e-commerce optimization platform, making it best for B2C conglomerates and retail brands.

The Role Of Cloud In Digital Transformation:
The IT infrastructure of your business can be updated with the help of the cloud. It offers the latest and advanced ways to help customers digitally. Cloud is the basis for this innovative and active business domain as it enables agile application development.
Cloud-based infrastructure is crucial to bring adaptable, on-demand access to the resources sustaining these new digital business services. Organizations can use it to scale infrastructure as required to deal with varying business priorities while decreasing the dangers of wasted IT resources that hindered previous investments in the latest digital services.
The majority of the SMBs are just beginning to undertake the digital transformation challenge and their strategies are starting to evolve. The clever businesses are making cloud the most important part of their digital transformation strategies to develop an adaptable, safe space for future progress.
Benefits Of Marketing Automation vs. Email Marketing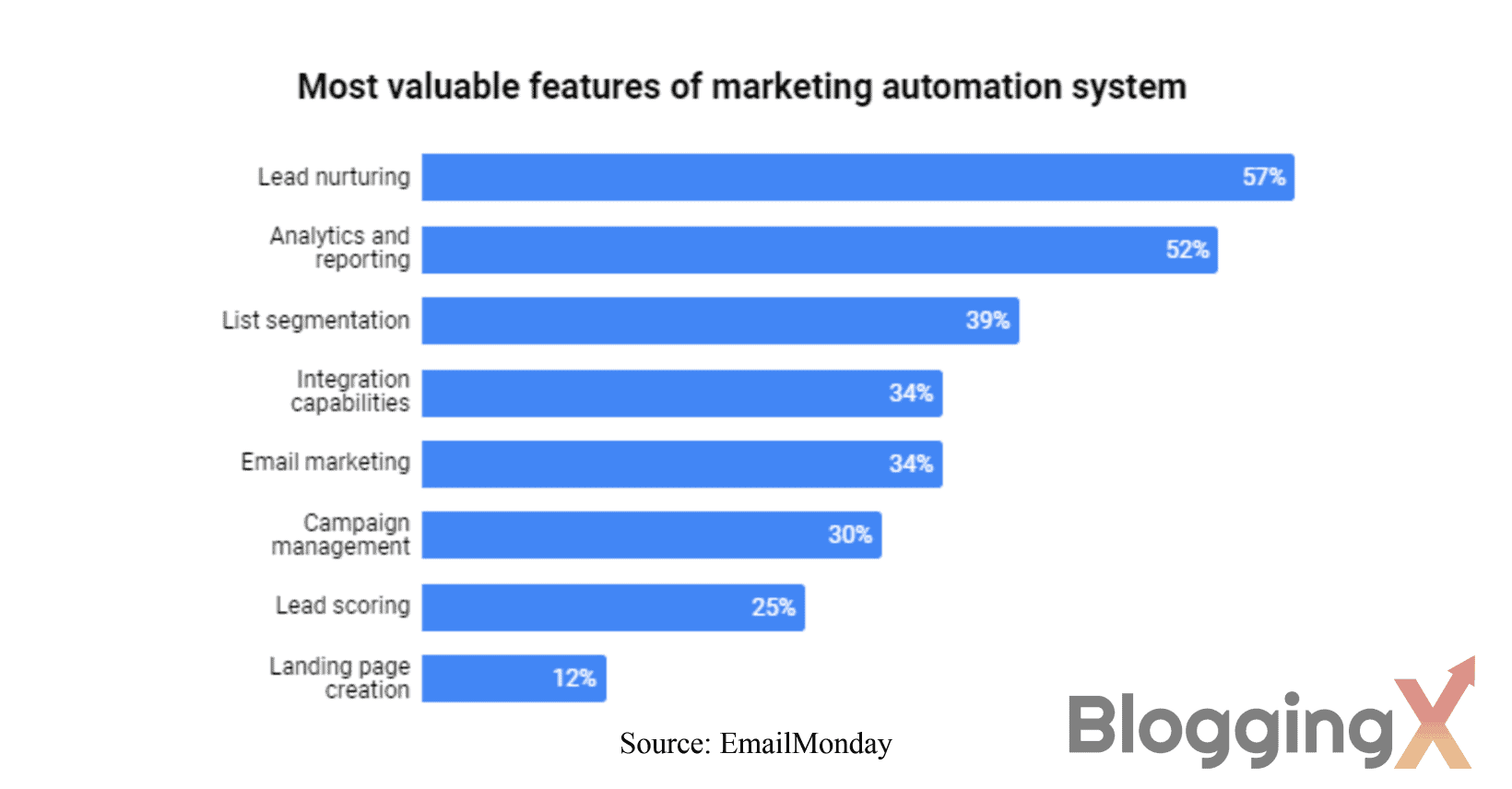 Marketing automation and email marketing are not the same things.
In email marketing, you create an email list and then begin emailing to promote your business. The statistics of how many people opened your email and how many clicked through to your offer is available. It provides important data but the advantages of the features provided by the marketing automation are more.
Marketing automation systems have more scope than email marketing systems.
You can send mass emails to your marketing list via the email systems and get data on how good or bad the emails operated. But that is it. However, in addition to those same features, a marketing automation system much more.
An email marketing system allows you to create your landing pages and web forms in an entirely different system while a marketing automation system allows you to create both. This integral combination makes your marketing campaign easier. Also, it provides you automatic reporting, unlike an email marketing system.
You can at once integrate your email marketing with other kinds of marketing for your business, including direct mail and social media, with the help of automatic marketing systems. Due to this, your marketing efforts are streamlined and you can do more without the need to repeat attempts in various systems.
You can create multi-stage marketing campaigns through any number of channels easily with the help of the data provided by the marketing automation system. Multiple tools are not required to finish the job. All of which means that things can be done quickly while making adjustments whenever and wherever needed.
Follow the Marketing Automation Leaders and bring the benefits of marketing automation into your company to bring your business to the next level of marketing.
Zahoor Bhat has over 10+ years of experience as an online editor and media manager. He has worked with major online news and content sites as a media manager. He is well versed with major content management systems and web platforms such as WordPress and social media networks including Facebook, Twitter, Youtube, Google Business, Yelp, Instagram & Linkedin. He is an expert in content creation, proofreading and finally making it live. Being a social media expert, he is able to make relations with social media influencers and make sure to generate leads and grow business via different social media platforms.