Ecommerce is growing faster than ever. According to a Statista report, ecommerce hit around $2.3 trillion in sales in 2018 and is expected to reach $4.5 trillion in 2021. In the United States alone, ecommerce represents almost 10% of retail sales and that number is expected to grow by nearly 15% each year. Amazon is expected to dominate the market as it is doing today. Its share of online retail sales has rocketed from 23.1% in 2014 to 35.7% in 2017. In 2018, it is 39.7% of the market share and is expected to reach 50% by 2023."
Here is our guide about top 10 ecommerce website in the United States:
If there is a king of online retail in the United States, it is Amazon. It sells a huge amount of electronics, books, and a variety of other products. Amazon website gets an average of about 1.87 billion visits per month. If offers Prime membership for a recurring fee and prime members can have free two-day shipping on most purchases and many other perks.
Ebay.com is an ecommerce platform that is used by people to buy and sell new as well as used items. The Price Match Guarantee started by the company recently ensures that the customers are getting the best prices that are available on most of the products present in its selection of eBay Deals. eBay website gets an average of about 817.6 million visits per month.
Apple has become the most significant company by market cap in the world. This multinational technology company has quarterly revenue of $53.3 billion for its fiscal 2018 third quarter ended June 30, 2018, which means an increase of 17 percent from the year-ago quarter.
The ecommerce sales of the company will continue to be massive even though it only sells its own products and it is due to its strong market share and revenue.
Walmart is a retail giant that offers low prices as well as great service. Its website gets an average of about 339 million visits per month. Walmart offers best deals on electronics, hypermarkets, department stores, grocery stores & more.
Home Depot might do a small percentage of total sales online but its growth rate is the fastest. The focus of the company goes beyond having physical stores and ecommerce sites.
It caters to those customers who want to communicate with the retailer in multiple ways as part of one transaction. The customers who buy products online have the option to pick them up in stores and talk to associates which helps in building relationships that drive repeat visits.
This multinational consumer electronics retailer reported strong topline, earnings and comp growth in the second quarter. Due to the higher conversion rates and increased traffic, the overall online revenue of the company was up 10.1% to $1.2 billion and e-commerce now represents about 15% of the overall sales of the Best Buy.
Qurate Retail Group is comprised of eight leading retail brands reaching around 370 million homes globally using 16 television networks and numerous e-commerce sites, social pages, mobile apps, print catalogs, and in-store destinations. It provides curated collections of unique products for customers who crave engaging shopping experiences.
Despite the huge traditional retail presence of Macy's, it is one of the best online retailers in the world.  At least once a year, half of all U.S. consumers shop at Macy's, and 60% live within 10 miles of a Macy's store. Its e-commerce site gets about 1.5 billion visits a year.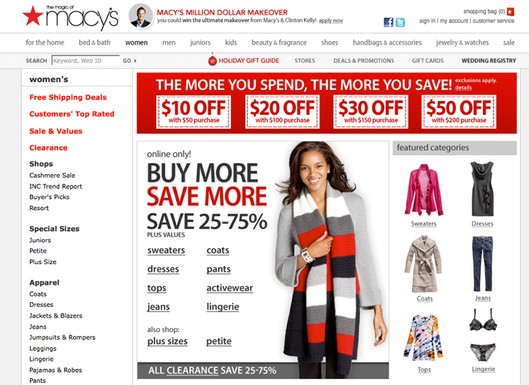 Since its launch, the wholesale retailer Costco has been known by several names including Price Club and PriceCostCo. Its wholesale and often bulk-packaged goods can be bought at low prices but it requires an annual membership.
After the launch of Costco.com in 2001, the members could start buying Costco goods online. Its website now gets an average of about 42.1 million visits per month.
Wayfair has become the largest dedicated home furnishings ecommerce seller. It follows the model of reinvesting in its business with little regard for profitability, which is evident from the fact that there has been no profitability to date. But it has not stopped the company from quadrupling its stock price over the past two years.
Ecommerce stores will be dominating most of the world's trade as customers are increasingly switching to online shopping. Consumers find online shopping appealing due to many reasons.
It is not crowded like a physical store, prices are affordable, taxes are lessened, time is saved and there are lots of products to choose from.