Few companies have attracted as much admiration as Tesla. When Tesla introduces a new product, such as the Cybertruck, the reaction is mixed: skeptics see it as more proof that founder Elon Musk is out of touch, while fans cheer – within a month, Tesla got 200,000 preorders for the new vehicle. In comparison, the Ford-150, the world's best-selling automobile in 2018, sold slightly over 1 million units. 
There is no doubt that the corporation has moved the auto industry toward electric vehicles and earned constantly expanding revenues. Tesla was the best-performing automaker in terms of total return, sales growth, and long-term shareholder value at the start of 2020. There must be a method to what appears to many to be insanity. Tesla's recent market performance is proving some of its detractors incorrect. 
Tesla's market value has hit $107 billion by mid-January 2020, surpassing the massive German carmaker Volkswagen to become the world's second most valuable automaker behind Toyota. Tesla's valuation has now surpassed that of Ford and General Motors combined.
This article analyzes the corporate and business-level strategies used by Tesla. It identifies the company's internal business environment and discusses the importance of quality management and future challenges. The analysis of the corporate and business environment allows Tesla to focus on customer attention and increasing profitability within the market. Tesla has also adapted the tools of innovation to the workplace and is well known in the market. Its evolution into a market leader allows it to use these tools to enhance its overall performance.
Tesla's vision since its inception in 2003 has been to produce mass-market battery electric vehicles (EV) with a compelling customer value proposition that included long-range and recharging flexibility, energy efficiency, low cost of ownership, and high performance that did not compromise design or functionality. Elon Musk invested $6.5 million in Tesla, which leased a facility in Silicon Valley large enough to construct a few prototype vehicles.
The company is named after Nikola Tesla, a 19th-century inventor best recognized for discovering the phenomena of rotating electromagnetic fields. His effort resulted in "alternating current," the sort of electrical transmission that is being utilized today. (This was in contrast to Thomas Edison's significantly less efficient "direct current" approach.) Tesla is famous for his contributions to electrical engineering and science, and he has become a pop culture idol among engineers in recent decades.
Eberhard was the CEO of Tesla at the time, and Tarpenning was the CFO. They founded their company to create and manufacture a totally electric automobile, partly in response to the positive reaction test markets had to General Motors' (GM) – Get General Motors Company Report prior electric car experiment, the EV1. 
Although GM briefly ran this initiative from 1996 to 1999, creating a limited run of cars that were never made available for public purchase, it was widely regarded as a success in terms of engineering.
Tesla accomplished something no other manufacturer had done before with the Roadster. They created an all-electric vehicle with practical characteristics that may conceivably suit market needs. Previous attempts in this field had failed due, among other things, to the inability of corporations to build a battery powerful enough to keep automobiles on the road and a cost-effective engine that could fit inside a consumer vehicle and propel it to highway speed.
The Roadster met those requirements. The initial model, released in 2008, was capable of traveling about 250 miles on a single charge, with acceleration and top speed comparable to several consumer-level sports vehicles. Customers could recharge the Roadster using a normal lithium-ion battery arrangement, which is used in many technological gadgets.
This, however, did not make the Roadster a widely available consumer product. The car costs somewhat more than $100,000 when it is released, pushing most buyers out of the market. Furthermore, the corporation was immediately confronted with the issue of charging time. On a regular household plug, the original Roadster might take between 24 and 48 hours to recharge.
One of the most significant issues with the broad deployment of electric vehicles is charging time. Despite significant advancements in technology, it still takes more than an hour to fully recharge one of Tesla's vehicles, even under perfect conditions. This puts them at a significant disadvantage when compared to the minutes it takes to refuel a car.
Tesla also made significant changes to its leadership team in 2008.
Eberhard quit as CEO of Tesla in 2007, but remained on the company's advisory board. He was first followed by Michael Marks, a Tesla investor who served as interim CEO. In November, Ze'ev Drori took over as Eberhard's permanent replacement.
Drori is widely credited with transforming the Roadster from a concept to a viable product. When he took control in 2007, the project had stalled, and most of the focus on Tesla was on whether the company's main (and only) product could be delivered to market. Drori managed the Roadster's successful launch in 200.
However, soon before Tesla shipped its first vehicle (Roadster Number 1, according to Musk), co-founders Eberhard and Tarpenning quit the firm entirely. Soon after, in October 2008, Musk took over as CEO and fired 25% of the company's employees.
Starting price: $99,990 / £91,980
The Model S is a true executive sedan, with long and low design lines reminiscent of a Jaguar. The Model S was introduced in 2012 and helped to establish Tesla as a carmaker. Tesla has continued to update the Model S since its initial sale, and there are now two variants available: Model S and Plaid. The model names Long Range, Standard, and Performance have also been used recently.
While some previous Model S vehicles had rear-wheel drive, all of the newer Model S models have all-wheel drive (AWD). The Plaid variant, the latest addition – and new flagship – offers sub-1.9s 0-60mph – with the Plaid model offering tri-motor propulsion (rather than the Model S's dual-motor).
All models include Autopilot, which provides a range of driver assistance, but there's also the option for the full self-driving upgrade, which costs $12,000 (£6,800) and includes navigation, self-parking, Summon, traffic light, and stop sign control (you'll still need to be in control of the car at all times). Autosteer on city streets and Enhanced Summon – where your parked car will find you in a parking lot – are on the way.
Starting price: $46,990 / £45,990 / €42,990
The Model 3 was introduced in the United States in 2016 as a more cheap alternative to the Model S, and costs have since reduced to make it the most affordable Tesla. The Model 3 has been a big success and is the most frequent Tesla on the road.
The Model 3, a four-door sedan, was introduced with a number of choices, but these have since been reduced to just three. The ranges are based on total figures. The standard feature is autopilot, but the full self-driving upgrade costs $12,000/£6,800.
Starting price: $114,990 / £98,980 
Tesla's Model X is the "soccer mom's" electric vehicle. It's an SUV-style EV that seats seven people, yet it looks a lot like the original Model S, especially with the inside display.
It has rear Falcon Wing doors that, combined with the massive touchscreen inside, will make your kids think you got a car from the future. There are two versions, but three seating configurations: 5 (inclusive), 6 ($6,500 additional), or 7 ($3,500 extra). Autopilot is standard, while the full self-driving upgrade costs $12,000/£6,800.
Starting price: $62,990 / £54,990 / €56,990
As a compact SUV, the Tesla Model Y bridges the gap between the Model 3 and the Model X. It seats five people and has enough of capacity, but it will definitely appeal to those looking for something less expensive than the Model X.
The compact SUV market is currently the most popular, therefore it's an important priority for Tesla. Tesla initially stated that four models would be offered, but only two are currently available.
Availability: Expected in late 2023
The Cybertruck debuted in November 2019, as Tesla shifts its focus to a pick-up truck type. This is likely to be far more popular in the United States than in other locations, however reservations are available in other regions as well.
The Cybertruck will have a unique angular form, a stainless steel shell, and armoured glass, as well as 100 CU FT (2830 litres) of storage and a towing capacity of 7,500+lbs. All of these specifications are for the United States, with Tesla stating that overseas specifications would be produced based on demand.
There are initially three versions of the Tesla Cybertruck being suggested:
Single Motor RWD: 250+ miles, 0-60 in <6.5 seconds
Dual Motor AWD: 300+ miles, 0-60 in <4.5s
Tri Motor AWD: 500+ miles, 0-60 in <2.9s
The Dual and Tri Motor versions will arrive first, and there have been delays in production, not expected until late 2023.
Availability: Expected in 2023
The Tesla Roadster started it all in 2008 and was supposed to return in 2020 (it's been evaluated by several US sources, but is still only available for reservations).

The Roadster's goal is to be the fastest electric car on the road, and some amazing figures have already been released, including a 0-60mph time of 1.9 seconds and a top speed of over 250mph. It has four seats and a detachable glass roof.
Many innovative and disruptive technologies demand the development of new infrastructure, with BEVs necessitating the development of electric recharging infrastructure. BEVs can be charged using ordinary mains electricity, however charge rates are slow. Tesla is building a network of superchargers. In 30 minutes, these stations can charge the Model S's batteries by 50%.
This high-speed charging is accomplished by utilizing 120 kW maximum charge rates and batteries with a lower taper point than other batteries. When the option is purchased with the vehicle or comes standard with the vehicle, the supercharger network is free to use indefinitely. In 2015, the Supercharger network served 98% of the US population. Currently, there are 16,585 superchargers at 1870 stations around the world (March, 2020). 
The goal of this network is for Tesla to demonstrate that it is possible to drive large distances in BEVs. To demonstrate this, a Tesla team drove from coast to coast in the Model S. Due to technological mismatch, the network does not support the older Tesla Roadster. 
Tesla has also begun developing the Supercharger network in Europe, with development beginning in Norway, which already has one of the largest concentrations of BEVs in Europe, and the first Model S to be marketed in Europe, with 500 delivered to customers in August and September 2013. Supercharger stations are now available in Germany, the Netherlands, Austria, Switzerland, and the United Kingdom, in addition to Norway.
Tesla Autopilot is a type of autonomous driver assistance system. In simpler words, it's a capability that lets a Tesla to see the cars and road around it and, to a limited extent, drive itself. This does not imply that Autopilot can transform a Tesla into a fully autonomous self-driving vehicle. The technology is useful, but it is still quite limited, and it requires an alert driver to be able to take control at any time. Despite the name 'Autopilot,' this is not the case.

Basic Autopilot is a system that comes standard on all new Tesla vehicles. This system comprises very basic functions that allow the Tesla to autonomously accelerate to a certain speed, brake for other vehicles or people it sees ahead, and provide modest steering to keep your car centered in a lane.
This Tesla Autopilot feature is intended to "help with the most difficult aspects of driving," notably driving long distances on highways and other similar roadways. These vehicles also include automatic emergency braking, collision warnings, blind spot monitoring, and adaptive cruise control. Importantly, that last component solely controls acceleration and braking, leaving the steering to the driver.
Full Self Driving is an optional feature that costs $12,000 or $200 per month for Model S and Model X owners in the United States. This is essentially an enhanced version of the Basic Autopilot system, with additional capabilities to help you drive.
FSD Autopilot has functions such as automatic lane changing for merges, exits, and overtaking, as well as 'navigate on Autopilot,' which may take you from on-ramp to off-ramp during your journey. FSD also has an autoparking system, traffic signal and stop-sign recognition, and a'summon' feature that directs your automobile out of a parking space and directly to you.
In terms of patent infringement cases, Tesla Motors has chosen a policy of not filing a patent infringement lawsuit if the infringer is acting in good faith and just wishes to use Tesla Motors' technology. Tesla Motors, on the other hand, has a different opinion on large automakers.
Tesla Motors has felt compelled to file patent applications in order to protect itself from large automobile manufacturers who may be interested in copying Tesla Motors technology and then using their own massive infrastructure to manufacture, market, and sell a similar product in order to overtake Tesla Motors.
Despite stiff competition from gasoline-powered automakers, Tesla Motors and other electric automakers think that all may gain enormously from a shared, common, and ever-evolving platform of new technologies. Tesla Motors' offices in Palo Alto used to showcase its patents on the lobby wall. That patent wall has now been eliminated, as Tesla Motors has completely embraced the open source movement and its philosophy, with a desire to continue to pioneer technological improvements in the electric automotive sector.
Tesla Patent Applications
The following are some examples of patent applications filed by Tesla Motors:
Energy Storage System with a Heat Pipe Thermal Management
Tunable Materials
Method of Selecting an Application Target Window in a User Interface
Monopost for Free-Standing Vehicle Seat
Battery Swapping System and Techniques
Vehicle Air System with High-Efficiency Filter
Control System for An All-Wheel Drive Electric Vehicle
Device with Top-Side Base Plate
Rotor Design for an Electric Motor Having Brazed Structure for Connecting Rotor Bars
Attachment Bracket with Adjustment Mechanisms and Pivot
Battery Pack Base Plate Heat Exchanger
Heat-Recovering Temperature-Gradient Based Oven System
Functional Redundancy of Communications and Data Transmission in Energy Storage System
Energy Storage Pack
Solar panels with integrated cell-level MPPT devices
Vehicle front door power opening system
Solar cell with electroplated metal grid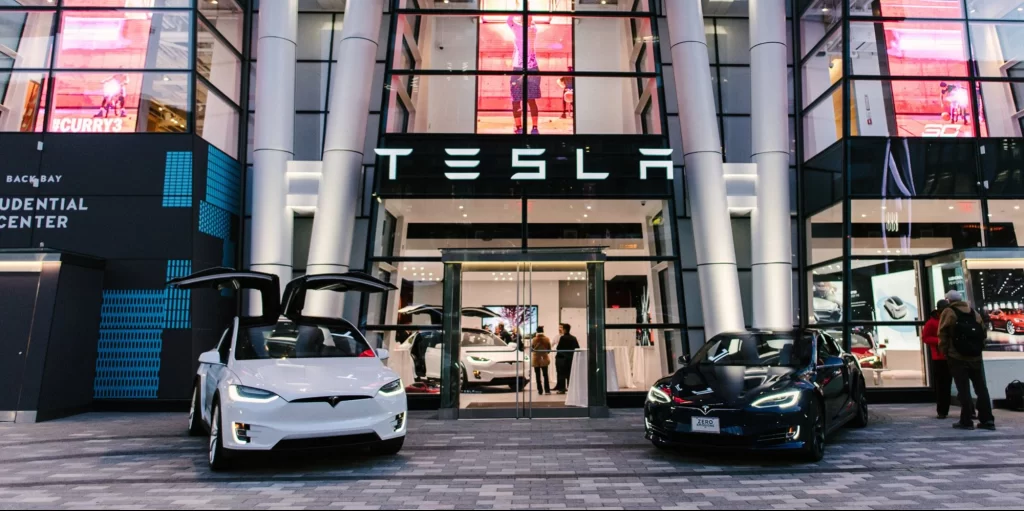 Unlike other automobile manufacturers, Tesla sells directly to customers rather than through franchised dealerships. It has established an international network of company-owned showrooms and galleries, particularly in major global cities. Tesla believes that by owning the sales channel, it will be able to accelerate product development. But, more crucially, it improves the customer purchasing experience.
There is no conflict of interest in Tesla stores. Customers also exclusively deal with Tesla-employed sales and service representatives. As of July 6, 2017, Tesla had 225 sites worldwide, including showrooms, Service Plus centers (a hybrid of retail and service shops), and service facilities. Tesla has also used Internet sales, allowing customers to customize and purchase a Tesla online.
Tesla has merged many of its sales and service centers. They feel that opening a new service center corresponds to growing client demand. As a result, in their newly extended retail concept known as "Service Plus," they have blended their direct sales technique with service centers.
Customers can charge their vehicles or have them serviced at the service centers or Service Plus locations. In addition, Tesla employs Tesla Rangers in select places. They are mobile mechanics who can service vehicles from the comfort of your own home. Sometimes an onsite technician is not even required. The Model S can wirelessly transfer data, allowing technicians to inspect and rectify some faults online without ever touching the car.
Here's a look at Tesla's Potential Future Projects
Tesla has been working its magic on its powertrains, particularly in terms of range, so we can guess that there are companies who would love to have a Tesla powerplant in their vehicles. If Tesla has the capacity to generate an excess of EV components and other automakers are interested, we may see Tesla supplying EV components once more.
Self-Driving System Supplier

Could Tesla's Autopilot system make its way into non-Tesla vehicles? Who knows if Tesla will be the first to achieve full autonomy. However, they would have to outperform fully-dedicated AV startups like Waymo, ArgoAI, or Light's Clarity – businesses that legacy automakers are waiting for so they can integrate these third-party systems into their own fleet.
That said, if Tesla can give a cutting-edge autonomous driving configuration, is it a viable option for them to license out Autopilot? It's clearly more involved than just providing physical parts, given that an autonomous driving system would also require software. With other automakers, this type of cooperation may get tricky. Furthermore, Tesla's FSD is one of their "secret formulas," so it's unlikely they'd share it with anyone. Elon Musk, on the other hand, has stated that he is open to the idea.
With Tesla's blockbuster Battery Day behind us, we learnt that the Silicon Valley manufacturer wants tighter control over the entire battery production process. Tesla unveiled their new battery technology and form factor (the all-new 4680 cell), as well as the construction of their own battery production facilities.
During their presentation, Tesla emphasized that the globe will require considerably more battery production efforts to complete the shift from gas-guzzling vehicles to electric vehicles. As a result, Tesla wishes to expand its involvement in order to (ideally) reach 100 GWh of batteries by 2022 and 3000 GWh (3 TWh) by 2030.
Tesla's Powerwall and Solar solutions have given them a foothold in the house development market. With Tesla's efforts to increase their energy storage and solar products, we wouldn't be surprised if the firm eventually plans to expand their home services and allow consumers to upgrade further to create a fully-integrated smart house.
"A supersonic vertical-takeoff-and-landing electric jet would be intriguing to do at some point, I suppose," Elon Musk once said. But if I tried to do it right now, my head would explode."
While this is an extremely unrealistic aim (and certainly more in the area of SpaceX), it comes from the man who sent his own automobile into space, so we can't completely dismiss Musk's approach here. At the very least, if Tesla or SpaceX do not manufacture electric jets, they may offer batteries for electric jets in the coming decade.
Deepak Wadhwani has over 20 years experience in software/wireless technologies. He has worked with Fortune 500 companies including Intuit, ESRI, Qualcomm, Sprint, Verizon, Vodafone, Nortel, Microsoft and Oracle in over 60 countries. Deepak has worked on Internet marketing projects in San Diego, Los Angeles, Orange Country, Denver, Nashville, Kansas City, New York, San Francisco and Huntsville. Deepak has been a founder of technology Startups for one of the first Cityguides, yellow pages online and web based enterprise solutions. He is an internet marketing and technology expert & co-founder for a San Diego Internet marketing company.