The world's largest athletic apparel and footwear brand has rapidly evolved from a traditional retailer into a D2C (Direct-to-Consumer) powerhouse by developing and implementing two key strategies: the Consumer Direct Offense (CDO) and Consumer Direct Acceleration.

The Consumer Direct Offense includes accelerating innovation and product development. Expanding to consumers by increasing operations in 12 major cities across ten countries. Enhancing direct consumer connections with interactive experiences across different channels.
Direct-to-consumer (D2C) is a strategy that enables manufacturers and CPG brands to sell and market their products directly to the consumer by bypassing retailers or any middlemen. D2C brands often market and sell their products via online mediums.
Philip Knight founded Nike in 1967 based near Beaverton, Oregon, USA. In 1964, University of Oregon track athlete Philip Knight and his coach Bill Bowerman established Blue Ribbon Sports and the company that would later become Nike.
Nike is the world's leading designer, marketer, and distributor of authentic athletic footwear, apparel, equipment, and accessories for a wide variety of sports, and fitness activities.
Nike sponsors many high-profile athletes and sports teams around the world, with highly recognized trademarks that are extremely popular and easy to spot "Just Do It" and the Swoosh logo.
Unique designs, great product quality, product and process innovation, and marketing have helped it achieve a strong competitive edge. Not only does Nike have a variety of options for products, but Nike also owns Hurley, Converse, and Jordan brands. By offering more products to more people, in more markets than any other sports company, they can capture a far greater market share of the market than any other company
Nike markets its products under its own brand, as well as Nike Golf, Nike Pro, Nike+, Air Jordan, Nike Blazers, Air Force 1, Nike Dunk, Air Max, Foamposite, Nike Skateboarding, Nike CR7, and subsidiaries including Jordan Brand and Converse. People desire to have sporting swoosh-logo sports sneakers since the early 1970s.
Key Statistics
Nike has 1,046 stores in 170 countries
Nike's brand value sits at $25.9 billion
Nike generated $37.9 billion in revenue worldwide last year
Nike has a 38.23% total market share in sportswear
In February 2022, nike.com had over 98 million visits
With a value of $525 million in sponsorships, Nike was named the world's most marketable brand for sports
Nike has 73,300 employees worldwide
Who owns the company, how do you pronounce Nike, and what secrets does the powerful Swoosh hold? Our detailed guide includes everything about Nike's brand history.
History- Foundation of Nike
In 1964, University of Oregon track athlete Philip Knight and his coach Bill Bowerman established Blue Ribbon Sports. Initially, the business only served as a distributor for Onitsuka Tiger sports shoes, which are made in Japan by Onitsuka Co., Ltd.
After two years, Blue Ribbon Sports, also known as BRS, launched its first physical location in Santa Monica (USA).
Bowerman's passion for sports shoes led him to frequently disassemble and evaluate Tiger's several versions of sports shoes.
He wanted to create lighter running shoes after receiving input from university track athletes who participated in testing his ideas.
In 1973, BRS gave Nike, Inc. a new name. Ilie Năstase, an ATP tennis player from Romania, and the company agreed to an endorsement deal the same year.
It marked the beginning of numerous product endorsement deals that have contributed to the expansion of the Nike brand.
Throughout its history, Nike has purchased and sold many clothing and footwear businesses. Cole Haan, a high-end shoe retailer, was its first acquisition in 1988.
Hurley International, a manufacturer of surfwear, was acquired by Nike in 2002 by creator Bob Hurley. Nike spent US$309 million in 2003 to purchase the Converse footwear firm. In 2004 and 2007, the business bought Starter and Umbro, two manufacturers of soccer uniforms.
Nike started selling some of its businesses in the 2000s to refocus its business areas. In 2007 and 2008, Starter and Bauer Hockey were sold. Cole Haan was sold in 2013, and Umbro in 2012.
Bill Bowerman and Phil Knight founded Blue Ribbon Sports in 1964.
1971 – After severing relations with Onitsuka Tiger (now Asics), Blue Ribbon Sports changed its name to Nike Inc. and pays $35 for the swoosh emblem designed by Carolyn Davis.
After putting rubber in a waffle iron in 1971, Bowerman created the famous sole design for the Waffle Trainers.
Ilie Nastase, a tennis player from Romania, signed the first athlete endorsement deal with Nike in 1972.
1979 – Nike releases the revolutionary Tailwind shoe with the patented "Air" technology.
1980: Nike completes its initial public offering (IPO) for 18 cents per share.
Nike signed on in 1984. Michael Jordan introduced the Air Jordan line.
The Beatles' "Revolution" serves as the soundtrack for the first Nike advertisement featuring the new Air Max shoes, which debuted in 1987
1988 – First "Just Do It" campaign launches with an ad featuring 80-year-old running icon Walter Stack across the Golden Gate Bridge.
1989 – "Bo Knows" ad drops featuring baseball and football star Bo Jackson.
1990 – First Niketown store opens in Portland, Oregon.
1991 – Activist Jeff Ballinger publishes a report exposing low wages and poor working conditions among Indonesian Nike factories. Nike responds by instating its first factory codes of conduct.
1996 – Nike signs Tiger Woods.
1998 – In the face of widespread protest, Nike raises the minimum age of its workers, increased monitoring, and adopts U.S. OSHA clean-air standards in overseas factories.
1999 – Nike co-founder Bill Bowerman dies at 88.
2002 – Nike acquires surf-apparel company, Hurley.
2003 – Nike signs Lebron James and Kobe Bryant.
2004 – Nike acquires Converse for $309 million.
2004 – Phil Knight steps down as CEO and president of Nike, but retains chairman role as William D. Perez becomes the company's new CEO.
2008 – Nike signs Derek Jeter.
2012 – Nike becomes the official supplier of NFL apparel.
2015 – Nike becomes the official supplier of NBA apparel.
2018 – Nike unveils ad campaign featuring athlete and political activist Colin Kaepernick, garnering a mix of public approval and backlash.
2019 – Travis Scott x Nike. The rap star had fans on their toes throughout 2019 with several limited-edition sneaker drops, reworking classics including the Air Jordan 1 High and Low, the Air Force 1 Low, and the Air Jordan 6. The collaborations featured nods to Texas and Scott's Cactus Jack record label.
2020- Nike SB x Ben & Jerry's Dunk Low Pro. I had a friend over at Nike SB, and he dropped me a text: 'What do you think about a collab?'" says Jay Curley, Ben & Jerry's global head of integrated marketing. "I'd love to say it was a much deeper thought than that, but I don't think it was. Just like that, the wackiest sneaker of 2020 was born.
2021 -Nike x Comme des Garçons Air Foamposite One
The Air Foamposite One's freaky molded upper has been subject to a wild bunch of interpretations over the years.
It's been chromed out with a mirrorlike shine, blanketed in a starry space scene, and dressed up in a regal rococo print by Supreme.
2022 -Nike Hot Step Air Terra "NOCTA". The 6 God got his wish: As part of his NOCTA line with Nike, Drake debuted the Hot Step Air Terra, a '90s-inspired runner with an ultra-clean padded upper. Why the name? "I asked Drake what he wanted to call the shoe, and without hesitation, he said, 'The Hot Step.'" Babel says. "It cuts to the point and doesn't feel like a Nike shoe name."
Did you know that Nike's wings served as inspiration for the swoosh logo. Turn the Nike logo so the pointy tip is facing down as you take a side view of the brand. Carolyn Davidson created the swoosh logo for Nike.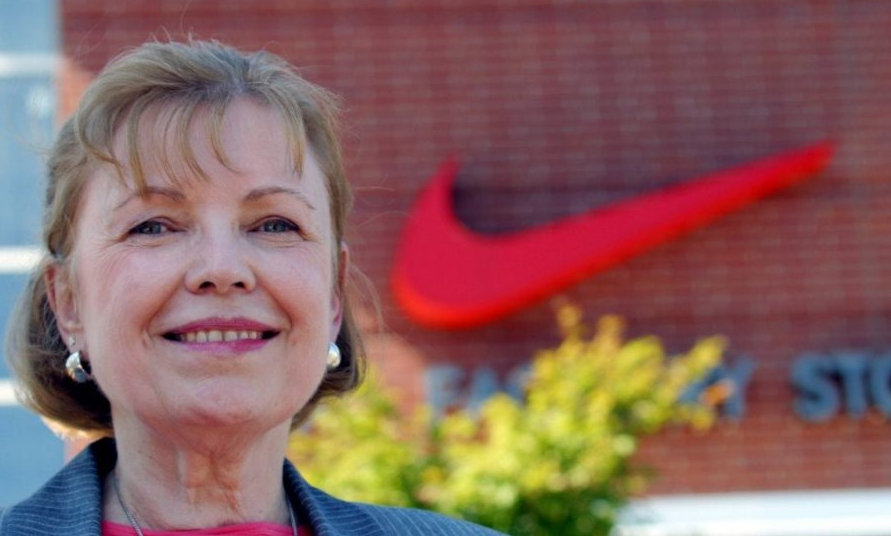 Carolyn Davidson was still a student when she made the design in 1971. She worked on designs and completed within 17.5 hours. She received $35 for it or $2 per hour. One of the most recognized logos in the world, the Nike brand is valued at $26 billion. Nike spends about 10% of its annual revenue on Advertising and Promotions.
What does Nike stand for?
The winged goddess of victory known as Nike in Greek mythology is said to have appeared on the battlefield to bestow honor and glory upon victorious warriors.
Although Carolyn Davidson's research into the history of Nike's name is unknown to us, it is a name that is perfect for a sports company that is favored by so many legendary athletes!
Contrary to popular belief, Davidson's Swoosh was not designed as a tick mark, but as Knight requested, as a logo that "had something to do with movement". For many people, design is now synonymous with style, success, fitness, and determination.
Nike is undoubtedly one of the most iconic brands in history, based on the concept of winning the sportswear apparel company has been an innovator since its inception in 1964 as Blue Ribbon Sports. Whether it's the current sneaker craze or a game changer for the sports arena, Nike has adapted and honed ideas into reality throughout the years to provide its customers an advantage over everyone else. It's difficult to identify what Nike's top product or line is because they all serve a role in the market and they haven't just fit into the industry, they've transformed it.
Nike manufactures a variety of sportswear and accessories. Track running shoes were one of their early offerings.
In 1987, Nike, Inc. initially introduced the Nike Air Max shoe brand. Later, further product lines were added, like the 1992-debuting Air Huarache.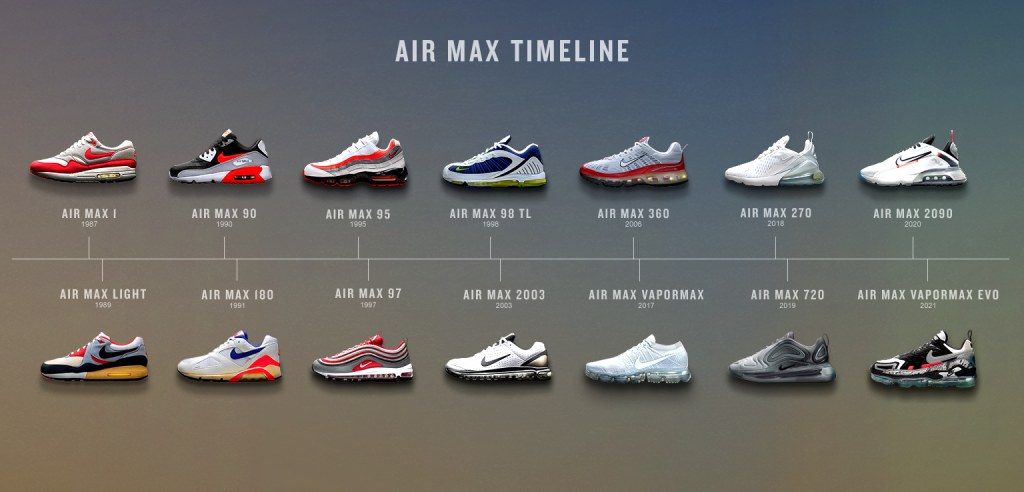 The Nike 6.0, Nike NYX, and Nike SB sneakers, made for skateboarding, are the newest additions to their catalog. Nike just unveiled the Air Zoom Yorker cricket shoes, which are 30% lighter than those of its rivals.
The Air Jordan XX3, a high-performance basketball sneaker created with the environment in mind, was unveiled by Nike in 2008.
For sports including association football, basketball, track and field, combat sports, tennis, American football, athletics, golf, ice hockey, and cross training, Nike's product line includes shoes, jerseys, shorts, cleats, baselayers, etc.
Additionally, Nike offers footwear for sports and recreational pursuits like skateboarding, baseball, cycling, volleyball, wrestling, cheerleading, lacrosse, cricket, aquatics, and auto racing.
Nike and Apple recently collaborated to create the Nike+ product, which uses a radio chip in the shoe that connects to the iPod nano to track a runner's performance. While the product generates useful statistics, it has been criticized by researchers who were able to identify users' RFID devices from 60 feet (18 m) away using small, concealable intelligence motes in a wireless sensor network.
The Nike Vaporfly was introduced in 2017, and thanks to its performance and popularity, a new line of running shoes was created. Studies have indicated that the Vaporfly series' revolutionary technological design can reduce run times by up to 4.2%, revolutionizing long-distance running.
The sole is made of a foamy substance called Pebax that Nike has modified and is now known as ZoomX. (which can be found in other Nike products as well). Pebax foam can also be found in airplane insulation and is "squishier, bouncier, and lighter" than foams in typical running shoes.
The full-length carbon fiber plate in the center of the ZoomX foam is "intended to provide more spring in every step. The Nike ZoomX Vaporfly NEXT%, which was advertised as "the quickest sneaker we've ever built" and made with "Nike's two most innovative technologies, Nike ZoomX foam and VaporWeave material," had recently been introduced by Nike at the time of this writing.
Nike shoes may have gained fame on athletic tracks, fields, and courts, but they may now be worn on a wide range of occasions. You won't have any trouble selecting the ideal pair because the brand offers cozy fits in every conceivable color and design.
Nike casual pairs of shoes with jeans made of denim
Though the dress code is informal, are you unsure of how to pair your Nikes with jeans?
Here, it's more important to pick the appropriate pair of jeans to go with your Nikes. Your jeans should fit comfortably to pull off this timeless appearance. Baggy pants with sneakers might look too sloppy, so opt for a fitted design (such as straight-leg, slim-fit, or narrow) and make sure to pick a length that complements the shape of your sneakers.
Nike formal pairs of shoes
Wearing your Nike trainers to work isn't a complete no-go; it depends on your company's dress code and may require careful thinking. Given the trend toward smart-casual attire in many job categories (including dress-down Fridays!, it's a fantastic chance to incorporate a stylish pair of Nikes into an office ensemble.
ChooserChoose your sneakers wisely, however; avoid alternatives made of canvas, knit, or mesh, and go for leather or suede styles in simple, modern colors like black or white.
For more formal settings, opting for Nike clothes with less evident logos can be effective.
Since 1964, when the first Nike sneaker was introduced, the firm has remained loyal to its values of innovation and pushing the boundaries of design and technology.
Whether it was through a sporting code like basketball or athletics, Nike has produced its fair share of innovations that have gone beyond their original use and are now considered cultural icons, blurring the barriers between sport and leisure and making it possible for everyday use. We are fortunate to have such incredible options on the market now because of Nike's dedication and perseverance.
The other greatest asset has been its celebrity endorsements. They struck prominent signing athletes like Tiger Woods, Kobe Bryant, and Lebron James in the early stages of their career.
Tiger (Eldrick) Woods, a professional golfer, and businessman was born on December 30, 1975. Tiger has had an amazing competitive career since going pro in 1996.
The deal proved a smash hit for Nike, with Jordan quickly rising to superstardom and his shoe line of Air Jordans. The Air Jordan Is, at an unheard-of price of $65 a pair, hit stores nationwide in March 1985. By May, Nike had sold $70 million worth. By year's end, the Air Jordan franchise had yielded more than $100 million in revenues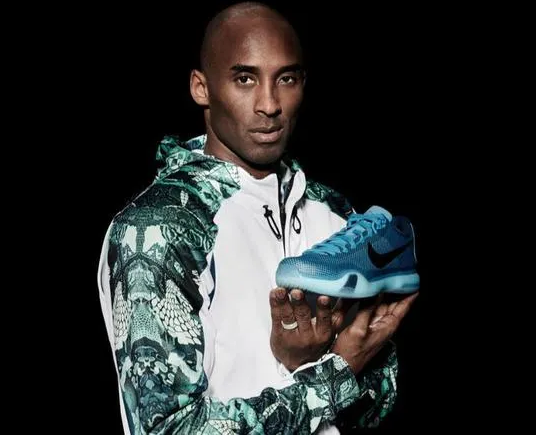 Top athletes from many sports are sponsored by Nike to utilize their gear and market and promote their technology and design.
Tennis player Ilie Năstase from Romania was Nike's first sponsored athlete.
Steve Prefontaine, a distance runner, was the first track endorser. When Bill Bowerman, the company's co-founder, was an assistant coach at the University of Oregon, Prefontaine was his most treasured student.
At the corporate headquarters of Nike, a building bearing his name is now called the Steve Prefontaine Building. There is only one statue of an athlete that Nike sponsors, and it is one of Steve Prefontaine.
Sebastian Coe, Carl Lewis, Jackie Joyner-Kersee, Michael Johnson, and Allyson Felix are just a few successful track and field athletes that Nike has sponsored over the years.
One of the largest boosts to Nike's exposure and sales came from the 1984 signing of basketball superstar Michael Jordan, who went on to promote the brand throughout his career while starring as Mars Blackmon in a Spike Lee film.
Top athletes from many sports are sponsored by Nike to utilize their gear and market and promote their technology and design.
Tennis player Ilie Năstase from Romania was Nike's first sponsored athlete.
Billie Eilish is the next celebrity to champion their sneaker collaboration with two Nike Air Jordan's released in late September 30
Overall, it's easy to argue that these celebrities have benefited from adding a sneaker line to their résumés, raising both their fame and worth and the value of the brands they collaborate with.
The following classic sneaker collaboration to keep an eye out for is Billie Eilish x Nike Air Jordan, where two shoe models were just released on September 30. Billie has given the world's sneakerheads yet another pair of shoes to lust over. They are 100% vegan and made with 20% recyclable materials.
Nike entered the association football market strongly in the early 1990s by signing sponsorship deals with well-known and popular players like Romário, Eric Cantona, and Edgar Davids.
They continued the growth of the sport by bringing in more elite players, such as Cristiano Ronaldo, Ronaldinho, Francesco Totti, Thierry Henry, Didier Drogba, Andrés Iniesta, and Wayne Rooney. They also continue to have many of the biggest names in the sport under their belts, including Neymar, Harry Kane, Eden Hazard, and Kylian Mbappé.
Nike's Marketing Strategy
In the 2022 financial year alone, Nike's advertising and promotion costs amounted to approximately 3.11 billion U.S. dollars. That same year, the company generated over 46 billion U.S. dollars in global revenue.
They have jumped on new ways of advertising and selling products more quickly than their competitors. Although with apparel and sports the market can be broad, for the most part, Nike primarily targets consumers who are between the ages of 15-40. The company caters to both men and women athletes equally and is placing an increasing focus on tweens and teens to build long-term brand loyalty.
Nike advertises its products through sponsorship deals with professional sports teams, college athletic teams, and famous athletes. Additionally, Nike makes use of sales promotion strategies like discount codes.
Nike spends over $100 every second on marketing. Nike promotes their products by having celebrities, and professional and college athletes with sponsorship agreements. 11 Nike's first athlete to endorse its products was a Romanian tennis player named Ilie Năstase.
Nike also invested in marketing early on in their establishment. Currently, Nike focuses on sponsorships, internet marketing, email marketing, and utilized multimedia marketing campaigns.
During the broadcast of the New York Marathon in 1982, Nike's first three national television commercials, produced by the newly established advertising agency Wieden+Kennedy (W+K), were shown. Nike became the first business to receive this accolade twice when it was voted Advertiser of the Year by the Cannes Advertising Festival in 1994 and 2003.
In 2000 and 2002, Nike also won the Emmy Award for best commercial. The first was for "The Morning After," a parody of what a runner could experience on January 1, 2000, if every ominous Y2K crisis forecast came true. The second was for a 2002 commercial called "Move," which showed several well-known and regular athletes participating in various sports.
Nike concentrates on promoting the "Emotional Benefits" of its products. Nike appeals to a portion of the consumer's emotions that wants to aspire to a healthier lifestyle and to realize their own "greatness." Nike promotes a way of life. It should be emphasized that Bill Bowerman's marketing technique did not focus on selling shoes but rather on the psychological advantages of feeling good about jogging and leading a healthy lifestyle. 10 Nike only mentions their product in their advertising but instead emphasizes the advantages of exercising, according to one writer.
Like most leaders in the market, Nike values the consumer and the importance of providing a quality product.
Nike's quality and durability are critical parts of its strategy to be able to command high prices for its products.
Their brand is associated with providing top-notch products for athletes that help them perform better.
One article notes how Nike has been consistent in their message to consumers that they stress the importance of their needs and preferences.
The message to consumers is that Nike wants to make your life better at something you are passionate about (whether that is basketball, running, jogging, etc) and to improve your overall health.
While Nike's taken strides to increase its eco-friendliness, joining the Sustainable Apparel Commission and implementing several reusable materials in its clothing, it still has a way to go.
As well as being lauded by organizations like Climate Counts, Nike has received praise for its Nike Grind program, which ends the product lifespan.
Nike has been working on its Reuse-A-Shoe initiative since 1993. This program, which has been around the longest among Nike's initiatives, collects used athletic shoes of any kind to process and recycle them.
To assist create sports surfaces like basketball courts, jogging tracks, and playgrounds, the material is then created.
Nike has claimed to be working toward the elimination of these toxic chemicals. While these claims have been met with dubiousness over the past couple of years, in 2018, Nike showed some serious signs of growth, expanding its PFC-free portfolio to 93% of products.
In a commercial released on Earth Day 2008, basketball player Steve Nash was seen sporting Nike's Trash Talk shoe, which was made in February 2008 using scraps of leather and synthetic leather left over from factory floors.
Additionally, the Trash Talk Shoe has a sole made of recycled rubber from shoe recycling. Only 5,000 pairs of the allegedly first performance basketball sneaker made from manufacturing waste were made available for purchase by Nike.
Workers in footwear factories in Thailand were found to be exposed to harmful isocyanates and other chemicals, according to a project run by the University of North Carolina at Chapel Hill in 2008.
The primary issue discovered, in addition to breathing, was cutaneous exposure. Asthmatic and allergic reactions could develop from this.
Nike's E-commerce Strategy
With the launch of a new e-commerce section on the Nike.com website, Nike announced the start of the first phase of its online sales strategy. Previously, Nike.com served as an informational and marketing showcase, but the company has shifted its emphasis to "direct-to-consumer" product sales as of this week.
Nike will sell some of its "Nike Alpha Project" items online, including footwear, apparel, and equipment for sports such as soccer, tennis, and basketball, for a limited three-month period only in the United States.
The limited online offering is designed to enable the company to test the waters of online selling and face the challenges that every new e-commerce site faces.
This is the spirit in which nike.com enters the world of e-commerce," said Mary Kate Buckley, director of new business ventures at Nike. "We also know there is a lot more for us to learn before we can be a great website. I like to think of today as the continuation of Nike's e-commerce experiment… a chance for consumers to contribute to our learning how to better serve their needs."
According to Mark Duggan, director of US sales, maintaining positive relationships with Nike retailers is a critical component of Nike.com. "We will also include a Store Locator feature." This will do an excellent job of directing users to nearby retail stores that sell Nike Alpha Project products. We anticipate that this will benefit everyone selling Nike products in an ever-changing retail environment."
The strategy coincided with the formation of a new direct organization that combined Nike.com, Direct-to-Consumer (D2C) retail, and Nike+ digital products under a single leadership team.
Here are four examples of how Nike has put that strategy into action, as well as what others can learn from Nike's digital success.
Create a unique platform by moving away from wholesale
Maintain customer interest in new product launches.
Extend beyond core eCommerce apps
Don't ignore the significance of brick and mortar.
Nike Digital Transformation- Supply Chain
Nike most recent earnings report, digital sales in the US increased 33% over the same quarter last year, and digital channels and applications now account for 26% of Nike's revenues. Additionally, Nike's quarterly revenues were $10.9 billion. In comparison to the same time in 2021, net income was $1.39 billion, a 4% decrease.
Nike made a number of wise digital investments in the years prior to the COVID-19 pandemic, including the introduction of its mobile apps (the NIKE mobile app, the SNKRS mobile app, the NTC (Nike Training Club), and the NRC) (Nike Run Club). During the epidemic, Nike's fitness app, the Training Club, by itself, increased sales in China by 30%.
Nike, maybe recognizing the writing on the wall, began rethinking its supply chain to suit its increasingly digital, direct-to-consumer (D2C) approach. A "unique train," a specialized high-speed Los Angeles-to-Memphis train, was also introduced by the corporation to move goods from the biggest container ports in the country and the company's omnichannel facilities.
They, like many other organizations, increased their usage of physical robots (or co-bots, short for collaborative robots), advanced demand-sensing technologies, and inventory optimization tools to not only raise the speed of order processing and help them treble their order capacity during the holiday season but also to improve the accuracy of demand projections and minimize the environmental effect.
The race has just begun for Nike in terms of its long-term goals for digital transformation. Nike appointed Dantley Davis as vice president of digital design in April 2022, according to a press release. Davies, a long-time industry participant, was instrumental in the development of Netflix's widely imitated digital interface and later worked as Twitter's first chief design officer. This move signals that a new era of innovation is about to commence.
Nike's goal is to encourage product innovation for athletes worldwide. To improve athletic performance, reduce the risk of injury, improve perception and feel, as well as provide athletes with cutting-edge products, countless ideas are tested. Within a creative and successful business, Nike fosters a positive corporate culture. Nike has more followers on its social media than all of its competitors and can target specific audiences through multiple pages, such as Nike football or Nike Women.
Social media plays a key role in Nike's marketing strategy and is a key reason for its strong brand name. Nike has an extensive and open policy on its corporate social responsibility. In addition to encouraging innovation and physical activity, Nike goes above and beyond to fulfill its corporate social responsibility. Nike's purpose is to unite the world through sport to create a healthy planet, active communities, and an equal playing field for all
Deepak Wadhwani has over 20 years experience in software/wireless technologies. He has worked with Fortune 500 companies including Intuit, ESRI, Qualcomm, Sprint, Verizon, Vodafone, Nortel, Microsoft and Oracle in over 60 countries. Deepak has worked on Internet marketing projects in San Diego, Los Angeles, Orange Country, Denver, Nashville, Kansas City, New York, San Francisco and Huntsville. Deepak has been a founder of technology Startups for one of the first Cityguides, yellow pages online and web based enterprise solutions. He is an internet marketing and technology expert & co-founder for a San Diego Internet marketing company.