Like respect, trust is something you have to earn. Trust is even more important if money is involved. In case you just launched your ecommerce website, you might resonate with the challenges of gaining trust of your customers. This is one factor that can convert your hesitant yet potential customer to a buyer. But how to get customers trust you, the answer lies here. It is helpful to discover ways to get customers to trust your ecommerce business.
There are many ways and chances to gain the trust of your visitors and potential buyers. In order to become a trustworthy business and tackle the apprehensiveness of your visitors you have to focus on the following:
1. Establish Your Online Reputation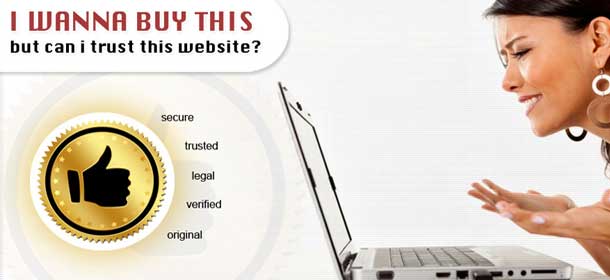 The easy of shopping online is one of the key reasons people buy from ecommerce websites. If you are a relatively new ecommerce business and people have not heard about you, it important to start building your online reputation with customer testimonials, reviews by credible sources, become a member of business organizations, and ads to support your unique selling proposition. This is your change to make a first impression and you are presenting your store to millions of potential customers. Make sure all aspects of your website and brand are done professionally and contain all the necessary details like number of orders you have shipped already, contact information, logo, verified seller, payment options, great customer service (phone, chat, email ) and the total number of customers you have served till date. This is just the first step in establishing trust with your potential customers.
2. Optimized browsing experience – User Experience (UX)
Once the customer feels comfortable with your reputation, it's time to get them to buy from your website. All the visitors coming to your site expect a easy to use navigation showing all the products and brands you sell. Do this right by giving them an easy and optimized browsing experience so they do not waste their time. Make sure all the product images on the site are great, all the descriptions are clear, the site has product reviews, chat support, contact information, policies and about us section displayed on the site. These are credible factors that tell the customer that you are a genuine ecommerce site and encourage them to shop on your website. This is the second step towards earning their business.
3. Simple, secure and easy shopping process
If the visitors like what they see, they get keen on buying. So, all you have to do make the shopping experience simple, secure and smart. A shopping cart that processes payments must have a security certificate (SSL) and be PCI complaint. The personal details must be kept safe from the hackers and this certificate provides an assurance that the buyer's details are safe and secure. Useful information like customer support, shipping cost, amount payable and delivery details must be displayed too. This makes your ecommerce site trustworthy because the shoppers can see the purchase info in a clear and concise manner. This way you build trust by being completely honest with the customer. Also, by giving them a chance to add or subtract any item if they want before they make payment. If your shopping cart looks messy when buyers are about to complete their shopping, they may leave your ecommerce website and you may lose them forever, this is known as shopping cart abandonment, which is one of the leading causes of loss of sales in ecommerce. Therefore, it is extremely important to make the shopping process simple, secure and easy.
As a new online shopping site you should follow these steps to get customers trust your ecommerce business. Make sure you focus on becoming a people friendly ecommerce store and pay attention to their feedback as well.