How often has a customer used a store's website to look for a product only to receive irrelevantly or, worse still, no search results at all? Although the majority of e-commerce websites feature search tools, few of them succeed in enabling users to easily find the products they desire.
Shoppers may now obtain more relevant results due to a new eCommerce solution that integrates Google technology into on-site search.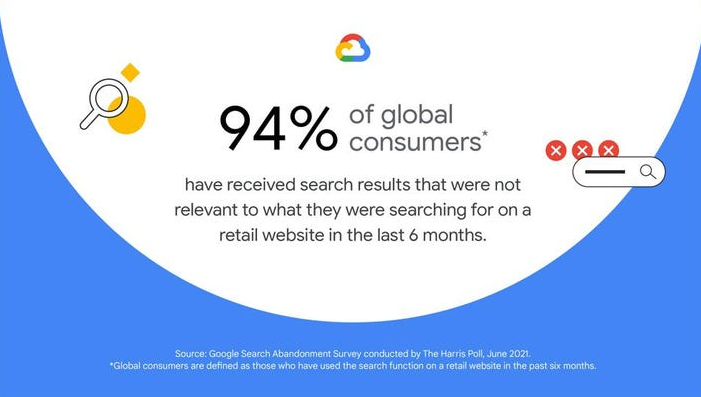 According to a 2021 survey by The Harris Poll and Google Cloud, 94% of American consumers ended a buying session because they received irrelevant search results. "Search abandonment" is the term for this situation. Poor product discovery experiences can put a stop to purchasing and annoy customers. Search abandonment costs retailers an astonishing $300 billion annually in the United States annually
The USA's global retail industry has struggled in recent years as a result of the shift to online purchasing.
This new solution was created to provide eCommerce stores access to Google's technology within their respective domains.
Global shopping portals and online retailers can boost their websites and applications with Google-quality search.
It was developed using Google's technologies, which comprehend context and user intent, to assist businesses in enhancing on-site search and the overall shopping experience.
It attempts to assist companies and eCommerce companies in enhancing on-site search and user experience.
Google-quality search and recommendations on merchants' digital properties are now available through a new solution for e-commerce sites.
Retail Search is a technology developed by Google cloud computing name of websites enables businesses to use Google's search engine on their websites.
All of us have experienced it. On an e-commerce website, we conduct a product search but receive only unrelated or occasionally no results. We apologize, it says in the search results. There are no matches for your search query, unfortunately.
We are all aware of how infuriating this term may be when a website is unable to comprehend your request. The issue is that the development and design of eCommerce websites are still evolving. Additionally, they continue to lack powerful search tools.
It is the goal of online shops and shopping websites to make it simpler for customers to find what they desire. But the majority of them fail to succeed.
Here are some numbers. 2021 research was conducted by Harris Poll and Google Cloud. It demonstrates that 94 percent of American buyers who start a purchase session but end it early do so because of irrelevant search results.
This tendency is known as "search abandonment" by experts. An unpleasant product discovery experience irritates the visitor. A conversion can fail on an e-commerce website.
On the other hand, the same study found that 69 percent of consumers claimed they made additional purchases after a positive search experience. Successful search experiences can result in higher sales, greater brand trust, and larger purchases.
In the USA, retailers lose a whopping 300 billion dollars yearly because of search abandonments. By improving customer experiences, Retail Search hopes to address both elements of the issue, lower search abandonment, and increase purchases.
Although the search has advanced significantly since the days when it was mostly reliant on keywords and boolean logic, consumers still have trouble finding what they're looking for. To receive the results they want—if they find anything relevant at all—users frequently have to come up with the ideal question that the search engine on a retailer's website will understand.
In the present era of online retail, where tens of thousands or even hundreds of thousands of items are offered on a single e-commerce site, traditional search technologies are worthless.
Today's users demand that search engines understand their intentions more thoroughly, deliver relevant results more quickly, and make it simple for them to find new things through tailored suggestions.
Fortunately, consumers may now have better, relevant product discovery experiences on retail websites thanks to the integration of marketing and data science insights with cutting-edge search technology based on machine learning and artificial intelligence.
Now, due to the power of Retail Search, a customer searching for a "long black dress with short sleeves and comfortable fit" on an e-commerce website ought to receive results for that same item right away rather than having to keep refining their search or, worse yet, abandoning it altogether.
Retail Search hopes to address both sides of this issue, minimize search abandonment, and encourage sales by improving customer experiences.
With Retail Search, businesses can design shopper-focused search experiences that are fully managed and customizable. It builds on the indexing, retrieval, and ranking capabilities of the search engine to simplify the process of finding products for consumers while maximizing store objectives.
Business rules can be used by merchants to customize what customers see, diversify product displays, filter by availability, and add custom tags as needed.
This helps them to accelerate desired results for interaction, profit, or conversions. Google created this tool using its extensive knowledge and inventiveness. You may link information with your current tools, such as Tag Manager, Google Analytics 360, Merchant Center, BigQuery, and Cloud Storage while utilizing this search solution.
Advanced Query Understanding – A more accurate understanding of what searchers want produces better results.
Semantic Search – Effectively matching product attributes with website content creates fast, relevant product discovery.
Optimized Results – Results leverage user interaction and ranking models to meet specific business goals.
Advanced Security and Privacy – Designers occasionally create beautiful eCommerce website designs but are unable to make the websites secure. Retailers may feel secure knowing that Google Cloud computing platforms follow the most recent privacy best practices.
Your data will remain segregated, and you will have strong access controls. The product discovery solution simply makes use of the data from sellers to deliver pertinent results on their websites. The General Data Protection Regulation (GDPR) is something that Google Cloud supports.
eCommerce websites can now turn product searches into speedy, relevant, and personalized shopping experiences with the help of this new search tool.
Retail Search is the most recent addition to Google Cloud's Product Discovery Solutions, a group of tools made to improve retail operational efficiency, enhance digital shopping experiences, and take into account changing customer preferences.
Google's media teams continuously analyze the retail sector as they have a hunger for innovation. E-commerce companies concentrate on changes in the digital sphere since they are a part of it. They seek to assist American brands in maximizing their performance.
Tools for finding products are already available through Google Cloud. One is machine learning-based vision product search. It can identify things and seek them up in catalogues to provide related or comparable products.
Recommendations AI is the second. To encourage cross-channel contact, it offers appropriate item suggestions.
eCommerce websites require more than just a decent website design. They also require strong security and privacy assurance. Through a graphical interface, this comprehensive suite enables merchants to manage models, integrate information, and monitor performance.
Google's product discovery tools, which were created to be a full-fledged software suite, provide merchants with artificial intelligence/machine learning-based solutions.
Retail Search is used by several leading retail companies both in and out of the United States. It is assisting them in achieving greater online and omnichannel growth in addition to helping customers have better search discovery experiences.
Using Google Cloud's product discovery tools, several major retailers all around the world have been able to quickly improve the online shopping experiences for their customers and increase digital and omnichannel growth.
Descriptive long-tail inquiries are some of the most difficult queries to interpret," said Neelima Sharma, senior vice president of technology, e-commerce, marketing, and merchandising at Lowe's. There are few customer indications and no previous data. Since we started, we have worked in partnership with Google Cloud to provide our clients with relevant results for long-tail searches, and we've noticed a rise in click-through and search conversion as well as a decrease in our rate of "No Results Found.
Fnac Darty's e-commerce and digital officer Olivier Theulle shared similar thoughts. He said their company has always prioritized consistent enhancement of their site search engine.
Delivering a better, more streamlined, and more intuitive digital purchase experience is our goal. . He further said that their company is the first French retail company to apply this solution to their sites. They hope the tool will offer improved conversion rates and greater shopper satisfaction.
Fabiano Rustic is the chief information officer at a leading retail firm in Brazil named Pernambucanas. He said that their company had improved the search quality and indexing on their online platforms with the help of Google Cloud. In addition, its product discovery tool, Retail Search, furnishes a good experience to our consumers and increases sales conversions.
In the USA, each retail establishment is unique. Their criteria for the buyer experience are particular, and they have various needs for product search solutions. They aim to get the most out of their product discovery software in terms of income, market entry speed, and overall value.
Running an online store necessitates knowledge of product administration as well as advanced payment techniques. But the most crucial step is to design a simplified and controllable shopping experience.
PROS can help you and your e-commerce firm accomplish all of your future potentials. Your online business will remain active and extremely secure around-the-clock thanks to the cutting-edge technologies and payment gateways used by our professional and committed team.
 PROS is a result driven and professional Web Development and  Internet Marketing Agency
Deepak Wadhwani has over 20 years experience in software/wireless technologies. He has worked with Fortune 500 companies including Intuit, ESRI, Qualcomm, Sprint, Verizon, Vodafone, Nortel, Microsoft and Oracle in over 60 countries. Deepak has worked on Internet marketing projects in San Diego, Los Angeles, Orange Country, Denver, Nashville, Kansas City, New York, San Francisco and Huntsville. Deepak has been a founder of technology Startups for one of the first Cityguides, yellow pages online and web based enterprise solutions. He is an internet marketing and technology expert & co-founder for a San Diego Internet marketing company.