Introduction
What the ADA (Americans with Disabilities Act) is & Who Does It Apply To?
Understanding ADA Compliance Requirements
The Business Case for Becoming ADA Compliant
5 Steps for Achieving ADA Compliance
5 Common Misconceptions About ADA Compliance and How to Overcome Them
Conclusion
Today, there are 1 billion disabled people worldwide, with 61 million adults (26% of the population) living in the United States. By 2030, one in every five Americans will reach retirement age with vision impairments, necessitating the use of assistive technologies such as screen readers.
Did you know that if your website is not ADA compliant, you could be fined up to $75,000 for the first fine?
The number of lawsuits has increased since 2016, with hundreds of 8%-compliant lawsuits filed every month
ADA-compliant websites provide an online experience accessible to everyone, including those with disabilities. Create sites that accommodate people with vision impairments, create content that is appropriate for screen readers, use descriptive links, and easily access Web site activities through a keyboard.
Here's a simple truth. You may find it difficult to make your website ADA-compliant. However, you should be aware of the rules and work with web development agencies to make website ADA complaints.
3.8 million U.S. adults aged 21-64 are blind or have trouble seeing, even with glasses.
More than 466 million people worldwide have a hearing disability.
98% of the world's top one million websites don't offer full accessibility.
60% of screen reader users feel that web content accessibility is getting worse.
71% of website visitors with disabilities will leave a website that is not accessible.
Companies without ADA-compliant websites are turning down a share of a $1.2 trillion market.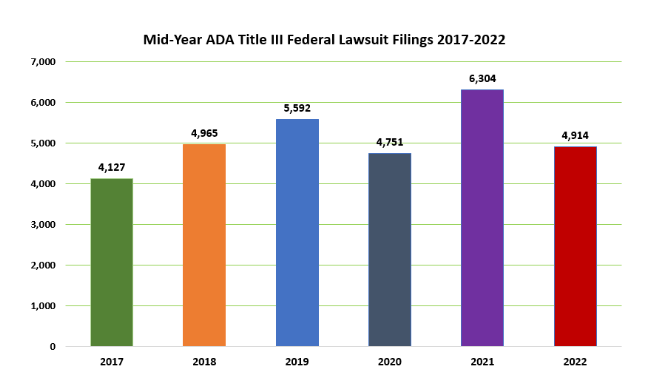 The Americans with Disabilities Act (ADA) is a civil rights law passed in 1990 that prohibits companies, state and local governments, and non-profit organizations with more than 15 employees from discriminating against people with disabilities.
According to Title III of the ADA, a person with a disability must have full access to "public facilities" areas. This law applies to offline facilities such as restaurants, cinemas, gyms, and retail shopping, but also includes websites and mobile applications.
If you don't have access to a website or app and are ADA compliant, you may not be able to access text, images, or videos for people with vision disabilities, and people with hearing impairments may not be able to get the information they need due to shortages. In the video caption.
Title III of the ADA does not specify specific technical standards for determining accessibility, but versions 2.0 and 2.1 of the Web Content Accessibility Guidelines (WCAG) are the most consistently cited standards for maintaining compliance with court rulings. Developed by the World Wide Web Consortium (W3C), WCAG provides a roadmap for how businesses and organizations can make Web content more accessible to people with disabilities, including:
Visual
Ear
Physical
Speech
Recognition
Language
Learn
Neurological
The Justice Department has not issued specific regulations to ensure compliance with the ADA, this does not excuse companies to create websites and apps accessible to people with disabilities.
What is DOJ
DOJ did not specify web accessibility standards to achieve ADA compliance, but the W3C Web Content Accessibility Guidelines (WCAG) are considered US standards.
DOJ did not specify web accessibility standards to achieve ADA compliance, but the W3C Web Content Accessibility Guidelines (WCAG) are considered US standards.
WCAG versions 2.0 and 2.1 and future versions 2.2 describe functional accessibility and are based on four basic principles known as POUR.
Discoverable: Information and user interface (UI) components must be presented in a way that is easily handled by all users.
Enable: All users should be able to operate UI components and navigation, such as those using a keyboard instead of a mouse.
Understandable: Users must be able to recognize and use the website, but they must also be able to understand the website (that is, content and navigation should not be beyond understanding)
Robustness: Content must be robust enough to be interpreted as assistive technology as well as across multiple platforms, browsers, and devices.
According to WCAG, there are specific success criteria for testing content based on three levels of conformance. Each level contains the previous level of standards, which can increase the effort to modify and maintain, and increase the impact on visual design.
WCAG 2.0 was adopted in 2008 and includes three compliance levels:
Level A: You must meet 25 success criteria. For example, at this level, you cannot identify something by color, such as "press the red arrow to go back."
Level AA: In addition to meeting the 25 success criteria for Level a, 13 additional success criteria such as Color Contrast Standards must be met.
Level AAA: In addition to meeting the 38 success criteria for Level a and Level AA, you must meet 24 additional success criteria (62 total). For example, this level requires that you remove all elements that could cause a user to have a seizure, such as those that blink or flash three times per second.
Adopted in 2018 and backward compatible with version 2.0, WCAG 2.1 adds more success criteria:
Level A: Five additional success criteria
Level AA: Seven additional success criteria
Level AAA: Five additional success criteria
Among the additions to WCAG 2.1 is guidance for improving web accessibility on mobile devices and achieving accessibility for people with low vision and cognitive disabilities.
WCAG 2.2 has not yet been released, but some success criteria have moved from Level AA to Level a and may have up to 12 additional success criteria for people with cognitive and learning disabilities and mobile users.
As businesses increasingly rely on websites, e-commerce, and mobile apps, they need to raise the bar on accessibility. However, it is not just because of the possibility of litigation or the risk of reputation.
With an accessible website or app, you can open up your business to tens of millions of potentially undeveloped customers and allow them to use the website or app as intended for everyone to use.
Digital Accessibility lawsuit filed in the US:
66% was targeted at a top retailer.
60% were aiming for the best restaurant.
21% targeted companies that have already been sued for the same issue.
In the first week of March 2020, US accessibility cases continued to be filed at the same rate as in 2019, with 40 to 50 cases per week in New York and Florida, but everyone was ordered to blockade and evacuate.
However, the case has come back as it is now easy to file federal complaints or issue a request letter, even during social distancing.
As digital accessibility quickly becomes a corporate agenda, masculine organizations want to go ahead with compliance programs, but struggle to know where to start.
Lack of background on the elements that make up accessible websites and uncertainty about how to scope and resolve issues for a wide range of obstacles impede their efforts. For large organizations, it is often difficult to centralize approaches in a way that can operate and scale effectively.
Crownpeak has extensive experience in helping global companies build and scale digital governance processes and deliver accessible digital experiences. In this article, we share
Here are the five best practices to simplify the path to website accessibility for online businesses:
1. Think Human
Creating an accessible digital experience is not a check box on the compliance checklist. Some people rely on the inclusion of their digital experiences in their organizations, which can affect their ability to do business with you. Helping your team understand the "why" of website accessibility will strengthen your efforts and help you succeed.
For example, try a free screen reader or other assistive technology on your website. What about that experience for you? Can I complete basic tasks such as filling out a form or completing a purchase?
These moments of revelation can be powerful in adding perspective to your goal.
2. Align with your DE &I Initiative
Diversity, Equality, and Inclusion (de&I) initiatives should include people with disabilities. However, while the company's 90% claims diversity is a priority, it is clear that companies that consider disability as part of their program are less than 5%.
Making accessibility a part of a de&I conversation can help you focus on these needs rather than think about them later.
3. Set Baseline
Understanding the current accessibility status of digital assets is an important step in preparing the foundation for your compliance program.
Automated tools can help you create a baseline. It is essential for businesses with large digital spaces and provides the most efficient means of quantifying the size of the problem you are trying to solve. For example, if you have 5,000 digital assets, automated Web accessibility testing tools can help you take inventory faster, more comprehensively, and more efficiently than you can do manually.
A good place to start is a free website evaluation. Take the assessment here.
Setting a baseline allows you to assess the scope of the tasks ahead, set KPIs, and set goals.
4. Adjust your efforts
In a large enterprise, there may be several people trying to fix website accessibility issues. It is important to harmonize the efforts and opinions of each group. Consider the following:
What is going well or not working well with digital assets?
Do you have existing governance processes and programs to link to?
What is your internal/institutional level of expertise in digital accessibility? What are the training or training requirements?
Do you need ADA compliance tools or other tools to support ongoing programs?
5. Build your Business Case
Understanding the differences in accessibility and setting reasonable goals can help you create a plan that is right for your organization.
Identify the most important stakeholders and provide them with ideas. Support those ideas with the "reasons" behind your efforts. Understanding the level of effort and impact on the business is key to the program.
Gaining executive consent is critical to a successful accessibility program. Build a business case for reducing legal risk, increasing market opportunities, and improving SEO and user experience. This is essential for gaining approval and securing time and budget for the project.
Every time you hear one of these misconceptions about ADA compliance, you'll have free access to all sites and apps for at least a penny. Here are the five biggest misconceptions and how to overcome them.
Misconception #1: To achieve accessibility, only the development and design teams should participate
If the goal is to achieve ADA compliance, everyone in the organization should share the same commitment to accessibility because everyone has a role to play, including customer support, content creators, testers, store employees, HR, and so on. Onboarding with the same compliance goals for everyone can help reduce the cost of ADA compliance by not only changing the culture of the company into a culture driven by accessibility but also taking into account every corner of the digital assets and digital footprint.
Misconception #2: Achieving compliance is a one-time project.
Accessibility is not just an issue that development or design should address, but accessibility is similar to a one-time project. Addressing initial accessibility issues is a small part of a large, long-term process that requires enterprise-wide agreement, ongoing effort, and a permanent budget. Companies that take a project-based approach typically lose time, money, and potential litigation as their digital assets evolve over time and beyond regulatory compliance.
Misconception #3: The business benefits of Accessibility are not worth the cost
Accessibility not only improves accessibility for people with disabilities but also the breadth of benefits to all users accessibility is viewed as an innovation. Did you know that typewriters, phones, punch cards, text-to-speech technology, e-mail, and voice control were originally designed to help people with disabilities? These innovative technologies eventually led to a much wider range of applications, but they were originally designed to provide accessible experiences.
Improved accessibility can help your website's SEO and improve usability for all users. Also, being committed to accessibility helps prevent costly lawsuits and customer losses because of the barriers to people with disabilities on your company's website. Being proactive and passive about accessibility can save your company time, money, legal fees, and hassle.
Finally, perhaps the most important thing is to show that achieving accessibility is interest in customers and users and wants access to the same experience as others.
Misconception #4: Compliance slows you down
Include accessibility in the software or product development lifecycle through the right training, tools, resources, processes, and partners. Instead of treating accessibility as an addition that needs to be addressed, it will simply be part of the process.
Misconception #5: Compliance cannot be achieved in a cost-effective manner.
If achieving accessibility is a business priority, you can budget. An important thing to remember about accessibility is that the value of an ADA-compliant website or app is critical for people with disabilities.
The right partner can help you find the most cost-effective and time-efficient way to access your site, as well as provide you with the best technology and services to scale when you need them. Let PROS help you to speed up the delivery of ADA compliance at a fraction of the cost of hiring or training internal teams.
When you're ready to give people with disabilities full access to websites, apps, and other digital assets, you need a partner with the best technical expertise and knowledge of industry best practices. Regardless of the level of support required to achieve ADA compliance, you can reduce costs by establishing a simplified process that includes performing automated, manual, and user tests and training team members to test themselves, implement scalable automated testing technologies that help improve and maintain accessibility, usability testing & delivery regular reports to accelerate problem resolution and improve oversight seamlessly integrate into current processes and technology investments
AT PROS we recognize the complexity of the task and are here to provide a steady and helpful hand that will guide you through it.
Meerashri Thakar is a Digital Marketer and Content Marketing specialist with experience in generating SEO-optimized content and has made content on Product, Shopify, Drupal, Digital Marketing, etc.