Rollin King and Herb Kelleher decided to launch a different kind of airline more than 50 years ago. They started with the idea that people would choose to travel with your airline if you get passengers to their destinations when they wanted to, on time, for the lowest rates, and ensured that they enjoyed themselves while doing so. And what about that? They were right.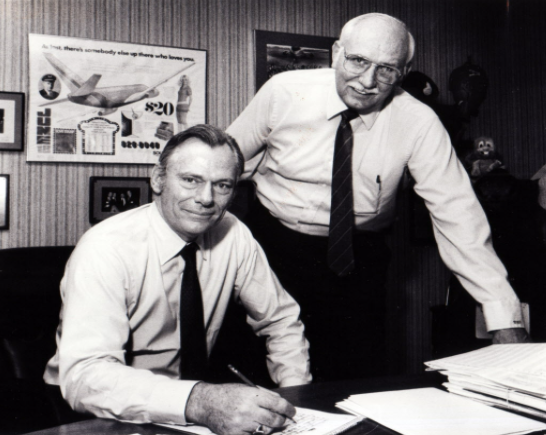 Herbert Kelleher and Rollin King founded Southwest Airlines Co., an American airline, in 1966. It was officially formed as Air Southwest Company in 1967. In 1971, the current name was adopted. "The biggest thing that makes us 'us' is our People, and the unique and unrivaled Hospitality they deliver. No one has a Heart for service like the People of Southwest Airlines. No one."
Key Statistics of Southwest Airlines
Southwest now operates over 2,700 flights daily, carrying 57 million passengers to 57 locations throughout the Southwest and beyond
Southwest provided flights for 123.3 million passengers in 2021.
Southwest has over 55,100 employees.
Southwest Airlines operates 728 aircraft.
Southwest Airlines made $15.8 billion in revenue in 2021.
With a market share of 17.5%, Southwest ranks only second to American Airlines.
Southwest has one of the greatest overall productivity, service, and safety records in the industry, so customers can relax knowing that they will be flying in the friendliest skies. The airline has the lowest operating cost structure of any airline, as well as the most affordable tickets.
50 years ago, a simple idea came to mind. The idea was to create a new kind of airline. We ensure that passengers arrive at their destination on time and at the lowest price and that they have a good time in the process.
The Texas investor group, including Rollin King, Lamar Muse, and Herb Kelleher, raised $560,000 to establish the Air Southwest Company to serve commuters between three Texas cities (Dallas, Houston, and San Antonio).
Southwest Airlines started flights at Love Field, located near downtown Dallas and adopted "Love" as the theme of all the promotions. In the 1970s, flight attendants wore hot pants and Gogo boots and called alcohol a love potion.
The airline, led by Lamar Muse, provided daily round-trip flights between Dallas and San Antonio and 12 daily round-trip flights between Dallas and Houston. One-way ticket cost is $20.00 The cabin crew dressed in Gogo boots and hot pants and offered "love potions" and "water" (drinks and peanuts) to business commuters, mainly.
By the end of 1973, Southwest had its first surplus with half a million passengers.

The company expansion began in 1976 when the airline started its service to the Rio Grande Valley.

By the end of the year, he bought a fifth plane, took the fifth passenger, and the stock was listed on the New York Stock Exchange as "LUV".

Southwest Airlines started flights at Love Field, located near downtown Dallas and adopted "Love" as the theme of all the promotions. In the 1970s, flight attendants wore hot pants and Gogo boots and called alcohol a love potion.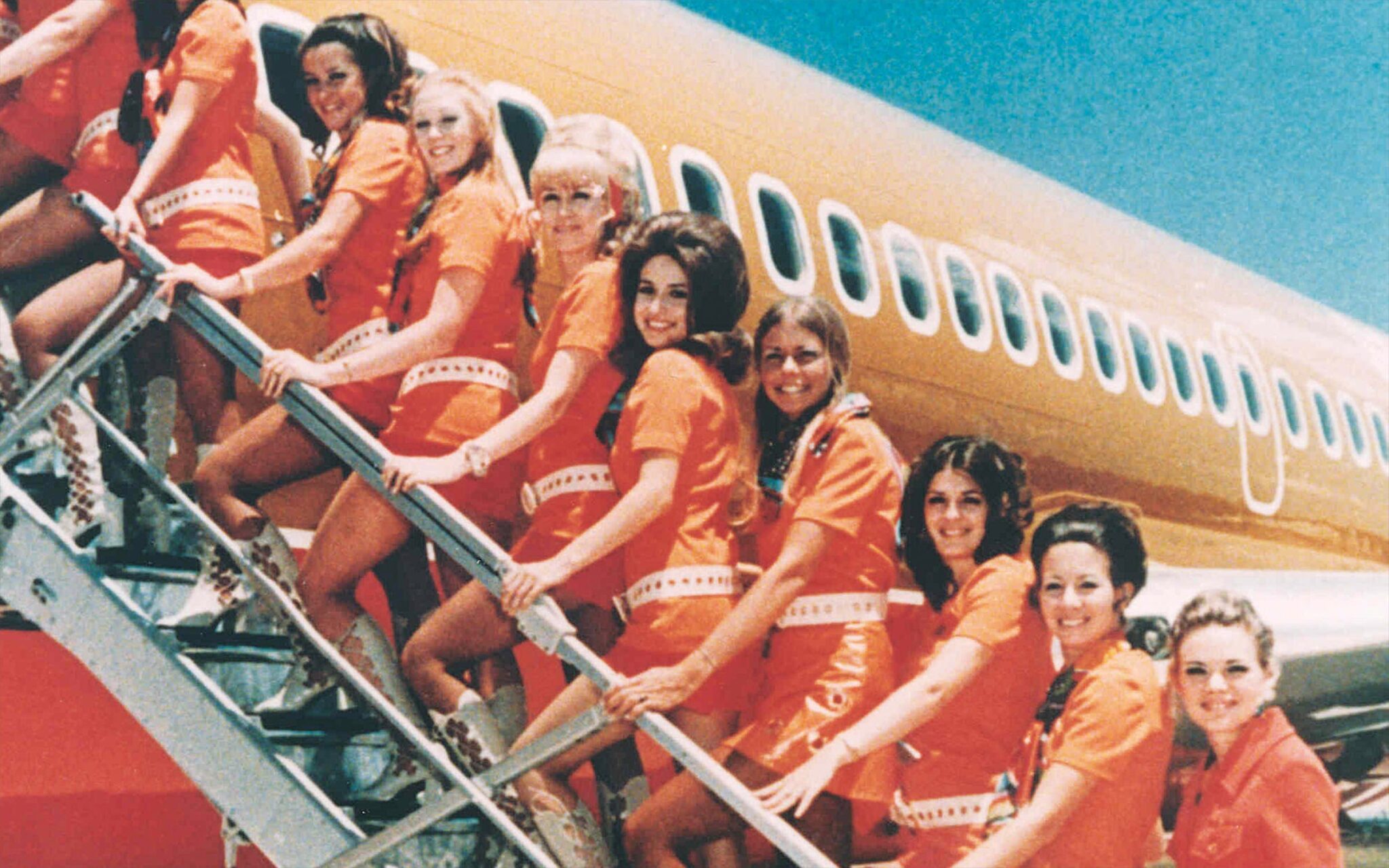 Over the next few years, our LUV spread from coast to coast and from border to border thanks to the LUV for its hard-working staff and customer service.
By 1982, Southwest had added flights to Las Vegas (LAS), Phoenix (PHX), San Diego (SAN), Los Angeles (LAX), San Francisco (SFO), and Kansas City (MCI) with a total fleet of 37 aircraft.
1984 was the fourth year in a row when Southwest Airlines ranked number one in customer service. By 1998, Southwest Airlines became the fifth largest airline in the United States, serving more than 50 million passengers a year across the United States, serving the Northeast, Southwest, and other major regions.
In 1987 Southwest Airlines acquired TranStar Airlines and in 1994 Southwest acquired Morris Air. This gives Southwest a stronger market advantage.
Southwest hired its first black pilot, Louis Freeman, in 1980. In 1992 he was named the first black chief pilot of any major U.S. airline.
In 1999, Southwest added its 300th Boeing 737, adding services in Connecticut and North Carolina, continuing to expand on the East Coast. By the end of the year, the airline had 312 aircraft and had flown more than 840,000 flights that year.
Southwest Airlines reported fourth-quarter results at the end of 2001 and profitability for 29 consecutive years. It also set a record for nine consecutive years of revenue growth.
This year's revenue was a total of $5.5 billion, slightly below the 2000 revenue of $5.6 billion.
The airline's annual net profit 500 million was $11.1 million from 600 million $25.2 million in 2000.
In 2002, expansion was slightly less than before. But the airline still has 375 planes and more than 60 million passengers.
By 2003, the airline added its 60th destination, Philadelphia, and carried more than 65 million passengers with 388 jets. In 2004, Southwest had more than 400 aircraft.
Fortune has recognized Southwest Airlines in its annual survey of corporate reputation for the decade in a row.
In 2004, Fortune ranked Southwest Airlines third among the top 10 most respected companies in the United States among all industries.
By the end of 2007, the airline had more than 88 million passengers in a year on 520 Boeing 737 aircraft.
On March 1, 2012, Southwest and AirTran received FAA approval for a single operational certificate, an important part of the integration between the two airlines. Just a week later, Southwest acquired the first Boeing 737-800 and launched it on March 21.
On August 30, 2017, Southwest acquired North America's first Boeing 737 MAX 8.
The plane flew on October 1 from Dallas to Houston on flight 1. Within a month, the airline's last Boeing 737-300 was retired.
In 2019, the Boeing 737 MAX was universally grounded in two deadly crashes.
Long-lasting dancers created significant operational challenges for Southwest, one of MAX's largest customers.
The following year, the Pandemic continued to disrupt service by forcing American airlines to shut down many flights due to social restrictions.
In particular, the company suffered a loss of $3.1 billion in 2020, as COVID-19 damaged the market.
The company had to report annual losses for the first time in 48 years.
Southwest has a long history of giving its shareholder's value return.
Through share repurchases and dividends, Southwest has returned more than $12.9 billion to shareholders since 2010.
Southwest returned $639 million to shareholders in the first quarter of 2020 by repurchasing $451 million in common stock and paying $188 million in dividends.
According to the Design or Rational Model, several fundamental features result in the formulation of a company's business plan.
SWOT analysis and an understanding of managerial values at Southwest can give clear insights into the techniques this airline has used and is still using to obtain a sustained competitive edge over its competitors.
Herbert Kelleher and Rollin King founded Southwest Airlines Co., an American airline, in 1966. Southwest Airlines targeted mainly two types of customers i.e. price-sensitive customers and time-oriented travelers. 
The strategy is to provide low-cost flights, which are comparable to roadway traveling fares.
During the early days, talented veteran pilots, staff and executives were hired from other carriers to drive the business to great heights.
With time, the business gained efficiency. It had an operational time of 25 minutes per flight. Hence this concludes the marketing mix of Southwest Airlines
South West Airlines has been in surplus for 47 years in a row, and the record has been broken by the Coronavirus pandemic.
The company's success in low- and non-profitable industries is due to intelligent route selection, flexible seating, free checked baggage, and point-to-point destination strategies.
For many decades, Southwest Airlines has been committed to low-cost brands.
For customers checking in two pieces of baggage, the company claims that the fee will be the lowest at 87%.
Southwest's exclusive Boeing 737 operation provides competitive pricing.
This saves the technician and pilot training costs on a variety of aircraft.
The company also prefers smaller airport-to-airport routes, where taxes and access to gates are less expensive.
Operating revenue in Q3 2021 was $4.7 billion, up 161% year over year.
The company currently serves more than 100 destinations across the United States, Mexico, Central America, and the Caribbean.
Southwest Airlines generates revenue by providing domestic and international air services. This Revenue is spread across three categories:
Passenger Revenue – or domestic and international ticket sales to travelers.
Transportation Revenue – includes shipping and freight services
Other revenue – from sales of ancillary services such as early check-in and in-flight purchases. Unlike other airlines, Southwest offers light refreshments such as peanuts and crackers free of charge, without charging a premium seat fee.
The company uses a common revenue-generating strategy for many airlines, but a successful business model is worth mentioning. Before the COVID-19 pandemic grounded planes worldwide, Southwest Airlines was in the black for 47 consecutive years from 1973 to 2019.
Despite operating in an industry where it is very difficult to do so, the company not only survived but also flourished.
This was achieved in the following ways:
Intelligent route selection – as mentioned in the previous section, airlines prefer to operate routes with minimal airport tax. Also, select a route where all seats are more likely to be sold.
Flexible seating – Southwest does not assign seat numbers to passengers. This means that if the plane is replaced with a different seat configuration, the company does not have to reissue the boarding pass.
Free checked baggage – most airlines charge for checked baggage, but Southwest does not. Chris Wahlenmeier, Vice President of Ground Operations, explains why. As a result, you will check more baggage at the gate just before departure. And it wastes time."
Point-to-Point Destination – and finally, the Southwest flight is point-to-point. This means that the plane lands turns around, and returns to where it was. The point-to-point strategy is linked to hundreds of different airports, and as a result, it appears to be less vulnerable to delays than flying to major hubs with high air traffic. A simpler network also means that companies spend less time searching for lost baggage. Southwest boasts a 99.6% bag completion rate.
In Southwest, we put our customers at the center of our business operations. They offer certain benefits on flyers that are not offered by other airlines, such as:
Southwest accepts two pieces of checked baggage free of charge, unlike many competitors.
Southwest accepts changes to flights 30 minutes before departure.
Southwest offers free in-flight entertainment such as live TV, movies, WhatsApp, and image usage. Provide Wi-Fi service at a very low cost.
The right hiring policy:
Southwest emphasizes the customer experience so airlines must hire the right type of people. Southwest focuses on hiring people who have a service attitude to its customers.
Overall, the majority of Southwest's annual ad spend was directed to Facebook ( 60% ), resulting in more than 3.1 billion paid impressions.
The airline launched in 2020 with a vibrant Facebook strategy that only in February has spent a little over $4.7 million on the platform.
The airline continued to see a steady decline in spending across all advertising channels until it hit its annual low in April, with Facebook spending just below $100,000.
As the airline began the Wanna get away promotion summer, activity has steadily increased.
As the COVID case began to stabilize nationwide, Southwest promoted a promotion on Facebook and YouTube, taking advantage of a lucid state of sending passengers to domestic and tropical destinations.
Wanna get away with the whimsical video creative behind the winter sale, spending has increased over the winter.
Spending on all other advertising channels, except Facebook, remained stagnant until the first month of 2021.
Did their $42 million investment yield results? The signs probably indicate! Southwest now reports that beaches and other "nature-inspired destinations" reservations are on the rise above all other regions. Southwest's brand voice is undoubtedly even more conspicuous the year competitors remain conservative in ad spending and strategy.
In the pre-trendy era, brand names were an important consideration for commercial customers. Brand loyalty is now the lowest ever. But even if they are less focused on international travel and have a clue, Southwest is not as damaging as its competitors and can roll dice to attract new and loyal customers for post-epidemic flights.
March 1967
Southwest Airlines was founded on March 15, 1967, by Rollin King and Herb Kelleher to serve three cities in Texas as Air Southwest. According to an oft-quoted story, King drew a triangle on a paper napkin to represent the road to Kellea at dinner. (Dallas, Houston, San Antonio).
1970
Air Southwest won the lawsuit in 1970 when the Texas Supreme Court admitted Air Southwest had the right to fly within Texas.
June 1972
On March 29, 1971, Air Southwest Co. was renamed Southwest Airlines Co., headquartered in Dallas. The Southwest began regular flights from Dallas to Houston and from Dallas to San Antonio on June 18, 1971, with three 737-200 units. On October 15, 1972, OAG shows 61 one-way flights between Dallas and Houston Hobby, 23 one-way flights between Dallas and San Antonio, and 16 one-way flights between San Antonio and Houston. No flights were scheduled on Saturday.
September 1981
Bob Jordan, former vice president of Corporate Services, announced on February 1, 2022, that Gary C. She replaced Kelly as the sixth CEO of Southwest. Kelly continues to serve as President of Southwest Airlines. Kelly replaced former CEO Jim Parker on July 15, 2004, and served as chairman on July 15, 2008, replacing former Chairman Colleen Barrett. In July 2008, Herb Kelleher resigned as president.
June 18, 1987
Southwest first launched a frequent flyer program on June 18, 1987, called the 'Company Club'. This program earns credit for travel flown regardless of distance. Southwest Airlines changed its name to Rapid Rewards, a frequent flyer program, on April 25, 1996.
February 2009
All Southwest Airlines aircraft are equipped with Wi-Fi, along with free streaming live TV, movies, streaming music, and app messaging. After completing the testing phase, which began in February 2009, Southwest announced on August 21, 2009, that it would start an in-flight Wi-Fi connection via Global Eagle Entertainment's satellite broadband-based products. Southwest began adding Wi-Fi to its fleet in the first quarter of 2010.
01 MAR 2011
As of March 1, 2011, Rapid Rewards has been changed to a point system based on ticket costs. Members earn and use points based on the four-tier fare scale and the cost of the ticket. The change does not include blackout dates, seat restrictions, or credit expiration. As of October 18, 2019, Rapid Rewards points will not expire as long as the member is still active. It also adds more options to use your points.
2012
The Southwest suffered nine accidents, including two aircraft hull losses. The airline was named the world's top 10 safest airlines in 2012.
2 June 2016
On June 2, 2016, Southwest launched a groundbreaking ceremony for a new office and training facility known as Wings. The most recent addition to the corporate campus consists of a 420,000-square-foot six-story office building and an adjacent 380,000-square-foot structure called the Leadership Education and Crew Development (LEAD) Center, which serves as the new pilot training facility. The lead center is capable of accommodating and supporting 18 flight simulators. Designed to scale up to 26 simulator bays. This is a building that opened on April 3, 2018.
10 January 2017
On January 10, 2017, Southwest announced Thomas M. Nealon as President, and Michael G. Van de Ven has been appointed Chief Operating Officer of the airline, announcing changes to the company's management. On September 14, 2021, Southwest announced that Nealon decided to resign immediately but would continue to serve as the company's strategic advisor. Mike Van de Ven, Chief Operating Officer, was appointed president of the company on the same day and remains COO.
29 December 2017
On December 29, 2017, a family was taken off the plane at Midway Airport in Chicago on unconfirmed head-on charges. The family had no head and two days later they got back on the plane.
16 August 2019
On August 16, 2019, Southwest announced the expansion of its lead center to accommodate eight additional simulators for future operational and educational needs. On January 2, 2020, Southwest announced the purchase of an additional 3 acres (1.2 ha) of land adjacent to the Wings and lead facilities. Additional details are not disclosed.
2020
In 2020, a South West captain took off her clothes and watched pornography on a laptop while a female assistant captain continued her job. The captain retired before the incident was reported but was subsequently charged with lewd behavior and the airline ended its retirement benefit.
March 2021
In March 2021, Southwest announced an order for 100 MAX 7 jets. With this order, Southwest Airlines became the largest buyer of Boeing jet models. In June 2021, the total number of orders for the Max 7 aircraft was increased to 234.
27 July 2022
On July 27, 2022, a federal investigator in the U.S. Special Counsel's Office issued a follow-up report to the 2020 dot Inspector's report, citing four whistleblowers. The 2022 report claims that Southwest stonewalled Federal Aviation Administration (FAA) investigations into maintenance and piloting safety lapses, and criticized the FAA for failing to adequately oversee the airline, stating that senior FAA staff "mismanaged and interfered" with investigations "in the face of SWA's intimidation tactics." The report accuses Southwest of misusing the FAA's Aviation Safety Action Program (ASAP) to hide pilot errors, while accusing the FAA of failing to adequately oversee Southwest's mechanics, and of failing to adequately vet maintenance records provided by the airline for 49 737 aircraft purchased from foreign carriers whose documentation practices did not meet FAA standards.
Southwest Airlines Awards & Accolades
1972 Awards and Accolades
Southwest carries its one-millionth Customer.
Southwest flies its five millionth Customer—Bud Halbert.
1978 Awards and Accolades
Southwest boards and deplanes its millionth passenger in a calendar year at Dallas Love Field.
1979 Awards and Accolades
During the first quarter of 1979, Southwest boarded 1,038,657 passengers, establishing a new quarterly boarding record of over one million passengers boarded during a single quarter. Southwest records its largest single day in passenger boardings when it carries 17,928 passengers.
1986 Awards and Accolades
15th Anniversary. Southwest receives the Presidential Citation Award for Private Sector Initiatives in the White House Rose Garden for our "Home for the Holidays" program which began in 1979.
Ronnie Lopez, the executive assistant to Arizona Governor Bruce Babbit, is presented Southwest's "Good Neighbor Award" at the 1986 annual awards banquet.
1988 Awards and Accolades
Southwest learns that we earned our first-ever monthly Triple Crown for May 1988. This is the first time since the DOT started tracking airline performance for on-time performance, baggage handling, and Customer complaints that an airline rated first in all three categories.
1989 Awards and Accolades
For an unprecedented second time since the DOT began keeping records on the performance of the nation's largest carriers, Southwest captured the top rating in all three categories of the DOT operating statistics report.
They scores second monthly Triple Crown.
1990 Awards and Recognition
They score third monthly Triple Crown.
1991 Awards and Accolades
Southwest Airlines Scores fourth monthly Triple Crown. Becomes the nation's first and only airline to be rated number one in all three major performance categories by the DOT for a record-setting fifth time–an achievement no other airline has reached once.
1992 Awards and Accolades
Southwest is honored as one of the outstanding achievers in the air cargo industry with the "Quest for Quality" award from Distribution Magazine.
1993 Awards and Accolades
Announces the Addition of 45 roundtrip flights, including new and increased service, to schedule this spring and summer. Claircom Communications and Southwest form a partnership as the first phone system is installed on our aircraft. Southwest Airlines wins the first Triple Crown Award, based on Department of Transportation statistics for the year 1992. Southwest ranked first in the fewest Customer complaints, best on-time performance, and best baggage handling. 12th monthly Triple Crown. Southwest Airlines receives a Certificate of Appreciation from the College and Graduate School of Business at the University of Texas in Austin
1995 Awards and Accolades
Flight Ops and Inflight Planning, Scheduling, and Payroll Employees are named our 1995 "Heroes of the Heart."
1996 Awards and Accolades
Southwest Airlines ranks 434th in the Fortune 500 in Fortune Magazine.
Southwest wins the Triple Crown for the fourth consecutive year.
Customer Service Coordinators and Flight Information Agents are named 1996's "Heroes of the Heart."
1998 Awards and Accolades
Southwest retains the top spot in the national Airline Quality Rating for the third consecutive year as conducted annually by the W. Frank Barton School of Business at Wichita State University and the University of Nebraska at Omaha Aviation Institute.
Southwest Airlines ranks fourth on Fortune magazine's "100 Best Companies to Work for in America" list. Fortune also named SWA the most admired airline in the US for the third year in a row and the seventh most admired corporation for 1998.
1999 Awards and Accolades
Herb Kelleher receives the CEO of the Century award from Texas Monthly.
Herb Kelleher receives an award for "1999 Spirit of Generations Award" from the Senior Citizens of Greater Dallas
Southwest Airlines ranks second on Fortune Magazine's "100 Best Companies to Work For in America" list.
2001 Awards and Accolades
Herb Kelleher is honored on The Top 25 Managers of the Year for innovation, financial performance, and individual leadership capabilities.
Southwest Airlines is named America's most admired airline in FORTUNE's industry-specific listing of "Most Admired Companies," and finished fourth place overall.
2003 Awards and Accolades
Aviation Week magazine names Herb as one of the "Top 100 Stars of Aerospace." The list includes Leonardo da Vinci, Charles Lindbergh, and Chuck Yeager. Southwest Captain and former Astronaut, Robert "Hoot" Gibson is forced into NASA's Astronaut Hall of Fame.
Chief Executive magazine places Southwest Airlines into its Top 20 list of companies that produce great Leaders. Southwest ranks tenth, up from its 18th-place rating the year before.
2008 Awards and Accolades
For the second consecutive year, Southwest's blog, Nuts About Southwest, receives PR News' Platinum PR Award for Best Corporate Blog.
2014 Awards and Accolades
Southwest Airlines today was named to FORTUNE's 2014 list of World's Most Admired Companies for the 20th consecutive year. Southwest was ranked as the 9th Most Admired Company and is the only commercial airline to make the Top Ten.
Southwest Airlines Cargo has once again become the only U.S.-based airline to earn the highly coveted Diamond Award in the "up to 299,999 tones" category in Air Cargo World's tenth annual Air Cargo Excellence Survey. Southwest Cargo earned high marks for its great Customer Service, Performance, Value, and use of Information Technology.
Southwest Airlines won one award in 2022.
Based on 3,864 ratings and 373 participants, Southwest Airlines employees are very satisfied with their work experience. The overall culture score of 81/100 or a+ incorporates employee ratings based on feedback from Outlook, CEO Rating, Managers, etc.
Southwest Airlines utilizes its unique legacy and mission to support communities all over the world, including harnessing the power of its People and Purpose to put communities at the heart of its success.
Southwest Airlines is a lesson on cultural strategy. Built on the fundamentals of customer eccentricity, effective processes, and dedicated teams, organizations are designed to achieve success and overcome challenges. This great customer service model can help your business gain a perfect reputation in the industry. That's why the Southwest model is uniquely priced, but this brutal aviation industry creates a profitable model.
Deepak Wadhwani has over 20 years experience in software/wireless technologies. He has worked with Fortune 500 companies including Intuit, ESRI, Qualcomm, Sprint, Verizon, Vodafone, Nortel, Microsoft and Oracle in over 60 countries. Deepak has worked on Internet marketing projects in San Diego, Los Angeles, Orange Country, Denver, Nashville, Kansas City, New York, San Francisco and Huntsville. Deepak has been a founder of technology Startups for one of the first Cityguides, yellow pages online and web based enterprise solutions. He is an internet marketing and technology expert & co-founder for a San Diego Internet marketing company.