Google keeps on testing and releasing new features and tools in Adwords which can help with Search Engine Optimization.  Some of these new features and tools have greater potential for impact than others.  These include Ad Customizers, Callout Extensions and Site Links, Call Tracking, App Promotion Through Google, Demographic Targeting Ads, New Version of Google Web Designer That Can be Used with HTML5 Ads and Google Adwords Editor. Use these new features to add to checking up on SEO for your web site.
 Ad Customizers:
Ad Customizer, used for media buying, adapts to advertisements to the context in real-time of your potential customers.  Your potential customers do the following: What they are searching for, where they are browsing, what device are they using, and when they are seeing your advertisement.  First, you must create ad customizer data.  Next, you will set up text for your ads with customizers in each ad group you want so that you can reference the data.
What if you are a retailer with 20,000 products and some of the products have variable discounts, such as 5% off of trainers and 10% off of shoes? If you are Google shopping retailer, then you can upload a list of products with the applicable discounts and ending dates for sales for your ad customizers.
Business Data

Item

Product
Discount
Countdown
Target Campaign
Target Advertisement
Sneakers

Mens Sneakers

10
12/16/2014 8:00:00 pm

General Shoe Terms

Boots

Pumps
Women's Shoes
10
12/17/20148:00:00 pm
General Shoe Terms

Pumps
The correct values of discounts and sales, end dates will be sucked, for example the values '10' and '10' will be automatically displayed in a table such as the one above so that you don't need to display the values in a table manually.
Callout Extensions and Site Links:
Do a Google search on Allstate car insurance and check out the results.  Checkout this search on allstate car insurance.  Notice the ad Google result with the title "allstate.com – allstate car insurance".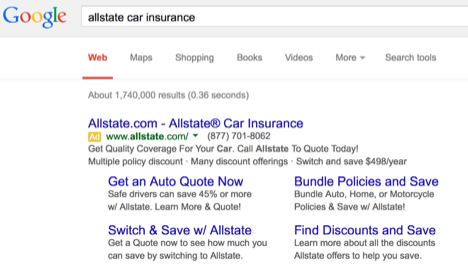 This ad listing also shows two examples of callout extensions in the 1st gray line saying, "Get Quality Coverage For Your Car. Call Allstate To Quote Today!" and second gray line saying "Switch and save $498 per year. Many discount offerings. Multiply policy discount".  Those two gray lines as part of the ad Google result are not links as they are not clickable.  Notice in the same Google results that it shows examples of site links with titles, "Get an Auto Quote Now", "Bundle Policies and Save", "Switch & Save w/ Allstate, and "Find Discounts and Save".
The table below shows you when to use site links or callout extensions?
| | |
| --- | --- |
| When must I use sitelinks? | When must I use callout extensions? |
| To send customers to specific pages within my website such as a purchase webpage or contact formto give people a quick preview of different webpages on my website | |
| A shoe retailer might use these site link titles | A shoe retailer might use these callout extensions |
| Men's shoes Women's shoes Spring sales | 365 customer-day service24/7 customer service free shipping over $25 (campaign level) |
| A cable provider might use these site link titles | A cable provider might use these callout extensions |
| Pay my bill Special offers Moving? | Free HD for 3 monthsNo contractInternet as low as $25/mo |
If the description of the text is longer in nature such as describing the offer saying, "Free shipping over $25. No contract required", then use a callout extension instead of a site link.  If your text, which is the piece of text that you want to highlight in your ad, is a thing or a call to action, for example "buy now" or "men's shoes", then you would want to use site links.
Call Tracking:
Google provides a snippet of code that you can add to your deskop or mobile website. For each click by someone on your Google Adwords ad, a unique forwarding Google number is generated and will continue to display to user for 90 days in order to track future calls from that website visitor.  You can customize the color, font and size of the numbers as they appear on your website in order to make sure they are consistent with your overall design. If the code is working, then results are available in conversion reporting and in Call Details.  Google will show you the number of calls you have received and other details including the call length. This feature of call tracking is available only to advertisers in the US, UK, France, Germany, Spain and Australia but not in Canada.
App Promotion Through Google:
Given that mobile apps are getting so popular (with some even predicting that the majority of cell phone users will someday interact with apps, not websites), Google has released a new app promotion aspect to AdWords, so that people don't have to count on the App Stores and other means for the promotion of their apps.
They target people who already have a given app and those people who don't have with different ads, for installing, or re-engagement, depending on what the AdWords user has bought. These ads appear in Google search results either above or below the normal paid ads that show up before search results, and are compatible with apps either from the iOS app store or Google Play. The ads also are capable of deep linking, which in the context of apps means linking to a certain location within an app, and allow the AdWords user to track conversions, whether that means apps installed or given actions being taken in the app after clicking. We are a San Diego Mobile App Development company who can help you develop and market an app that would be both fully-featured and high-ranking in these Google searches.
Demographic Targeting Ads:
Google has also introduced the beginning of a demographic targeting ad program. Right now they have three descriptors one can choose to target or not target: Parental Status, Age, and Gender. However, knowing that it's Google, we can probably expect more options in the future.
New Version of Google Web Designer That Can be Used with HTML5 Ads:
Another product which is worth mentioning is Google Web Designer. It has been around for some time; while in its earlier iterations it only garnered mixed reviews, it is now picking up momentum. Using HTML5, Javascript, CSS3, and XML behind the scenes, one can create mainly HTML5 ads like banner ads, both animated and not — it even works with mobile-only gestures like touch, tilt, and shake.
While being a general purpose tool, it is clearly intended primarily to create engaging advertisements, and works for Mac, Linux, or Windows. Each sub-component automatically reports metrics, and while it has less emphasis on coding, it allows modification of any of the code produced by it.
Google Adwords Editor:
Sometimes it is a little slow and clunky to do edits on web-based Adwords.  Adword Editor allows you to download all of your campaigns in bulk on one account or multiple accounts.  Adwords Editor also has an Account Manager.  You can download many accounts simultaneously instead of downloading many accounts one by one.  Next, you launch the campaigns from the accounts and use this quick editor.  It looks very similar to the Adwords you have been using online.  It is the desktop version and it is 3 to 5 times faster.  The new Adwords Editor has a navigation makeover.  In the old navigation 15 years ago there were only three or four types of objects, like keywords, AdWords, AdText and campaigns.  Nowadays, you have got many different campaign objects like site links, managed placements, etc.  In Adwords Editor, it is easy to navigate through different types of objects because the objects are pulled into their own explorer window.
Please contact us today or call us now at (619)567-9322 to know more about big data.