The interest of medical and pharmaceutical wholesalers has been sparked by B2B ecommerce. The aging population is increasing which is leading to an increase in the number of medical innovations and that is why continuous growth can be seen in the sector of medical devices as well as B2B ecommerce. Medical companies have realized the growing popularity of ecommerce and used it to sell their products to other businesses.
67% of wholesale businesses accept orders online which makes getting your own B2B portal important. (b2bwave.com)
B2B ecommerce will be double the size of B2C by 2020. (Frost & Sullivan)
85% of all B2B buyer-seller relationships will be managed without human interaction by 2020. (Forrester)
Wholesalers can benefits from B2B ecommerce because only 11% of medical supply and pharmaceutical businesses currently offer a B2B ecommerce option. (b2bwave.com)
Medical companies are looking for new customers and new markets but the customers are already searching for the devices that they want to buy online. That means a B2B ecommerce site will act as if it is your 24/7 sales representative. Your business can sell the products to the locations where it is not even located. It allows you to reach the markets and customers that are far way instantly.
Site information plays an important role in the decision of customers while buying the products online. You don't have to invest a hefty amount and it will help you to reach new markets and customers without going through the hassle of opening new offices.
Don't overlook brand awareness. It is essential in content marketing and social media marketing and it can be done successfully when you apply ecommerce B2B in selling medical devices and services.
The optimization of products and pages that are to be indexed by search engines will help you to optimize your rank in search results which will ultimately increase the chances of your B2B ecommerce website to be visited by the buyers. Identifying and maximizing the marketing ROI will also be made easy through digital marketing.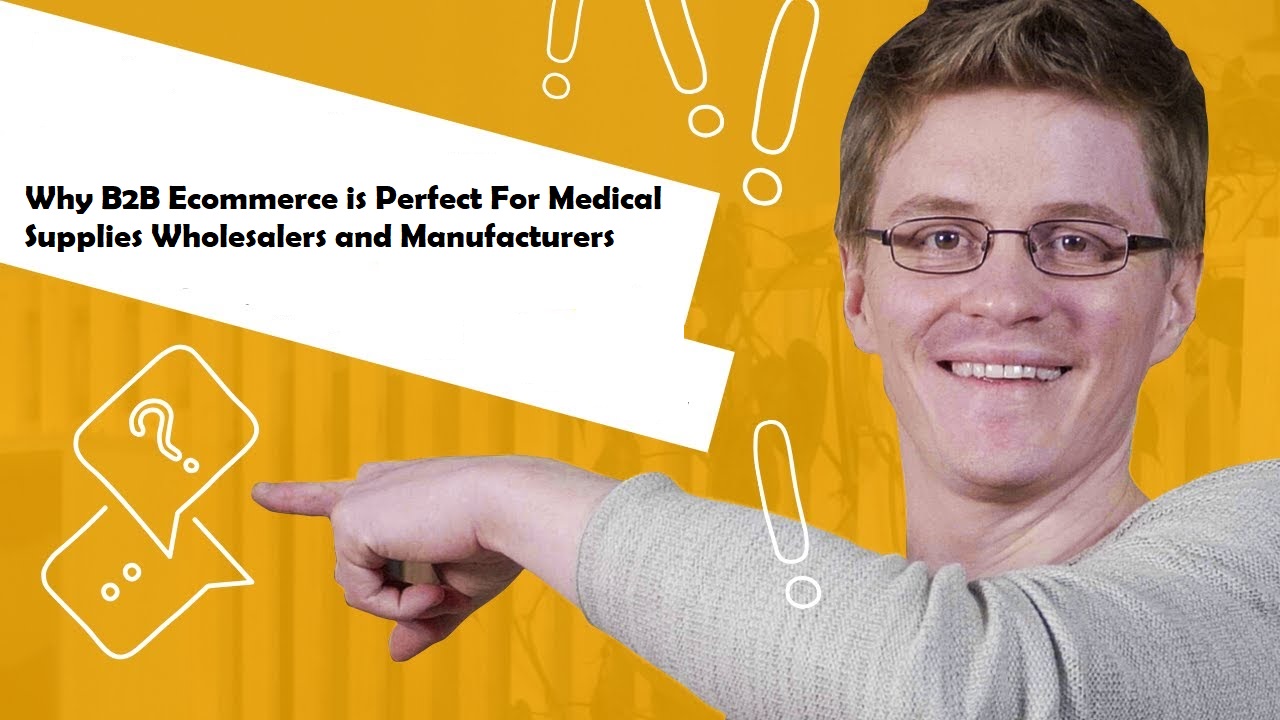 Retaining customers is imperative for any business and customer experience has an important part in it. In fact, return customers are a critical part of the medical business. In addition to bringing in new customers, ecommerce stores also help to improve the customer experience for existing customers.
Your site gives your customers 24/7/365 access to your services. Customers can place new orders, track orders and view their orders in real time. Such type of self-service is exactly what the medical buyers want.
In comparison to brick and mortar business, ecommerce businesses are more accessible. Respond to new markets and customers and grow your business using ecommerce solutions. An ecommerce presence can allow businesses to support both omnichannel experience and B2B customer demands. Customers usually use mobile and computer to visit ecommerce sites.
An important aspect of B2B ecommerce business is to improve operational efficiency. A human error that can occur while manually inputting an order. Ecommerce shops remove the need for any extra manual labor, therefore you will need a smaller workforce. When these tasks are done then you can focus on improving customer services.
It can be a deal breaker in a medical business if you harness the effectiveness of Data and Analytics. You can measure and evaluate some aspects of your business easily by digitizing your business. Marketing campaigns, customer services effectiveness, product mix, customer services effectiveness are some of the frequently evaluated aspects of an ecommerce business.
It can be challenging to figure out how much to spend and where to spend it. It is difficult to choose for most people.  B2B ecommerce is much more complex than even B2C ecommerce. Customized product catalogs, multiple approvals, and financing are some of the most complex needs of B2B ecommerce.
You need to take care of a few main features and search for scalable solutions. Different users roles and permissions should also be covered by the platform. It should allow various payment methods and checkout. Try using an external gateway manager for your B2B ecommerce business.
A user-friendly solution and easier method to order and reorder should be provided to the customers. In fact, make the experience more user-friendly, provide one-page checkout. Make sure to capture and analyze the data.
The evaluation of B2B capabilities, such as the ability to integrate with existing ERP and other back-end systems, is necessary to provide a high degree of flexibility. B2B ecommerce is not just an online ordering system.
Wholesalers can improve their business – increase their sales, scale up their business, and improve their services. The advent of technology has made the reaction of people to technology different. The way customers research, buy goods and services through ecommerce has also changed.
A great solution for ecommerce business can be strong technical support and a large partner network. A clear line of convergence can be seen when the growth of both the B2B ecommerce sector as well as the medical sector is traced.
Taking full benefit from this, various medical companies can offer their products and technical support online. The shift of B2B ecommerce is so much that by 2020, it will be double the size of B2B.