Table of Contents:
Introduction

What is Shopify?

Benefits of Shopify
Hosting 

Marketing Tools

24/7 Support

Fast & Secure

User Experience

Payment Gateway

14-Days Free Trial
Why Hire Shopify Experts?

Conclusion
Founded in 2010, Shopify Inc. is a multinational e-commerce company based in Ottawa, Canada. It is best known as the maker of e-commerce software for online stores and point-of-sale systems. Shopify ecommerce platform allows retailers to easily create and maintain online stores. In addition, it allows them to integrate the system with their existing point-of-sale systems. While the platform has its own unique set of features, it is best suited for e-commerce firms.
What is Shopify?
Shopify is a well-known eCommerce platform that includes everything you'll need or want for your online store. This safe e-commerce software is a complete package for your eCommerce website. It allows you to quickly create many pages with an inbuilt online editor, sell in various locations with local language support, and customize online stores.

It's a one-stop-shop for e-commerce store owners who want to make the most of their online store. Shopify is the best eCommerce platform for a variety of reasons.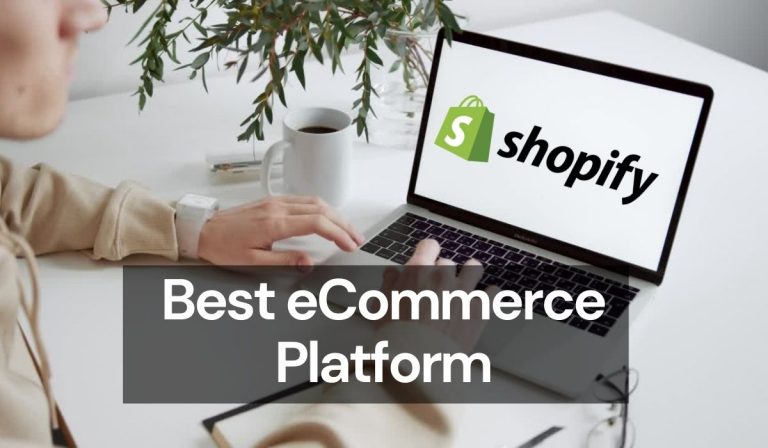 Benefits of Shopify
Hosting
If you are new to the online world, web hosting can be very difficult. Hosting a shopping cart requires expert support and a lot of free time.
Shopify is a cloud-based setup and solution where you don't have to worry about servers or databases. All you need is admin access and the internet to access the store from anywhere. Most importantly, it supports payment gateway operation to make your work simple and smooth.
Marketing Tools
Shopify ecommerce platform has in-built marketing tools that help startups save money. It lets you add page titles, Meta titles, unique URLs, Meta descriptions for the Shopify SEO checklist. You can make pages visible and invisible, and redirect pages as needed. It also allows you to customize the store according to your needs.
In addition, it integrates with Facebook, Twitter, and LinkedIn. These popular social media platforms boost sales. It reduces abandoned carts as well as it can be integrated with email marketing software like Sendlane & Justuno. You can also link your ecommerce with Amazon, eBay, and other marketplaces.
24/7 Support
Running an online store with an e-commerce shopping cart involves technical support. Shopify ecommerce platform provides technical support 24 hours a day, 7 days a week, so you can contact them whenever you have a problem. They'll answer through Shopify live chat support or Shopify support email.
Fast & Secure
Average Shopify store speed plays a crucial role in the success of an e-commerce site.  The faster your web pages load, the more users you'll keep. Shopify ecommerce platform also provides the best service in terms of security and payment provider integration. With an in-built speed checker, users can finish payments at a short loading time.
User Experience
The ability to customize the store's design for visitors is one of the best features of Shopify. An online store template allows you to quickly set up your store and customize its look and feel to fit your needs and style.
Also, Shopify ecommerce platform enables you to add custom fields to your website, making it more appealing to customers. In addition, the software's user interface is simple to use and includes a wide range of amazing themes. PROS provides the best Shopify design team. See a few Shopify website design examples by PROS.
Payment Gateway
An efficient payment system is critical for an e-commerce store to receive payment from customers. Shopify ecommerce platform accepts a wide range of payment methods. It not only integrates with a variety of payment gateways but also provides its own. Its payment gateway has no transaction fee and charges a lower fee for credit cards. To use this gateway, you don't need a merchant account.
14-Days Free Trial
If you want to try out Shopify or Shopify Plus features for free, you can do so with its free trial pack. All you have to do is create an account by providing some contact information and answering a few questions about your project. After creating an account, you will be given a 14-day free trial to try out all of Shopify's features.
A successful online store is not only aided by the ease of browsing and appearance. But it also requires the ongoing support of experts. Whether it's Shopify or Magento contact PROS for expert advice and services.
Conclusion
Aside from being easy to use, Shopify ecommerce platform is also affordable. The 'Lite' plan is an excellent choice for people with limited technical knowledge and who want to build an online store. Despite its price, it is easy to customize and integrates with a range of apps. The software also provides an advanced search tool and an abandoned cart saver. As a result, Shopify ecommerce platform is a popular choice for many new and experienced online firms.
Deepak Wadhwani has over 20 years experience in software/wireless technologies. He has worked with Fortune 500 companies including Intuit, ESRI, Qualcomm, Sprint, Verizon, Vodafone, Nortel, Microsoft and Oracle in over 60 countries. Deepak has worked on Internet marketing projects in San Diego, Los Angeles, Orange Country, Denver, Nashville, Kansas City, New York, San Francisco and Huntsville. Deepak has been a founder of technology Startups for one of the first Cityguides, yellow pages online and web based enterprise solutions. He is an internet marketing and technology expert & co-founder for a San Diego Internet marketing company.