Do you want to market your products online and boost sales? Every year, Google Marketing Live brings together marketers from all around the world to share best practices and learn about the latest and greatest Ads and Commerce innovations.
Over the years, Google has built solutions to help you achieve your business goals, whether it's growing your client base, boosting your revenue or increasing your profit margins.
The Google Marketing Live Event 2022 primarily focused on improvements to video ads on Google, advancements in automation, various forward-looking technologies and how it will shape the next generation of ads products to help you drive responsible business growth.
The top Google Marketing Live Highlights include:
Performance Max
Insights Page
Google Shopping
Google Audiences
Mobile-responsive Display Ads
Asset Creation
CRM Integrations
Reporting
Interesting Google Marketing and Advertising Statistics:
Google gets over 95% of paid ad clicks through mobile
Google has a 29% share of the total ad spending
More than 80% of global businesses trust Google Ads for PPC campaigns
People are four times more likely to click ads on Google (63%) than any other ad network
More than 80% of advertisers either use or plan to use Responsive Search Ads
Users who visit a website through Google PPC ads are 50% more likely to purchase
Google Ads has an 8:1 ROI (Return on Investment)
Google Marketing Live Event Highlights 2022
Throughout the Google Marketing Live event, you'll learn how Google is working to help you unlock growth and navigate today's quickly changing advertising landscape. To help you stay updated, we have compiled the top announcements and improvements to Google ads products and new commerce features below:
Performance Max campaigns, released last year by Google allows you to advertise across all of Google's channels with a single campaign. Advertisers that use Performance Max campaigns see an average increase of 13% in conversions at a similar cost per action. The latest improvements from the Google Marketing Live event include:
Reporting and bidding for store sales: If you're using Performance Max for store goals, you'll soon be able to optimize not only for store traffic but also for store sales. This is currently in testing for Local campaigns, however it will be released in Performance Max later in 2022 as announced in the Google Marketing live stream.
Burst campaigns: This also applies to store goals campaigns using Performance Max. In the past, Google has advised that you conduct store goal campaigns for at least 30 days to obtain the best results. This campaign type is meant to let you reach the same number of people in a shorter amount of time. During seasonal spikes like the holidays, it will operate in unison with your in-store goals to boost visits, calls, and direction requests.
Experiment tools: Experiment tools are currently in beta for Performance Max campaigns that don't have a product feed, and will be fully launched later in 2022. This feature allows you to measure incremental improvements in performance when you add Performance Max campaigns as a complement to existing campaign types like A/B tests.
Explanations: Rather than having to cross-reference data from other reporting systems, this feature will assist you in determining the causes of performance changes immediately within the Google Ads network interface.
Google Ads recommendations and optimization scores: For Performance Max campaigns, Google Ads recommendations and optimization scores will be available soon. Based on your campaign settings and goals, as well as external factors like search volume and trends, Google will recommend optimizations for your targeting, budgets, and asset groups.
Search Ads 360: Google's enterprise-level tool for managing massive search campaigns across several search engines is Search Ads 360 (Google, Bing, Yahoo, Baidu, and more.) Users will be able to view, create, manage, and report on Performance Max campaigns just as they can in Google marketing Ads.
The Google Ads Insights page was released last year. It curates custom insights that are updated daily based on your account performance and recent trends to help you improve your results. Google announced three new types of insights coming to this page at the Google Marketing Live event 2022:
Attribution Insights: The goal of this upgrade is to help you better understand the conversion paths your clients follow across all of your Google Ads campaigns (Display, Search, YouTube, Shopping, Gmail, etc.). This multi-touch attribution data allows you to measure the value of campaigns that lead to conversions indirectly.
Budget Insights: This feature will suggest budget optimizations based on how your campaign budget is performing. It allows you to monitor and act quickly when you're limited or about to be limited by budget; or to reallocate when you are forecast to have a large portion of budget leftover.
First-part Audience Insights: These insights will leverage your first-party data to show you which segments are doing well and provide signals for Google's machine learning to optimize campaign performance.
When it comes to the Google Shopping experience, here are the most important Google Shopping updates for e-commerce businesses from the Google Marketing Live event:
Checkout on Merchant: Customers will soon be able to check out straight from a listing, which will take them to the advertiser's checkout page. This has started with Shopify and Walmart and will expand to other partners and merchants in future.
UI/UX: A powerful, swipe able, visual feed for apparel was released by Google. Users can swipe up on an ad to see more product detail and organic results and Shopping ads using optimized images and descriptions will be blended in the SERP.
AR: Digital marketing with Google will soon provide 3D models of products right in the search results.
YouTube Shorts & Search Product Feeds: Product feeds will be available on YouTube Shorts and Search in the near future, allowing you to transform your video action campaigns into true digital stores.
Product Improvement Recommendations: This tab in Google Ads will allow online stores to enhance not only their campaigns, but their specific products as well. It will identify and diagnose problems with your products, such as missing information, insufficient Google ad bids, and so on.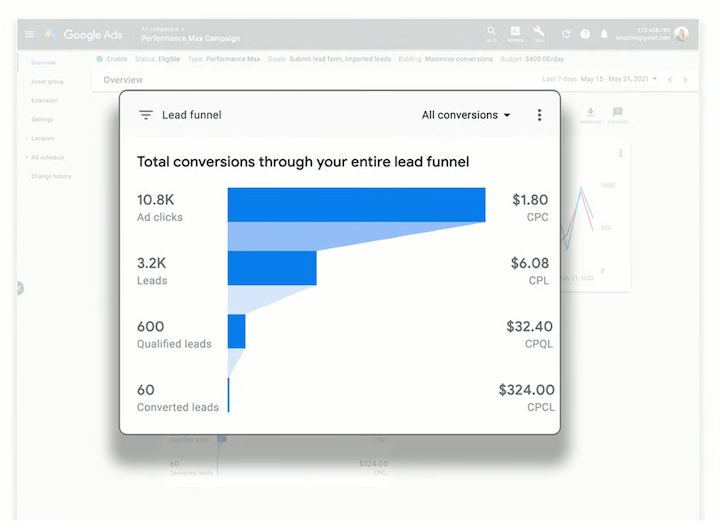 The upgrades to Google automation and machine learning from the Google Marketing Live event are technical, but let's discuss it in simple terms:
Conversion Lift Tests: When you build a Video Action or Discovery campaign, Google divides your audience into two groups: users who will see the ad and users who would have seen the ad but are instead shown a competitor's ad. Google will then examine your website's conversions to see if there was a lift in conversions by those who viewed your Video Action or Discovery ad.
Search Lift Tests: It divides your audience into those who have seen vs. those who have not seen your YouTube ads, allowing you to evaluate if your YouTube campaigns have resulted in any lifts in organic searches.
Google Tag: For all Google Ads and Google Analytics accounts, a single Google tag will replace the Global Site Tag. Tags can be managed centrally without the use of any additional code.
Google Ad Center: Users will be able to choose which types of ads they want to see more of or less from Google.
New Reporting: Data like on-device conversion measurement and a lead funnel report will be accessible, allowing you to monitor how your qualified and converted leads are performing.
GA4 Analytics: With GA4 replacing Universal Analytics, Google Analytics 4 will soon have a new Home dashboard that automatically shows insights and predictions based on where your audience is in their journey.
Privacy Sandbox APIs: Google announced that it has been working on a set of APIs for interest-based advertising and targeting without the use of third-party cookies, which it plans to start testing later this year.
Drive more sales with improvements to lead form extensions and new CRM integrations as announced at the Google Marketing Live event:
Customer Engagement: Choose from over 2,500 questions for your English lead form extensions. You can now suggest adding a question to Google's catalog if you don't find one that you'd like to use.
Improved Measurement: Google Ads has integrated Zapier, allowing for plug-and-play connectors with hundreds of CRMs. You'll be able to tell whether leads are qualified and converted, which can help you improve your bidding and lead quality in the future.
Google made many announcements around asset creation at the Google Marketing Live event:
Automated Responsive Search Ad Assets: Google will develop RSA assets for you based on content from your landing pages and existing ads, which will be available later this year.
All New Asset Library: With Google Drive integration, this will become a one-stop shop for marketers to import, collaborate on, and share all of their assets for all campaigns in one spot and faster than ever.
Marketing with Google has improved. Consumers will be able to message businesses straight from Search Ads using Google Business Messages as announced at the Google Marketing Live event.
YouTube Shorts currently has over 30 billion daily views, four times as many as a year ago, according to Google. 75 % of people agree that YouTube enhances the shopping journey by providing unexpected inspiration. As a result it was announced at the Google Marketing Live event 2022 that ads are now available on YouTube Shorts.
Showcase your brand on new, mobile-first layouts for responsive display ads by Google. Advertisers will be able to showcase their brands on full-screen portrait ad inventory using the all-new mobile-first layouts.
How does Google display ads grow marketing results for advertisers?
For a more engaging shopping experience, Google is also providing scrollable ads and videos based on your product feed. The complete global rollout is expected by the end of 2022 as announced at the Google Marketing Live event 2022.
How does google ads generate responsive search ads? Google Ads creates them based on existing ad copy, landing pages, and extensions.
Google Audiences that include affinity, in-market, and demographic audiences, will be available soon for connected TV campaigns as announced at the Google Marketing Live event. Connected TV ads are a type of OTT advertising that is getting more popular as the number of cable cord cutters increases.
Google and its marketing features keep evolving over the years to deliver a seamless user experience and keep up with the latest trends and technological advancements. The Google Marketing Live event 2022 introduced and upgraded many power-packed features like checkout on merchant, swipe able shopping ads, Performance Max experiment tools, ads in YouTube Shorts and much more for advertisers across the globe Do you want to increase online sales, leads, and traffic? Are you looking for a Google ads specialist?
PROS
is your ultimate Google integration and optimization partner. With 20+ years of experience, our marketing experts can help you with marketing strategy for Google, Google Ads, Shopping, Marketing Platform, Analytics and all other
digital marketing services
.
Deepak Wadhwani has over 20 years experience in software/wireless technologies. He has worked with Fortune 500 companies including Intuit, ESRI, Qualcomm, Sprint, Verizon, Vodafone, Nortel, Microsoft and Oracle in over 60 countries. Deepak has worked on Internet marketing projects in San Diego, Los Angeles, Orange Country, Denver, Nashville, Kansas City, New York, San Francisco and Huntsville. Deepak has been a founder of technology Startups for one of the first Cityguides, yellow pages online and web based enterprise solutions. He is an internet marketing and technology expert & co-founder for a San Diego Internet marketing company.