The fast and steady rise of ecommerce has made Google making one of the top shopping channels as far as customer preference is concerned. You need to form optimized shopping experiences on the channel if you want your sales and customer base to increase. Start with Google if you want to make your company grow. Your business is unique which means you need a unique option among the options that are available. Below are the four recommended ways to follow in order to improve your venture.
Google receives over 63,000 searches per second on any given day. (SearchEngineLand)
Google has 90.46% of the search engine market share worldwide. (StatCounter)
Google is most used in the United States, per recent Google usage statistics. (Statista)
The average amount of time between a Google product search and a purchase is 20 days. (Jumpshot)
Google Shopping Feed: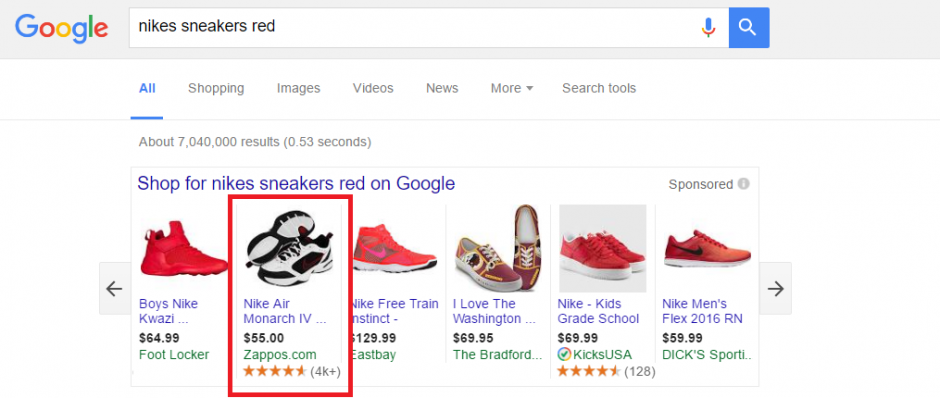 It is a spreadsheet that organizes and describes your product catalog. It does it in a way that Google can easily index the information it requires. There is a difference between the working of search campaigns and shopping campaigns. Search advertisers bid on keywords which helps to determine which search queries initiate their text ads.
Shopping advertisers cannot directly control which search queries initiate their Shopping ads. Feed optimization and SEO work similarly. Relevant information is provided in both cases with the intention of appearing whenever people use Google to find an answer to their queries. If you sell only a few products, you can manually create their feeds in Google Sheets.
If you sell lots of products, you need to use an app or service to form auto-generate their feeds in a Google-friendly manner. Give the information about products as much and as in detail as you can as it will increase the relevance of your ads. If you give less information, Google will less accurately match your ads with search queries.
Google Shopping Actions:

At present, Amazon is leading the ecommerce market but if you're a small business, you should try a new Google shopping program called Shopping Actions. It's all about sponsored ads and makes easier for customers to buy stuff online. It will allow your customers to save their credit card info as they can use one shopping cart and you as a business can take advantage of this universal shopping cart system even if your ad pops up on a search and a customer buys from Target, Costco, Walmart or other retailers all simultaneously.
You just have to learn how it works to get the most out of this program. You can join the program as a business and assist your customers to search your products whether they are voice shopping on the Google Home speaker or using a bot like the Assistant. It will make your Google ads become a part of the Google shopping experience.
Don't consider it a Google version of Amazon.com. Here the ads you buy work along with all available programs, like Shopping Actions. You will have to keep track of all the new Google programs and products to ensure you buy ads that will work for your market segment. Shopping Actions will help the customers looking for your products to make purchases.
Google Manufacturer Center:
Providing products to retailers is simpler and easier for manufacturers than selling their products online. But stuff can go wrong hurting retailers as well as manufacturers. For instance, product information can go wrong once the products are handed off to the retailer. It can affect exposure as well as resulting in sales.
The Google Manufacturer Center (GMC) provides an opportunity for the manufacturers to give Google information about everything including their products' titles, descriptions, dimensions and more. It will enable the search engine giant to verify any information given by a seller against the data it knows is correct because it came from the source.
More information is obviously helpful to the customer as well. This effort may push more traffic to the sellers who are marketing the manufacturers' products. All of this will ultimately lead to better conversion rates and hence revenue.
Google's Local Inventory Ads:
If you are using Google Shopping to reach your customers, Google Local Inventory ads is an incredible option for you. It has the ability to leverage location and local inventories, which drives foot traffic to brick-and-mortar stores rather than online stores. Researches show that people are attached to their mobile devices and they keep searching for information related to their physical surroundings, for instance, directions, where to eat, where to shop.
It shows that users ask Google about physical venues and Google Inventory ads are the best tool for brands and retailers to supercharge their offline sales. Use Google Local Inventory ads as part of your next campaign to make it successful. For example, if a user searches for a product on Google and that desired product is in stock at a nearby location, it served as a served a Local Inventory ad having a tempting "in store" label.
Conclusion:
It might be overwhelming to set up any and all the four options discussed above but the returns it gives makes the whole process worth it. Take the time to understand and then begin with the processes. Try what is beneficial for your particular business. Once the process is put into place, it is very easy to maintain it and it will help you in growing your revenue year after year.