Digital marketing employs various methods and strategies to sell goods and services online. Considering its constantly changing nature, it becomes important for brands to plan ahead, anticipate modifications, and adopt the latest trends before their opponents do. 2017 is going to be a year where the social and digital marketing horizons will expand with the advancements in artificial intelligence, niche curation of content, social media's potency and many more essential aspects will influence the world of digital marketing. Presented here is the state of digital marketing in 2017:
1. New Products Roll in From the Brand Revolution
As we progress into the year, brands will go on to become increasingly aware of the requirements and preferences of the consumers. Brands will be able to do this mainly with the help of social media by constantly looking out for the needs and priorities posted there by the customers in the form of direct feedback and purchasing choices. The effect of the 'brand revolution' on principal consumer-facing industries will help them to customize their goods and services according to the latest lifestyle trends among people.
2. Artificial Intelligence (AI) Solutions Point to a Brave New World
This year will witness the rise of artificial intelligence, as brands will be increasingly using AI as a form of assistance to the customers. Whether be it high-end electronics applications, creating personalized shopping experiences or offering virtual buying assistants. Customers will be able to easily get the best price for a product and communicate with chatbots for quick customer service. Optimal solutions related to Artificial intelligence will be used not just by brands but data analytics, too, as a form of assistance for the customers to operate in the ever-transforming world of ecommerce.
3. Search Engine Optimization (SEO)
The importance of site audits will be realized by increasing number of brands as it is essential if they want to improve the performance of their website and keep it bereft of errors.
Search Engine Journal's survey reports tell that "47% say that a full SEO audit should be conducted every six months, yet only 43% or less than half of SEO professionals always audit a new client's website. It may be daunting to perform an SEO audit, and just thinking of it can make your palms sweaty and your knees buckle. If you're overwhelmed or unsure where to start, check out SEJ's SEO audit guides to help you get through."
4. Niche Curation Sorts Information Overload
Due to an immense amount of information present on the internet, people tend to go through only those information that is curated for them in such a way that it is in accordance with their interests, values, and lifestyle. This year, brands will have to present such content that is prepared to match the niche needs of the customers.
The State of Digital Marketing in 2017 – An Infographic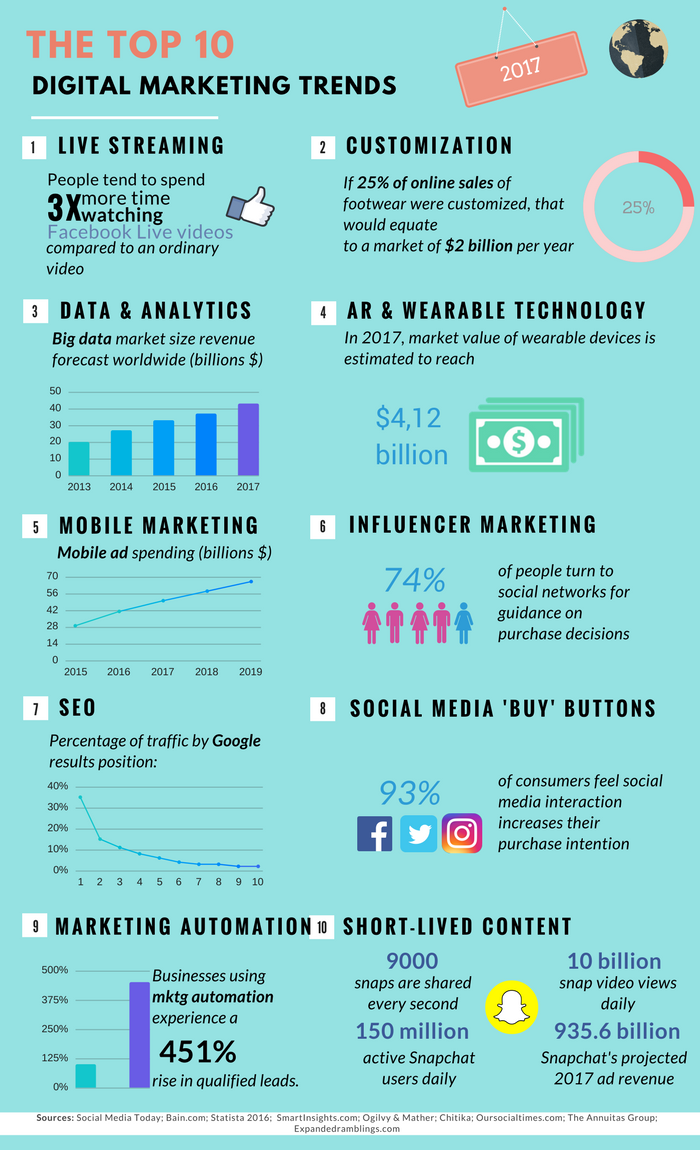 Infographic Source: www.lianamailer.com
5. Mobile Devices Forge On-the-Go Consumerism
As mobile phones are used by millions of people, 2017 will witness innovative technologies and apps coming into existence to attract the users on the mobile phones. The developments in the field of electronics such as advanced, quicker, and increasingly intuitive information, there can be alterations in the shopping pattern of the customers.
As Stacy DeBroff, CEO and founder of Influence-Central says, "Mobile devices will emerge as shoppers' most valued shopping partner, as consumers check them for recommendations from their network of trusted advisors while fact-checking product attributes and using online coupons."
6. "Instant" Speeds up as the New Normal for Gen Z
Today's generation has grown up with the internet and social media. They are used to communication that takes seconds. Considering the rapid advancements in technology, their expectations of instant communications and responses will be rising for sure. Brands will have to put a lot of emphasis on the speed because customers belonging from Generation Z are attracted towards instantaneous social channels. They can make the most use of Facebook, Instagram and Snapchat, the three social media platforms which are becoming more and more popular among the people with their adoption of faster, more pictorial and more spontaneous methods to connect with the Gen Z.
7. Influencer Marketing as a Fundamental Brand Strategy
Most of the brands have realized how important Influencer Marketing strategy is for their business and they must not only leverage it to the best of its potential but also measure it from the perspective of business results and attribution modeling.
"As we head into 2017, influencers will entrench as defining voices in consumer marketing, as brands concede advertising control and look to passionate brand advocates to sway consumers on social media," says DeBroff.
8. Consumer Resentment of Intrusive Marketing Deepens
With new and attractive ways of digital marketing coming up, pop-ups, banner ads, and disruptive brand messages are on the verge of losing their charm. Customers tend to avoid brands that are pushing their way around the social media feeds and aggressively displaying ads on Facebook, Instagram, Snapchat or Twitter with the help of promoted Pins, Tweets, or paid-for Snapchat stories. This resentment of intrusive marketing is going to increase this year, as customers are now learning on their own about new brands and products. However, at the same time, it is very important to maintain the quality, tone, and content of ads that are being displayed by making sure that they are quick, witty and relevant to the new Gen Z.
9. Words Prove So Overrated: The Year When Images and Videos Rule
The time when descriptive and flowery words were used to describe a product or brand has passed. In order to collect or share information, more and more customers are going to look for visuals and videos. Apart from the already existing channels of marketing, brands will also focus on new visual platforms such as live-action, GIFs and visual storytelling launch their products.
It is very important that you must be aware of the above points if you want to continue being competitive in your industry. So make sure to take note of the above trends and prepare for them.