Brands using Instagram are often more successful than other brands.  It is difficult for brands to ignore doing advertising on Instagram as part of their digital advertising.  Many small business owners like to use Instagram to advertise — it can be one prong of a many-pronged approach used by small businesses to grow affordably.  Instead of brands posting 1000 words as an advertisement, successful brands post images for potential consumers to view.  The list of brands with the most followers in Instagram keeps on changing.  Advertisers started using Instagram in November 2013.
Research firm L2 stated in a report that Instagram has the highest conversion from viewer to customer. Combined with these other methods for Conversion Rate Optimization, Instagram can be very powerful.  L2 also stated in the report that 92% of luxury brands posting on average 5.5 times a week converts some viewers to customers. Successful brands include hashtags to get more attention and sometimes show trends.  L2 stated that 80% of posts by brands have at least one hashtag and some posts by brands may have at least three.  Researchers at the University of Wisconsin conducted a study on more than 130,000 posts on Instagram.  Researchers discovered a few differences between the method people engage with noncommercial and commercial pictures.  For example, higher rate for conversion from viewers to customers succeeded on unfiltered pictures with yellow or blue containing longer captions that had no question or exclamation marks than pictures submitted by popular Instagram users who posted less often.
Instagram users who love the top popular brands sometimes post inspiring messages and their own pictures of their products being used by the fans.  Some brands post pictures of products without anything else on Instagram.  Other brands post pictures of products with other things added to make it more exciting.  For example, Starbucks posts pictures of customers liking their coffee on Instagram. Some of the successful brands on Instagram include:
Starbucks:
Starbucks are ahead of the competition among other companies on Instagram.  Starbucks keeps remaining on the top list of Instagram rankings based on statistics provided by Nitrogram.  Starbucks is at number two in the top 150 brands watched by Nitrogram with approximately 2,063,755 Instagram followers and 9,320,026 posts.  Starbucks understands the goals and mental behavior of Instagram users.  Starbucks succeeded mostly by searching and re-sharing its fans' pictures posted on Instagram.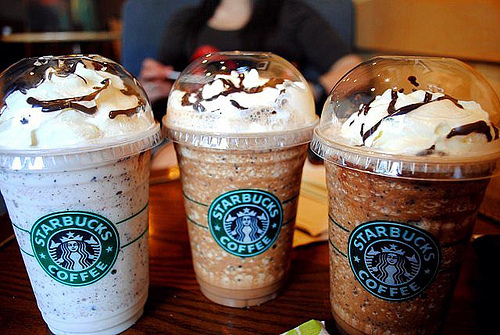 In 2014, Starbucks reached second place in the TOTEMS list ranking by adding story telling in its pictures with the pictures of products while focusing on its advertising.
In late 2014, Starbucks executed a successful strategy making it gain over 3 million followers.  Starbucks gains relationships with customers by adding hastags to posts related to Starbucks.
There are 21,000 stores of Starbucks globally.  Starbucks takes wide variety of images with products and posts them to advertise.
Nike:
Nike are ahead of the competition among other companies on Instagram.  Nike has approximately 3,452,109 followers on Instagram.  Nike will never post pictures showing products with a blank background.  Nikes ran a very good campaign with Nike PHOTOiD.  Fans of Nike create and design their own Nike shoe online and then post an Instagram picture with the Nike shoes in it.
In late 2014, Nike has 8 million followers, which is the most number of followers, among the top 100 brands. Nike posted pictures showing the product in use and other pictures telling a good story.  Instead of just posting pictures of their clothes and accessories on Instragram, it posts action pictures of women and men playing sports.
Timberland:
Timberland posts images showing a wide variety of shoes and outside wear worn by models with an attractive setting on Instagram. Timberland has 5 89, 000 followers and 1252 posts on Instagram so far. Timberland outfits you for the journey, whatever the adventure may be.
Ben and Jerry's:
Ben and Jerry's has got 400,000 followers by posting attractive pictures of ice cream.  It keeps adding hashtags to pictures.  It also advertises new and unique flavors of ice creams to make its brand more known.

 After four ads, Ben and Jerry's noticed a 20% increase in its followers.  Ben and Jerry's will use Instagram marketing to remain effective.