Introduction
Netflix was founded by Reed Hastings and Marc Randolph and went live on August 29, 1997. Netflix started out as a per-rental model for each DVD but introduced a monthly subscription concept in September 1999. In 2007, Netflix launched its streaming service and allowed its subscribers to watch some of its movies and TV shows via the Internet.
Today, Netflix is a subscription-based video streaming service and production company that allows members to watch thousands of TV shows and movies on any internet-connected device without ads. It offers movies and TV series library through distribution deals and its own productions called Netflix Originals.
Netflix Originals include award-winning TV shows like:
The Crown
The Queen's Gambit
Stranger Things
Bridgerton
Breaking Bad
Squid Game
Money Heist and the list goes on…
Key Statistics:
Global platform demand share of Netflix Originals is 50.2%
Netflix has over 221.64 million members
Netflix users spend a combined 164 million hours per day watching content
The platform's streaming revenue reached $25 billion
About 82% of the online streaming subscribers consider Netflix more entertaining than cable TV
In 1997, Netflix started as a DVD rental service by Marc Randolph and Reed Hastings.
In 1999, Netflix switched to the subscriber model.
In 2000, Netflix added a queue, a list of movies each household created by hitting the "Add" button to add a title to an ordered list of movies.
In 2006, the video recommendation algorithm was launched.
In 2007, the company abandoned its original DVD-based business model to launch video streaming via the internet
In 2011, Netflix produced and launched its first Netflix Original 'House of Cards'. The company also started expanding outside the United States and Canada.
In 2013, Netflix started promoting the binge-watching concept.
In 2015, Netflix started promoting the Netflix and Chill concept.
In 2016, the company expanded internationally and banned VPNS.
To read more about the history of Netflix click here
The Crown
This opulent Netflix original drama follows Queen Elizabeth II from the 1940s to modern times. The 4th season of Netflix's royal family drama "The Crown" won 11 awards, including best drama series.
The Queen's Gambit
"The Queen's Gambit," featuring Anya Taylor-Joy as a young chessmaster struggling with addiction in the 1960s, also took up 11 awards, including best limited or anthology series.
Stranger Things
A Netflix original series set in 1980s Indiana. A group of young friends' witness supernatural forces and secret government exploits. Stranger Things has won six Emmy awards among other accolades.
Bridgerton
This Netflix Original series unfolds during the Regency era in England. Where eight close-knit siblings of the powerful Bridgerton family attempt to find love. Bridgerton won the Outstanding Drama Series at the Emmys 2021.
Netflix's overall business structure and revenue have risen and improved as a result of the platform's advancement in streaming technologies. 
Let's take a look at Netflix's business model below:
1. Key Distribution Partnerships
Netflix subscription e-commerce has a global network of more than 35 partners. They've partnered with a variety of genres so that subscribers can pick and choose what they want to watch.
Built partnerships with Smart TV manufacturers such as LG, Sony, Samsung, Xiaomi, and others in the market
For the purpose of converting business leads from mail-in-system to streaming, formed alliances with Apple, Android, and Microsoft platforms
Developed partnerships with telecom companies such as Airtel, Reliance JIO, and Vodafone
Netflix formed partnerships with Wii, X-Box, PlayStation, and various other gaming companies. Netflix formed partnerships in order to provide and cater an entertainment video game to its "gamer-clients."
Netflix teamed up with Dish, Tivo, and other television network companies
Netflix joined big data providers like Google and Amazon. Amazon helps promote Netflix listings and subscription options.
2. Value Proposition
Netflix subscription e-commerce devises strategies and strives to provide the best customer experience by deploying valuable propositions. These include:
Streaming is available 24-7, ad-free
Watch unlimited high-definition shows and movies
Stream content from anywhere without having to visit a DVD store or a movie theatre
Access to Netflix original movies and shows that aren't available anywhere else
Netflix 30 day free trial is available to new signups
Contract-based subscription but you have the option to cancel at any time
Access to local and culturally rich content
Avoid commercial ads and receive recommendations for new items to view
Netflix users can choose to have notifications and suggestions turned on or off
Users can personalize their Netflix accounts and preferences by creating "user profiles." The "admin-user" can modify, allow, or even restrict certain users using the User profiles
Can Netflix be shared? One of the most uncommon features a movie platform can offer is the ability to share accounts. Netflix's sharing accounts feature allows spouses, friends, or even groups to share an account with pre-configured filters and preferences.
Netflix resolves the issues that most customers have with movie theatres and mainstream media. With four simple words – Watch Anywhere. Cancel Anytime – the company promises to solve the problems of its target audience.
3. Customer & Business Segments
Users who enjoy watching movies, TV shows, and documentaries make up the majority of Netflix's customer segments. Netflix also caters to video content fans who appreciate the convenience of having their favorite shows delivered to their smartphones and televisions
Netflix subscription e-commerce aims to promote family-friendly, educational, and entertaining content to help capture the better interests of families, despite the fact that it has content for both children and adults. Customer segmentation in three ways:
Micro-segmentation with 2000 taste clusters
User segmentation on usage parameters like technology, viewing habits, web browsing behavior, etc.
Macro-segments and ad targeting for non-users such as geographic locations, demographics, and others.
Furthermore, the company operates in three business segments, each of which generates revenue in a different way. They are as follows:
Domestic & international online streaming through the website
Domestic and international streaming through mobile apps
Domestic and international streaming on TV Apps and Gaming consoles
Domestic mail delivery for DVDs
4. Customer Relationships
Self-setup: The Netflix platform was created with the intention of being simple and easy to use. The developers and website made sure to include elements and themes that serve and promote user-friendly navigation, as well as a self-setup option
Seamless Customer Experience: Netflix offers customer service through its website portal, email inquiries, and the ability to speak with a representative directly via phone or live chat.
Live Chat Services: The option to participate in a live chat session with a Netflix representative is available to users. Users can ask questions and get help from a Netflix representative by chatting with them directly. They may qualify or offer such user or subscriber discounts and other special promotional deals.
Social Media Channels: Major advertisements, deals, and other promotional deals are offered through social media channels and other related platforms to attract customers and help new sign-up users to convert. Individuals who use or are familiar with the Netflix platform are also informed and updated via social media like Facebook, LinkedIn, Instagram, Twitter, Snapchat, etc.
Gift Cards: All users receive special promotional discounts and other gift cards as part of the subscription plan.
5. Key Activities
Maintain and expand the company's website and mobile app platforms
Curate, develop and license Netflix's original content in order to expand the company's video library
Maintain a high-quality user base by ensuring high-quality user recommendations
Form and maintain relationships with studios, content production companies, and film production companies
Work within the confines of the censorship laws. Netflix promotes and operates within the confines of censorship at all times.
Are Netflix movies free? When Netflix launched online streaming services, the platform gained major popularity. Let's look at how the platform makes money:
1. Subscription E-commerce
The subscription e-commerce model is the prime factor behind Netflix's revenue generation. Is Netflix raising prices? Netflix monthly cost of plans varies depending on the country. The three subscription plans that Netflix offers:
Basic Plan: Netflix content can be viewed in the standard definition of 480p with this plan on phones, tablets, computers, and TV
Standard Plan: This Netflix plan allows users to watch in high-definition streaming of 1080p across all devices.
Premium Plan: Users who choose this subscription plan will have access to ultra-high-definition video streaming of 4K+HDR on all devices.
Can Netflix be paid yearly? Yes. What is the price for Netflix subscription? Check out the subscription plans below.
2. Strategic Partnerships
To receive content and legally broadcast the contents, the company formed alliances with a wide range of movie producers, filmmakers, writers, and animators. It also has partnerships with Internet Service providers, all of which contribute to its financial success. Netflix's owners also profit from licensing Netflix-owned content, product placement, DVD rentals, etc.
Netflix e-commerce was able to build a global brand and steadily grow its customer base. Also, the company devised a number of digital marketing strategies and has amassed a large following on social media.
3. Netflix Shop
Netflix subscription e-commerce recently announced the launch of its online e-commerce store called Netflix.shop. The e-commerce store will be selling the merchandise of the Netflix original series, starting from Stranger Things and the Witcher.
Netflix Shop is the first retail outlet owned and operated by Netflix that sells products directly. The Netflix e-commerce store's business model is that it will sell high-quality apparel and lifestyle products that are related to Netflix's popular shows, and the products will be carefully chosen and limited edition.
Netflix Digital Marketing Model & Key Takeaways

Netflix subscription e-commerce has amassed a significant share of the US market over the years. In the first quarter of 2022, Netflix had about 74.6 million U.S. and Canadian subscribers. Netflix marketing is an integrated, agile approach to brand development and customer relationship management by using innovation, the adoption of cutting-edge technology, creative advertising, and real-time data analytics.
Netflix uses modern marketing techniques and channels to evolve with the market changes. Like Netflix, your brand can connect with customers across a variety of mediums, devices, and touchpoints with constant analysis and optimization. Netflix's modern marketing tools are data-driven, customer-centric, personalized, and omnipresent.
Let's also take a look at some of the digital marketing principles that Netflix has successfully used to attract customers.
Customer-centric: Customer experience is at the forefront of all business objectives and partnerships of all modern marketing tools. As a result, modern marketers must learn from Netflix and collect, analyze, and apply data insights throughout the customer journey
Integration: Modern marketers can capture audiences across a variety of channels by combining traditional and digital marketing strategies. Marketers must look for new ways to combine multiple channels and tools to provide a better customer experience, similar to how Netflix does. Consider how frequently you see Netflix advertisements on mobile phones, despite the fact that most people watch Netflix on larger screens, such as TVs or tablets.
Innovation: Modern marketers can capture the minds of consumers by using data analytics to respond to their needs in ways that delight and surprise them. As a Netflix subscriber, I'm sure you've had similar experiences. When you're looking for a movie, Netflix will often recommend it to you even if you didn't search for it.
Let's take a look at key takeaways from Netflix's subscription e-commerce strategy to see how digital marketing services can help one of the world's most successful disruptive business models.
1. Personalized Content Marketing
People enjoy Netflix subscription e-commerce because it provides them with a diverse selection of content to watch. Netflix's library of TV shows and movies from around the world is available at any time for customers to choose from.
Netflix won the viewers' hearts with personalization because of its advanced algorithm that continually rearranges the programs based on their viewing history over time. For personalized content, hire some of the best performance marketing agencies.
2. Enhanced User Experience
Netflix's subscription e-commerce website features a user-friendly interface that allows customers to rate TV shows and movies, which is then used by Netflix's algorithm to recommend additional content they might enjoy. They have optimized each and every page of the website for a better customer experience through onsite optimization.
They have optimized their website for content by title, actor's name or even director's name to easily get into the minds of customers. They added a host of personalization features to their website with clean looks no matter which platform you are using by leveraging the best website development services.
3. Email Marketing
Netflix's subscription e-commerce model uses email marketing as a key component of customer onboarding and nurturing as part of its digital marketing strategy. Netflix sends out a series of emails to new customers that include content recommendations and encourage them to explore the platform.
Netflix marketers devote countless hours to developing innovative email marketing campaigns that engage subscribers. They continue to improve the customer experience with the help of the best email marketing services.
4. SEO
Netflix's subscription e-commerce model employs search engine optimization services in order to improve organic search results and establish a brand presence. The brand uses both on-page and off-page SEO strategies to achieve the best search engine optimization results and drive organic traffic. They use potential keywords in their content to help it rank higher in search results. They use a global SEO strategy to generate organic leads on a global scale.
5. SMO
Social media platforms have now become a crucial component of any digital marketing strategy. It is the best platform for establishing your brand image if you want to connect with your audience in real-time. Because social media is so important in people's lives, Netflix decided to use the best social media optimization services, which helped them earn billions. Some of the major platforms they used are listed below:
Facebook
Netflix has over 82 million Facebook fans thanks to innovative social media optimization strategies. Nearly 90% of Netflix's content is video, with the rest being images. Netflix has a lot of videos that are worth watching.
Typically, clips from interviews with actors from upcoming films, as well as clips from upcoming films and TV shows, are posted on the Facebook page, giving fans a sneak peek into what's in store for them. OTT platforms also share images, GIFs, funny memes, and simple text posts with questions about current movies and TV shows, in addition to videos.
Instagram
Netflix has more than 29 million followers on Instagram. Images, post scenes from TV shows with engaging captions to start a conversation, and behind-the-scenes clips and interviews with actors make up the majority of Netflix's Instagram posts.
A behind-the-scenes bloopers video from the set of Stranger Things received 1.2 million views and nearly 3,000 comments in a recent video. Netflix takes a simple approach to Instagram, with most posts omitting hashtags entirely.
Twitter
Netflix has 17.8 million Twitter followers and has tweeted more than 30,000 times. Netflix is known for its witty Twitter replies and comebacks, tweeting an average of 14 times per day. This demonstrates how important engagement is to the brand, as well as how much brand awareness is valued.
In addition, Netflix also promotes content through paid ads on YouTube and Snapchat. These are the digital marketing techniques that the well-known OTT platform employs from time to time to increase subscriber retention and engagement. As a result, their company has seen a significant increase in profits.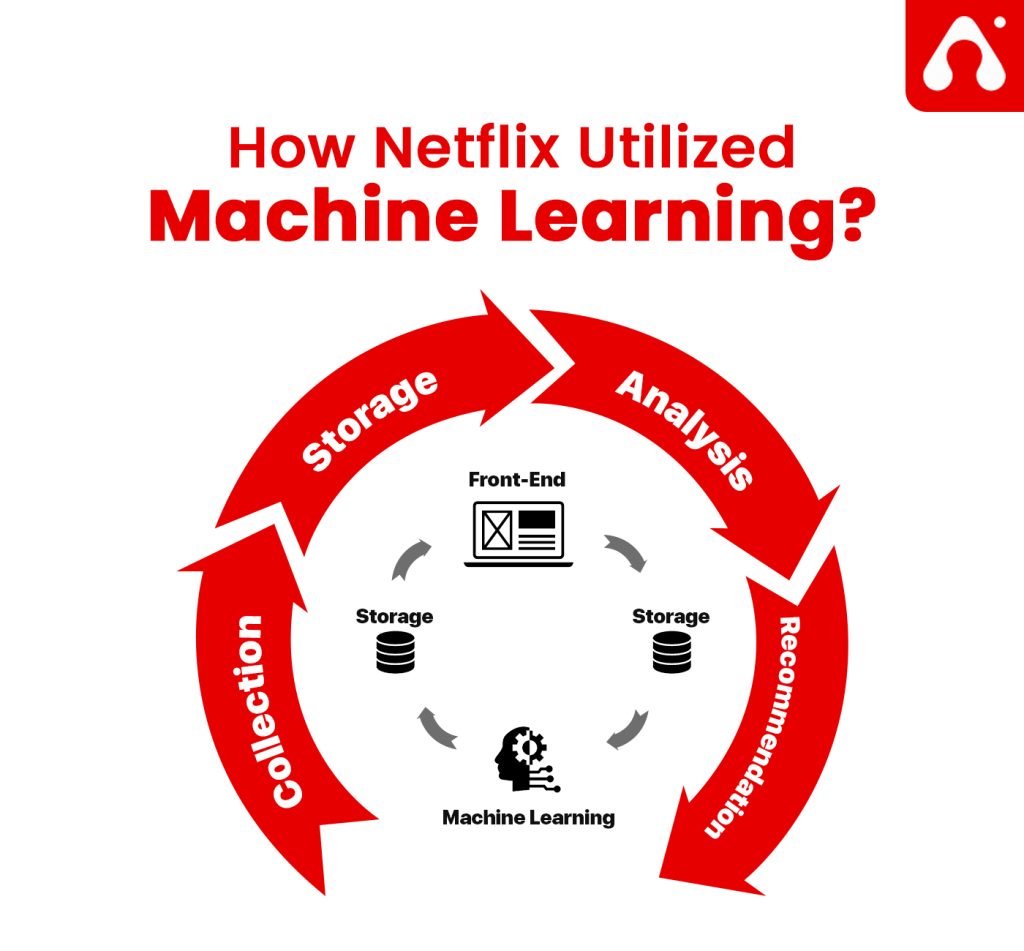 Generation of Thumbnails
This is accomplished through logical outlaws, an online learning structure. This structure aids in selecting the best thumbnail (or work of art) for each part based on the specific situation. The titles that a character has played, the class of those titles, language preferences, country, the device being used and even the day and time are all factors considered.
Automated Recommendations
Previously, the company relied on a batch of data collection. The service collects information about how its users interact with it. Now a new Machine Learning algorithm is applied to this set of data. After that, the new algorithm is put to the test against the current production system.
An A/B test allows the team to see if the new algorithm is superior. This is accomplished by performing the same procedure on a random subset of members. Members of Group A receive the existing production experience, while members of Group B receive the new algorithm.
High-Definition Streaming
Netflix understands that the reading/viewing experience varies depending on the device you're using. To provide a seamless user experience, Netflix relies on flexible streaming calculations. This calculation determines the appropriate video quality to be transferred throughout playback based on the device's condition and current setup.
1. Set & Follow Your Goals
Digital transformation of Netflix began with an idea first and then it was made easier and cheaper for subscribers to watch movies, series, and shows. Because the video streaming service does not want to stay in the DVD business, they have shifted their focus to consumer behavior, as demand continues to change. They shifted to a lot of operational strategies to stay ahead of the competition.
2. Expansion & Innovation
Netflix never wanted to enter the streaming platform because it lacked the necessary infrastructure in terms of high-quality and high-speed content. However, as the internet grew in popularity and infrastructure changed, Netflix saw an opportunity to launch its first streaming service.
To get started in the field of video streaming, they experimented with lower-quality video to gauge interest and the Netflix customer experience without having to shut down the DVD service.
Netflix's digital ecosystem never forced users to use one platform in order to serve all of their needs, whether in the form of DVD pictures or live streaming movies and videos. This demonstrates how to serve subscribers what they want rather than forcing them to subscribe, as well as experimenting with other ways to gain potential customers.
3. Customize Your Experience
Providing customer personalization is one of the best ways to increase your user base. Engaging customers with their platform and hooking users for binge-watching is a fantastic idea.
In order to do so, Netflix digital transmission changed its operations by identifying trends in how users will watch content, what draws them to the platform, and how personalization can boost content consumption. In fact, they used an algorithm to serve content that was tailored to the customer's specific interests.
They scaled their progress globally and multiplied the data points with the help of cloud-based businesses. As a result of the data, they altered their services while continuing to provide the same.
4. Add More Value
Offering value to the user, like personalization, is critical for growth and success of any business.
Netflix provided exactly what the users requested by understanding the overall process. Netflix used the power of the recommendation engine to predict what types of movies are generally liked by users and what else they want to see by investing more in technology and services. 60% of the movies were added to subscribers' queues solely because of recommendations.
5. Quality Matters
Netflix made every move without sacrificing quality or user demand, from renting DVDs to streaming movies, series, and other content. Netflix cultivated not only subscribers but also loyal audiences through its commitment to quality and maintaining it, whether in terms of technology, content, or other factors.
Although providing quality costs more, but it is worthwhile when pursuing long-term objectives.
Netflix top 10 competitors include Amazon Prime Video, HBO Max, Disney+, YouTube TV, Paramount+, Hulu, Showtime, Sling TV, and many more. The industry has seen a surge in film production companies, creating stiff competition. The following is a breakdown of the top Netflix competitors:
1. Amazon Prime Video
Amazon Prime Video is the biggest competitor of Netflix with global revenue of over 31 billion. Amazon Prime Video has a huge subscriber base of over 200 million and extensive operations in more than 200 countries. While Amazon focuses primarily on regional TV shows, Netflix subscription e-commerce offers a large library of international and original content. In addition, despite having a Prime membership, Amazon requires you to pay to watch certain movies. Can Netflix movies be downloaded? Netflix has a limit on the number of offline downloads you can make, but Amazon does not.
2. HBO Max
HBO Max is another competitor of Netflix with 76.8 million global subscribers and subscription revenues of $3.8 billion and a global reach in 61 countries now. HBO Max is a Home Box Office-owned subscription video-on-demand streaming service that debuted on May 27, 2020. HBO Max has limited gold, whereas Netflix has a large content library with niches for everyone. It has fewer unique titles, but it is unbeatable and does not require extensive scrolling. HBO Max caters to older Gen X and Millennials between the ages of 25 and 44, whereas Netflix primarily caters to adults aged 18 to 34. While Netflix's subscription e-commerce model offers basic, standard, and premium subscription plans, HBO Max only has one subscription plan that is less expensive than Netflix premium but more expensive than the basic and standard plans.
3. Disney+
With $4.7 billion in revenue from direct-to-consumer streaming services, Disney+ is another major competitor of Netflix. Due to Disney's massive fan base, it has effectively captured a massive market share of 130 million subscribers across 64 countries. Regardless of the numerous alternatives available, Disney+ appeals to people's emotional quotients and binds them to the brand. The content on Disney Plus is currently aimed at children aged 3 to 17 and their families. Netflix has everything except the nostalgic recollection of famous tales and movies, and Netflix's subscription e-commerce model wins when it comes to more adult and edgier content.
Conclusion – Reasons for the Success of Netflix

Netflix is the most prominent player in the media and video streaming industries, inspiring various other companies globally with its subscription e-commerce model. The innovative strategies adopted by Netflix demonstrated that simply establishing a business model does not guarantee that those strategies will be profitable. It's more about the businesses that used content to engage their target audience.
In addition, the more value a company adds to its business models, the more of an ecosystem it creates for the company to grow. Netflix, for example, uses its business models to create a user-friendly and cost-effective ecosystem by focusing on the rapid advancement of technology. Netflix has evolved in recent years in the most effective way thanks to the evolution of technology used efficiently. What are your opinions on Netflix's business model? Is the subscription e-commerce model the primary reason for its success?
Deepak Wadhwani has over 20 years experience in software/wireless technologies. He has worked with Fortune 500 companies including Intuit, ESRI, Qualcomm, Sprint, Verizon, Vodafone, Nortel, Microsoft and Oracle in over 60 countries. Deepak has worked on Internet marketing projects in San Diego, Los Angeles, Orange Country, Denver, Nashville, Kansas City, New York, San Francisco and Huntsville. Deepak has been a founder of technology Startups for one of the first Cityguides, yellow pages online and web based enterprise solutions. He is an internet marketing and technology expert & co-founder for a San Diego Internet marketing company.