WHAT: Internet Retailer Ecommerce Conference & Exhibition (IRCE) 2018
WHEN: June 5 – June 8, 2018
Conference Dates & Hours:
Tuesday, June 5: Pre-­Conference Workshops, 8:30 a.m. -­ 4:30 p.m.
Wednesday, June 6: Main Conference Day 1: 8:15 a.m. -­ 4:45 p.m.
Thursday, June 7: Main Conference Day 2: 8:15 a.m. -­ 4:45 p.m.
Friday, June 8: Post-­Conference Workshops, 8:00 a.m. -­ 1:15 p.m.
Exhibit Hall Dates & Hours:
Tuesday, June 5: 4-­6:30 p.m., Welcome Reception
Wednesday, June 6: 9 a.m. -­ 6:30 p.m., Cocktail Reception starts at 4:30 p.m.
Thursday, June 7: 9 a.m. -­ 4 p.m., "Win the Wheels" Tour and Drawing
Friday, June 8: Exhibit Hall Closed
WHERE: McCormick Place, West, 2301 South King Drive, Chicago, IL 60616
Description:
Internet Retailer Ecommerce Conference & Exhibition (IRCE) has been one of the most significant events of the ecommerce industry since 2005. IRCE provides extremely valuable content for ecommerce companies. Every year, it welcomes more 200 expert speakers with 600+ vendors covering over 250,000 square feet of space. With more than 10,000 attendees every year to Chicago, IRCE produces the biggest trade show in the industry.
IRCE is back again this year with the agenda to enable you to easily flow between track and workshop sessions throughout the day. This will make it possible for you to plan your own personal conference experience. IRCE provides two full conference days with different tracks (June 6 and June 7), with pre- and post-conference workshops on June 5 and June 8. With the help of these in-depth workshops, you will be taken through multiple sessions of insight and information about a particular topic.
The time table of conference is as follows:
Strategic, On-Trend Sessions for E-Retailers of All Sizes
Wednesday, June 5
Amazon & Me Workshop
E-Commerce Technology Workshop
New Recruit Boot Camp
Thursday, June 6
Strategies for Top Executives
Fulfillment, Operations & Customer Service
Marketing: Proven Winners
Fashion:  Try It On!
Omnichannel Leadership
Friday, June 7
Managing Technology
Merchandising
Brand Building
Marketing: New Tactics
Marketplaces
Friday, June 8
Search Workshop
Design & Usability Workshop
B2B Workshop
Some of the Major Companies Attending this Conference Include:
Amazon Business
ChannelAdvisor
Classy Llama
DHL eCommerce
eBay, Magento Commerce
Mailchimp
Paypal
IBM
Cappasity Inc.
Barilliance Systems
Onestop
Easyship
UniteU Commerce
AB Tasty
Refersion
Ventura Web Design & Marketing
Hermes
PowerReviews
Verifi, Inc.
VATGlobal
ChannelAdvisor
Lucidworks, Inc.
Internet Retailer
Victory Packaging
Blackbelt Commerce
OPEX Corporation
Internet Retailer
Handy
InstantSearch+
eComchain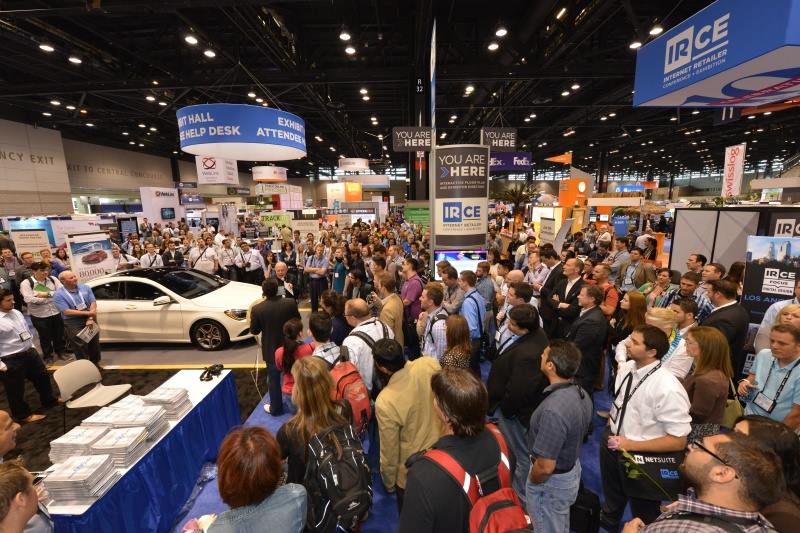 As much as 10,000 of the top leaders, executives and marketers in the ecommerce industry will come together at the 14th annual Internet Retailer Conference & Exhibition (IRCE). This is going to be a from June 4th to 8th. IRCE is the one-­stop shop for requirements ecommerce business as it comprises of highly intersting programming and presentations along with the latest products and services from 600+ leading solution providers in the exhibit hall. Among the key exhibitors are Amazon Business, ChannelAdvisor, Classy Llama, DHL eCommerce, eBay, Magento Commerce, Mailchimp, Paypal and much more.
Just like every year, IRCE has attracted an impressive line-­up of Main Stage Speakers who will share their expertise and business know-­how. Attendees will be inspired by speakers such as Dave Gilboa, Co-­Founder & Co-­CEO of Warby Parker, Seth Godin, Author, "What To Do When It's Your Turn", Mariah Chase, CEO of Eloquii and Alon Cohen, President and Co-­Founder of Houzz, plus many more industry experts and insiders.
This year's IRCE will also feature a robust conference agenda with presentations from over 200 executives representing some of the world's most well-­known companies and brands. Highlights include Walmart, Beachbody, Chewy.com, HelloFresh, Rue La La, Pinterest and Exploding Kittens.