Table of Contents
What Is a Marketing Funnel?
Why is Marketing Funnel Important?
Stages of Marketing Funnel
How to Create a Powerful Marketing Funnel Step by Step
Conclusion
The marketing funnel and its impact have become a trending topic in the marketing field. There are questions about how it can help increase sales or improve the company's marketing process. It occupies an important position in the purchase process of consumers. Therefore, marketers are facing changes and challenges in the modern era. Customers want to concentrate everything in one place. Marketers set up a marketing funnel to bring conversions. It can help companies understand how to influence customer decisions at different stages of marketing channels.
What is a Marketing Funnel?
The marketing funnel is a way to decompose the customer journey from the "awareness" stage to the "purchase" stage. Follow-up after purchase, as well as cross-selling and up-selling, are often included in the funnel.
Why is Marketing Funnel Important?
The marketing funnel allows you to map the buyer's journey to various stages. Then, you can design a marketing strategy at every step to target buyers. In order to achieve maximum results, the funnel helps to organize your marketing efforts more closely. This allows you to contact the right people at the right time using the right marketing strategy.
The marketing funnel can help you save time, money, and energy by focusing and targeting your activities. Therefore, using a funnel to increase your marketing ROI is a brilliant idea.
Another advantage of using marketing funnels is that they are effective. Marketers around the world can prove the effectiveness of using marketing funnels to increase conversion rates. They can help you attract and convert more consumers by guiding qualified potential customers into the funnel.
Stages of the Marketing Funnel
The marketing funnel has four stages, but according to your preferences, you can bundle these steps together, reduce them to three stages, or break them down into new scenarios. Therefore, the simplified method is the four-stage model called AIDA.
AIDA's way of working is to track the entire process of a customer from meeting/first interaction to conversion.
The following is a breakdown of the meaning of each stage:
Phase 1: Awareness
In the awareness stage, your potential customers may know their problems. They may also know the solutions to some problems, although they do not know where or how to solve these problems.
Stage 2: Interest
When potential customers realize their problems, they will look for ways to solve them. If they find a potential solution, usually, they will show their interest in the product or service by conducting more research on the product or service and asking questions etc.
Stage 3: Desire
In step 3, they already have some information about brands or service providers that can help them solve the problem. They are here to evaluate and compare brands/competitors to find the brand/competitor that best suits their needs.
Stage 4: Action
This is the final stage of the customer funnel journey. Therefore, they completed the research and comparison here, and finally determined the service provider or supplier to buy.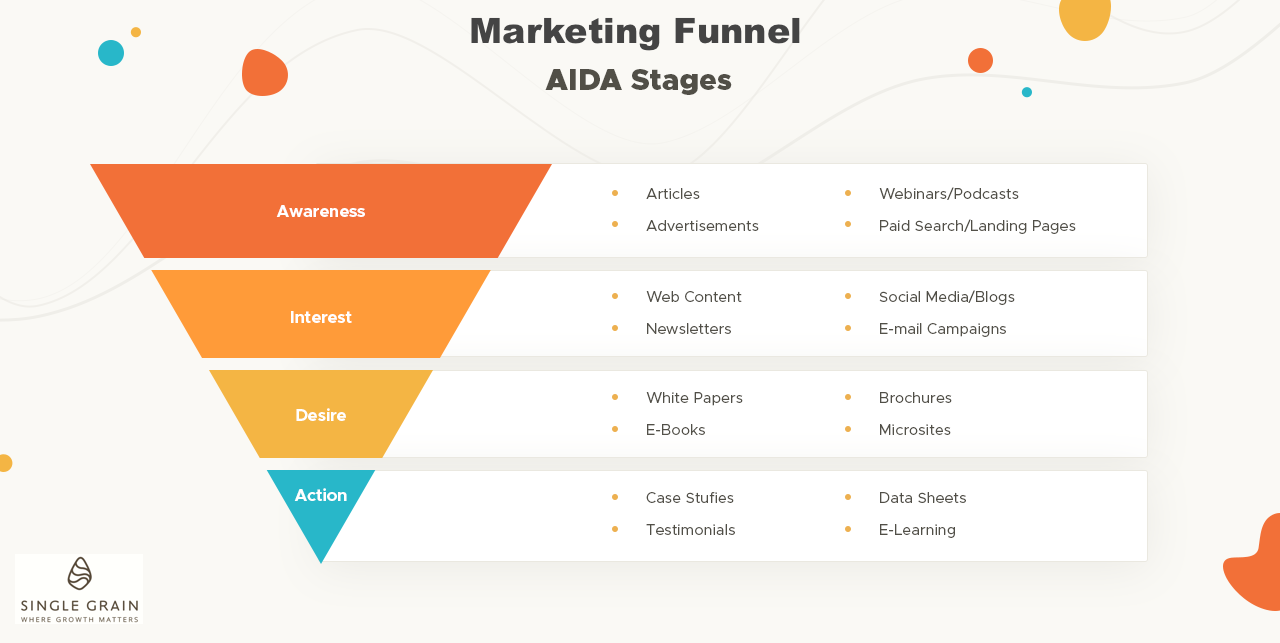 How to Create a Powerful Marketing Funnel Step by Step
1. Determine Your Ideal Buyer Journey and Map It Out as a Funnel
The focus of the conversion funnel is to build an effective buyer journey and increase conversion rates. To increase conversions, you must first determine the starting point and final goal. In other words, you must determine three things:
What is your typical buyer journey now
What is your ultimate goal, or what action do you want potential customers to take
How can you improve the journey of existing buyers to increase the likelihood of potential customers becoming paying customers.
Once you have determined what the ultimate goal is, you can map it as a conversion funnel. Visualizing or drawing your funnel chart can help you keep track further.
2. Set goals for each stage in the Funnel
Think of your funnel as three separate parts: top, middle, and bottom.
Decide what you want from each stage of the funnel; for example, maybe you want to increase traffic at the top of the funnel, increase the participation rate in the middle, and increase the conversion rate at the end.
Once you have set some specific goals, consider using tools to track your progress and make sure you achieve those goals. For example, you can use Google Analytics or email automation software to measure your success rate.
Unless you know the needs of each stage in the funnel, it is impossible to know whether you have reached your goal. Before establishing a conversion funnel, take some time to think about your overall goals.
3. Make a Content plan for each Stage in the Funnel
Each part of the funnel (top, middle, bottom) needs its own marketing plan to keep potential customers from one stage to the next.
Top
The first stage is to establish brand and product awareness. You are trying to cause some sensation and encourage potential customers to learn more about your company and how your products can help them. In this early stage, use visually appealing content (such as videos, short blog posts, and social media articles) to introduce your company and emphasize your brand story.
Middle
You have a person's attention, so now is the time to earn their trust and show them why they need your product. Potential customers may end up at this stage for a while, so the focus should be on creating valuable, informative and reliable content, such as case studies, video tutorials, and downloads.
Bottom
The final stage should focus on giving potential customers a reason to buy your product, sign up for your service, or take any other action you want. Marketing strategies at this stage may include free trials, actionable emails, CTA, or calls to action.
4. Implement Strategies and Create Content to Generate Awareness
In the first stage of the funnel, you are trying to promote your brand and products. Why should customers care about your company? How does your product solve the problems they encounter? Answer these questions to help develop a content strategy for this stage.
Also do some research on competitors. Think about what you can learn from their landing pages, social media channels, and blogs. How do they attract potential customers?
With all these questions in mind, here are some examples of how you can generate awareness and create appropriate content for the first stage of the conversion funnel.
Consider using PPC advertising to increase traffic
Optimize your content for SEO so that it ranks high in search engine results. This way, people are more likely to find you online
Access popular social media platforms such as Facebook, Twitter, and Instagram. Post regularly and interact with followers to build some engagement.
Other ways you might become interested in your brand include, for example, trying influencer marketing, hosting interviews, creating informative guides, and designing printable checklists.
5. Generate Interest and Desire
Although the AIDA model marks "interest" and "desire" as two different results, in fact, they are the same thing.
Generating interest or building desire comes down to one key thing: creating compelling content. You build some awareness around your brand, you show people why they "need" what you sell, and as a result they decide that they "want" your product.
6. Encourage Users to Take Action
At the end of the funnel, your goal is to convert potential customers into customers by encouraging the required actions. If it suits your business, you can skip this step in the funnel, but you can optimize your strategy at this stage by following some methods.
Conclusion
There is no doubt that building sales and marketing channels in accordance with the above process is a difficult task. This is not a job you can complete in a day; as long as your company is still operating, you will want to do this job. This is not an easy task, but it is one of the few possibilities for you to significantly increase efficiency and productivity while completing a transaction
Deepak Wadhwani has over 20 years experience in software/wireless technologies. He has worked with Fortune 500 companies including Intuit, ESRI, Qualcomm, Sprint, Verizon, Vodafone, Nortel, Microsoft and Oracle in over 60 countries. Deepak has worked on Internet marketing projects in San Diego, Los Angeles, Orange Country, Denver, Nashville, Kansas City, New York, San Francisco and Huntsville. Deepak has been a founder of technology Startups for one of the first Cityguides, yellow pages online and web based enterprise solutions. He is an internet marketing and technology expert & co-founder for a San Diego Internet marketing company.