Table of Contents
What Does Retail Digital Transformation Mean?
How to Achieve Omnichannel Retail?
Conclusion
The retail industry is ever-changing. Major retailers recognize that the market has become extremely competitive, owing in part to technology changes, demanding customers, and shifting shopping habits. Retailers who cannot adapt and respond to these difficulties are finding it difficult to thrive and survive in the sector.
Those who are able to thrive in the sector are those that are strategically responding to and adapting to digital dynamics. These businesses provide a better retail experience for their customers, constructing contemporary retail supply chains, and, most significantly, utilizing omnichannel retail tactics. Retailers can increase availability, improve sales and traffic, and combine digital touchpoints with omnichannel.
An omnichannel retail strategy enhances the consumer experience and expands the number of channels for customer purchases, whether on mobile, the web, or in-store. The availability of different purchasing methods boosts revenues and traffic. Indeed, omnichannel clients spend 15% to 30% more than single or multi-channel customers. According to a joint study conducted by Google, Ipsos MediaCT, and Sterling Brands, 75 percent of consumers are more inclined to visit a store if they find local retail information on the web. Omnichannel shopping not only raises revenue from online retail but also brings large visitation to stores, raising revenue even more.
What Does Retail Digital Transformation Mean?
Digital transformation is the process through which businesses use digital tools to strengthen and revolutionize the way they use their workforce, data, and systems to produce value and remain competitive. And nowhere is this more important than in retail.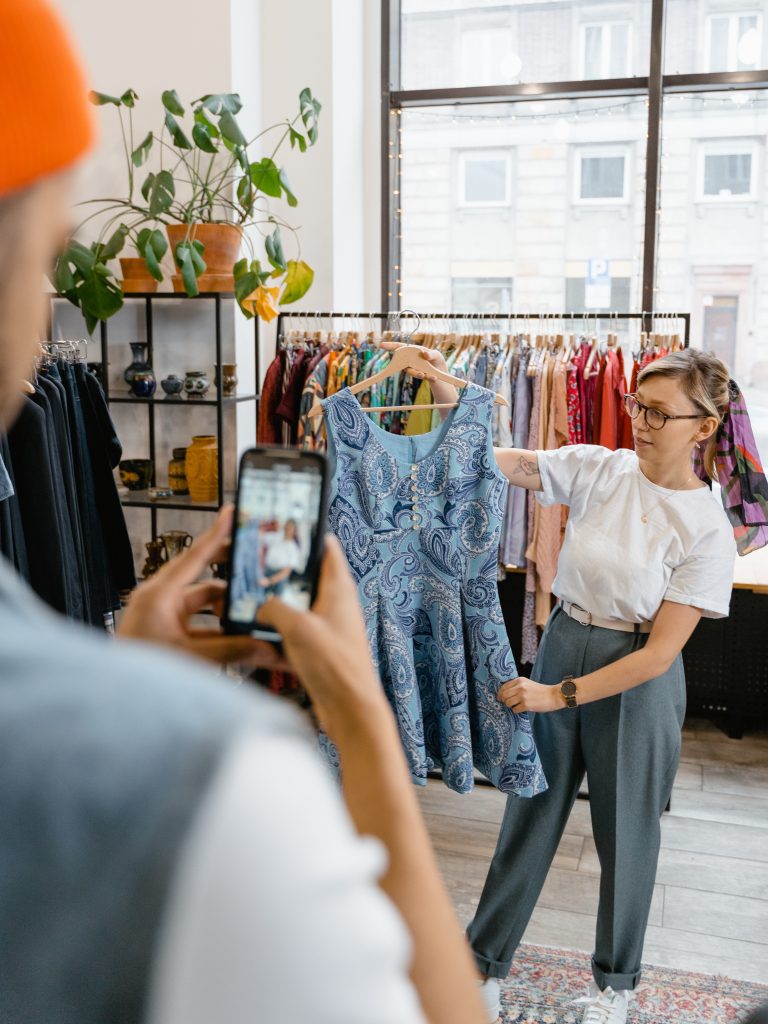 How to Achieve Omnichannel Retail
It is difficult to become a successful omnichannel retailer. It requires merchants to create various touchpoints, regulate their customer experience, integrate their online and physical store presences, and create a superior retail experience for each customer—all in one place.
This is difficult to attain, especially at a time when all of this information is stored in data silos. A retailer, for example, may have an on-premise legacy system that must be connected to a mobile application, as well as a CRM system and a social network platform management system. As a result, merchants are being compelled to integrate several applications, systems, and procedures. As more systems arise, the integration task grows more difficult.

This issue could gain from a Service Oriented Architecture (SOA) solution. The application logic is broken down into discrete services in this solution and then reused across different channels. However, because SOA is heavyweight and lacks future-proof characteristics, it is a bad alternative for developing a successful omnichannel retail strategy.
This is why we support an API-led connection strategy to integration, which takes SOA principles and makes them more practical using current APIs. This integration strategy integrates connection and orchestration services using reusable building components exposed by APIs.
Retailers may simply connect various systems and apps, including websites, mobile applications, and ERPs, using API-led connectivity to standardize their digital retail experience and link their online and physical presences. This enables retailers to offer numerous experiences and applications online in a flexible, sustainable, reusable, and future-proof manner.
Several companies are already leveraging API-led connections to advance their omnichannel retail strategies. One of our North American customers is an example of this. This shop operates brick-and-mortar storefronts that display things that buyers can rent rather than buy. You pay a monthly fee to lease sofas, televisions, desks, and other pieces of furniture. However, due to technological advancements and changing consumer habits, this store was forced to reconsider its business strategy and embrace parts of omnichannel retail.
Transforming Your Retail Operation from In-Store Only to Omnichannel Using Technology. Implement any combination of these technologies to become a worthy omnichannel rival.
In-Store Mobile Devices Make Aisles Endless
An "endless aisle" is when a physical store uses digital devices such as kiosks and iPads to allow customers to shop beyond what is in-store. These smart devices are used by endless aisle customers to browse new colors, styles, sizes, personalization options, and even related things, place orders, and have their purchases transported directly to their homes.
On the retailer side, limitless aisles are ideal for capitalizing on buyer intent without the significant costs involved with stockpiling huge quantities of inventory and keeping several personnel on hand at all times.
Proximity Marketing Grabs Shopper Attention At Just the Right Time
Proximity marketing uses location and personal data to deliver timely offers to consumers via their smartphones. When a consumer with a smartphone comes within range of sensors placed around a physical venue, these sensors attempt to identify the person and their relationship with the brand. A customized alert shows on that individual's smartphone if it can detect that the person is connected to the brand via social media, has previously used their email address to purchase something or subscribe to marketing communications, is logged into the company's app, and so on.
Another retail digital transformation approach that helps capture consumer attention when they are in the purchasing mindset is proximity marketing.
Augmented Reality Offers Physical and Digital Shopping Experiences
Augmented reality (AR) technology allows individuals to add digital components to their physical settings by using the cameras on their smart devices. In recent years, merchants have discovered methods to employ AR to create completely new shopping experiences, taking it beyond the realm of games.
IKEA is one of those well-known businesses that is utilizing augmented reality to connect physical and internet retail. The furniture retailer's smartphone app allows customers to virtually "place" a product in a room with their real-life furniture to see how it will fit in.
Product and marketing content is kept fresh and relevant with modern content management.
Publishing accurate and relevant product and marketing content is difficult enough without considering the increasing number of consumer touchpoints. There's a headless CMS for merchants who don't have — or don't want to pay — a full army of writers to develop content and IT specialists to maintain it.
A headless content management system (CMS) is a contemporary, decoupled design that uses application programming interfaces to provide material from a central back-end repository (APIs)


You've seen how investing in an omnichannel retail strategy benefits businesses. And you recognize that trends indicate that multichannel retail is the future path to success.
You can also look at some of the customized integration solutions we offer to retailers and consumer goods industries. Click here.
Deepak Wadhwani has over 20 years experience in software/wireless technologies. He has worked with Fortune 500 companies including Intuit, ESRI, Qualcomm, Sprint, Verizon, Vodafone, Nortel, Microsoft and Oracle in over 60 countries. Deepak has worked on Internet marketing projects in San Diego, Los Angeles, Orange Country, Denver, Nashville, Kansas City, New York, San Francisco and Huntsville. Deepak has been a founder of technology Startups for one of the first Cityguides, yellow pages online and web based enterprise solutions. He is an internet marketing and technology expert & co-founder for a San Diego Internet marketing company.