Table of Contents:
Introduction

What is Shopify?

Functions of Shopify eCommerce Solution
Use of Google Analytics

Integration of Shopify Cart with database

Social Media Integration

SEO Services

App Support

Virtual Storefront
Shopify versus Shopify Plus

Conclusion
Over the last decade, online shopping has grown enormously in popularity. In 2021, retail eCommerce sales amounted to approximately 4.9 trillion U.S. dollars worldwide. This figure is forecast to grow by 50 percent over the next four years, reaching about 7.4 trillion dollars by 2025. Shop owners need to grow their business and move their store to a digital space where they can offer their products to a larger audience. Shopify eCommerce market share in the US is around 32%.
Businesses will require a platform to develop and host their websites to do this. Shopify eCommerce is a content management system that lets users establish and manage online businesses efficiently. In this article, we will take a look at some important aspects of the Shopify platform.
What is Shopify?
Shopify eCommerce is an easy-to-use application for online retailers and also comes with a Point Of Sale (POS) app for payment of goods in physical locations. It offers merchants the ability to create a multi-channel experience that helps showcase the brand. With this subscription-based platform, you can create a website and use their shopping cart solution to sell, ship, and manage your products.
Shopify eCommerce comes with a range of tools that helps you to analyze your online store. With these tools, users can customize online experiences for customers and maximize the Return on Investment (ROI) on their marketing spending.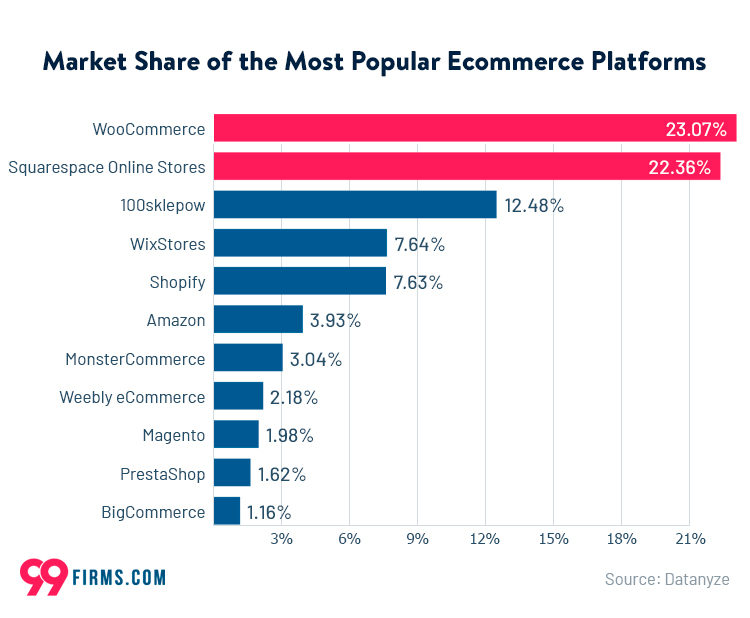 Functions of Shopify E-commerce Solution
One of the most prominent features of the Shopify eCommerce solution is the usage of Google analytics on Shopify. The use of Google analytics to analyze the performance of your online store is an essential part of every eCommerce website. You can get detailed information about which keywords or search terms were used by the users to find your site. With the help of Shopify analytics eCommerce tracking, you will be able to monitor the performance of your online store in terms of the growth of sales, the number of new clicks, bounce rate, etc.
Integration of Shopify Cart with Database
Shopify eCommerce makes it easy for online store owners to add and remove products from the cart. Online store owners can also amend or change the products offered in the cart quite frequently as per changing trends. 
These features make it easier for shop owners to offer customized shopping cart solutions to their customers. They can add new product offerings, change existing product offerings, etc. without the hassle of contacting the customer or providing any prior notice.
Various social media tools can be used to promote your product. They include publishing status updates, videos, podcasts, etc. A video blog is one such tool that can be used for posting the current store sales as well as other promotional videos. Similarly, podcasts can be used to inform users about the recent developments at an online store. The videos can also be published to several popular video sharing sites which can increase the visibility of the product and services.
One of the most important roles of the eCommerce platform is that of providing comprehensive SEO service to its customers. The SEO services include blog optimization, article marketing, etc. Since almost every online store today has an online shopfront, an online store doesn't have to hire an SEO expert for this purpose. You can undertake the entire SEO procedure yourself. You can even do this on your own. All you need to do is to spend a few hours each day on the optimization of your website so that it becomes visible to the search engines.
The Google app store is known for offering a huge collection of android applications. It is not difficult to develop your apps if you have a good knowledge of the Android SDK. You can use Google's Android Studio or use the Android SDK provided by the big commerce website to develop your app store. The Google app store is very easy to use and has a huge list of apps to choose from. The Shopify app store is equally popular and also provides a decent collection of apps. Shopify Metafields is one such example that enables you to customize the functionality and appearance of your Shopify store by letting you save specialized information. Shopify theme detector is one such example where you can paste the URL of a website and detect their theme easily.
A Virtual storefront is an essential requirement of an eCommerce business. This enables you to reach out to a wider audience without having to spend a lot of money. The Shopify app store offers a wide range of virtual storefront solutions, which are extremely user-friendly. All you need to do is sign up with Shopify, load the shopping cart with the products you wish to sell, and simply integrate the shopping cart with your website.
Shopify versus Shopify Plus
Shopify Plus provides all the functionalities of Shopify. It provides additional features for large businesses. Shopify Plus can handle up to 10000 orders per minute. Shopify Plus provides a unified dashboard to manage multiple websites.
If you are a start-up or have a small/medium scale business, Shopify is made for you. If a business has to choose Shopify or Magento, Shopify beats Magento because it has tons of customization options.
Conclusion
The extensive potential of Shopify eCommerce does not end here, but these tools will give you the first push you need to start seeing real sales. Apart from all the above-mentioned methods, there are several other ways by which you can expand the reach and ability of your business.
For over 26 years, PROS has been building high-end eCommerce websites and growing the businesses of hundreds of clients. When you put your business in our hands, you receive a magnificent online shop with up-to-date technological upkeep and user journeys that run smoothly from start to finish.
Deepak Wadhwani has over 20 years experience in software/wireless technologies. He has worked with Fortune 500 companies including Intuit, ESRI, Qualcomm, Sprint, Verizon, Vodafone, Nortel, Microsoft and Oracle in over 60 countries. Deepak has worked on Internet marketing projects in San Diego, Los Angeles, Orange Country, Denver, Nashville, Kansas City, New York, San Francisco and Huntsville. Deepak has been a founder of technology Startups for one of the first Cityguides, yellow pages online and web based enterprise solutions. He is an internet marketing and technology expert & co-founder for a San Diego Internet marketing company.