Digital marketing strategy is one of the most important aspects of ecommerce and can be defined as implementation of methods for marketing your business or website online. Digital marketing involves various tactics including Search Engine Optimization (SEO), Social Media Marketing (SMM), Press Releases (PR), Search Engine Marketing (SEM) and content marketing to get traffic, convert into customers and finally engage them. Digital Marketing and Online Advertising can be a daunting task for any ecommerce website. The Marketing Director, owner or a team, more often than not, may be given the task of managing more than one marketing channels at one time. This may prove difficult in this cutthroat advertising era plus there is a need to be aware of the latest and most efficient tools that maximize traffic and conversion rates. Collaboration with a Digital Marketing Consultant may be able to solve these problems and more.
Below are few important reasons why your company should hire or consult a good digital marketing consultant.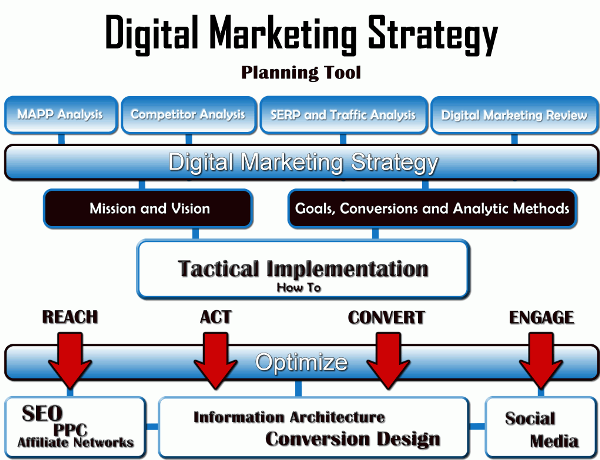 Experience: Digital marketing consultants will bring in their vast knowledge and experience to the table. A good consultant will have years of experience in website development, marketing projects and great record of accomplishment under his belt. Long years dedicated as Marketing Director, or designing and developing websites for online businesses, advertising and so on should be a part of his repertoire.
Keeping Track of Latest Innovations: They should be well informed about the cutting-edge ecommerce tools, techniques and strategies to increase traffic and enhance conversion rates. There are many new and innovative tools that are applicable to almost any website that provide functions like customer referral programs, visitor remarketing, customer reviews, split testing, automated shopping cart follow-ups and others. These tools will make good conversions possible along with increase in your revenue.
Objective Perspective: When a company is working on a marketing project, it hardly matters that the developers like their creation. What matters most is the fact that their visitors like it and are tempted to buy the products. The success of your ecommerce website hinges on your traffic and conversion rates, not the looks of your pages. A marketing consultant with an objective view will find out how it resonates with your visitors and buyers. A good consultant will make sure that your ecommerce website attracts and converts visitors with frequent audits and reviews.
Honing New Talents: A superior and experienced digital marketing consultant would help decent and amateur digital marketers achieve excellence in their work. The consultant should work with them personally on their strategies, procedures and processes. In most cases, the novices are eager to learn but in some, they might have to be broken down and then built again.
Comprehensive Digital Marketing Strategy: A multi-channel company needs a comprehensive set of digital marketing and social media strategy. A good comprehensive strategy covers various channels like social media management, internal marketing, paid search, SEO, PR, affiliate marketing, email marketing, social media advertising, customer referrals, partnerships, blogger outreach, website conversion rates, and others that can be cultivated with time. A digital marketing consultant can effectively manage all this and improve your business in the process.
Boosting Conversion Rates: The effectiveness of your website dictates the "ROI" on your digital marketing. Therefore, you need to boost your website's conversion rates to drive more traffic and convert them into buyers. A good digital marketing consultant will be able to advise you on how to improve your conversion rates over time and thus add to your websites performance. This will actualize your Paid Search Engine traffic, which is a great advantage.
Keep Learning: Some owners and CEOs of companies hire digital marketing consultants not only to improve their business, but also to learn digital marketing themselves. They are keen to learn the nuances of digital marketing and advertising because they need to know whether the business is getting the best services. An experienced and expert digital marketer will teach you the basics and the details so that you, yourself, can be the best digital marketer for your company.
Efficient and Effective Strategies: Digital marketing strategists will tell you whether your marketing channels are being run well or should you be implementing changes. They will brainstorm and find great social media promotions like contests and sweepstakes, to increase interaction between you and your visitors, in these channels. Setting up valuable social media strategies is essential for your ecommerce business. Every channel should have a set of great strategies for online advertising campaigns like Google AdWords and Bing Ads. Your marketing consultant should be well versed in these strategies and their implementations.
Know what Works: Keep logs of all your strategies and their effects on your business. Review them regularly to keep track of what has worked and what has not. Take a look at your Key Performance Indicators (KPI's) to measure the effectiveness of your online advertising. Sometimes your strategies are not measurable. In these cases, you must evaluate their efficiency using other indicators and analyze them every month to optimize your campaigns. Your digital marketing consultant will do all this and draw appropriate conclusions for maximum exposure of your ecommerce website.
Attain Success Sooner: Your digital marketing consultant may help you and your company to achieve success much sooner than you anticipated. You will reach your goals in profit and earn more revenue quicker with their help. If a great digital marketing consultant assists your company, you will learn the process of digital marketing; you will get an idea about what is good for your company and make a huge success in less time.